Criminal justice
The Democrats' checklist of state criminal justice reforms
With the GOP out of the way, lawmakers are eyeing parole reform, gun control and justice for childhood sexual assault victims.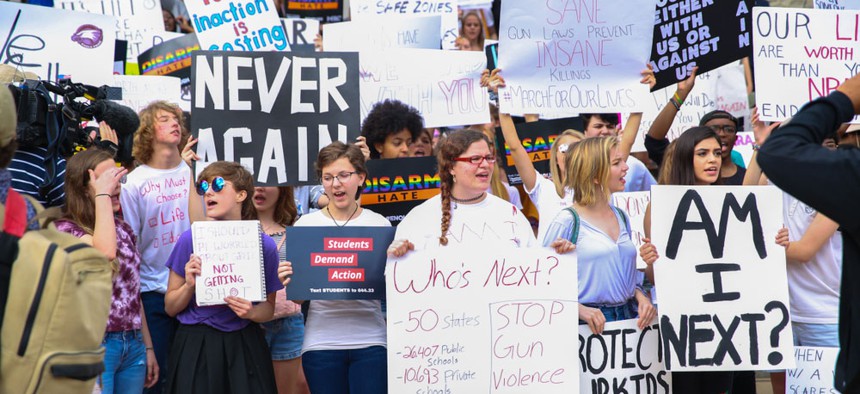 ✓ Gun control
Democrats and Republicans in the state Senate battled last session over how to respond to the mass shooting that left 17 people dead in Parkland, Florida. Broadly, the GOP pushed for school safety measures while Democrats hoped to impose new limits on firearm ownership.
With Republicans out of power, incoming state Senate Majority Leader Andrea Stewart-Cousins told reporters in November that there's broad consensus in her caucus around banning bump stocks, loosening restrictions on background checks for prospective gun owners and legalizing extreme risk protection orders, which let judges issue temporary orders barring someone from possessing a gun. They'll likely have an ally in Gov. Andrew Cuomo, who campaigned on expanding the SAFE Act.
✓ Child Victims Act
The Child Victims Act would lift the statute of limitations on young sexual assault victims seeking to sue their alleged predators. The Boy Scouts of America and the Roman Catholic Archdiocese of New York have been two of its main opponents, since the law could financially devastate the institutions, both of which have histories of adult leaders assaulting youths in their care. Gov. Andrew Cuomo is sympathetic, saying that "nobody wants to see a diocese or the Catholic Church bankrupt, so how (the bill) is done is very important." Nonetheless, Cuomo listed the bill among his top priorities for 2019.
Although the Assembly approved the bill in 2018 with vast bipartisan support, the state Senate Republican majority never brought it up for a vote. Incoming state Senate Majority Leader Andrea Stewart-Cousins is a co-sponsor of the Child Victims Act, meaning that a bill is almost guaranteed to be sent to Cuomo's desk.Now advocates and opponents will be debating the bill's language, such as whether to include a one-year "lookback window" so that past victims could bring lawsuits even if they're older than the current age limit of 23.
✓ Limiting cash bail
Limiting courts' ability to require a fee from arrested New Yorkers to get out of jail and ensure they'll make their court dates seems like a radical idea, but it has gained widespread support among Democrats, including Cuomo. The governor supports eliminating cash bail for misdemeanors and nonviolent felonies, seeming to sign on to state Sen. Michael Gianaris' Bail Elimination Act. State Sen. Luis Sepulveda, who is expected to chair the Senate's criminal justice committee, called cash bail "inherently unfair." "Whether you're in (jail) shouldn't depend on the size of your bank account, or your family's bank account," Sepulveda said.
✓ Speedy trial reform and discovery reform
Democrats are also hoping to finally pass a pair of bills that would enact stricter time limits on prosecutors to bring criminal cases to trial and to make prosecutors disclose evidence earlier in the trial process. Democratic state Sen.-elect Zellnor Myrie, an attorney, said selling reforms of these obscure legal practices to the public is key to their passage. "We want to let people know what evidence the government has against them," he said. "Let's make sure that everyone knows what evidence is for them and against them so that they can make informed decisions when you're talking about taking away someone's liberty."
✓ Parole reform
Other criminal justice issues legislators hope to pass next session include reforming the state Parole Board, which Democrats generally think is too tough on prisoners and too often makes decisions that are arbitrary at best and racist at worst. Hoylman also has a bill to encourage the release of some prisoners over the age of 55.
✓ 50-a repeal
Many legislators also want to repeal Civil Rights Law Section 50-A, which has been used by law enforcement agencies like the NYPD to hide internal discipline from public review.
✓ Legalize safe injection sites
Assemblywoman Linda Rosenthal is championing a bill to legalize safe injection sites – a controversial proposal that would designate sites where illegal drug users could use inject drugs under the supervision of medical professionals. The bill faces legal questions and loud opposition, but Rosenthal thinks she can convince naysayers. "Substance abuse disorder is a disease," she said. "And more and more people are coming to realize it."
RELATED: Will NY finally let childhood victims seek justice after age 23?