New York City
New York tech's slog to diversity
Wendy Garcia, chief diversity officer at the New York City Comptroller's Office discussed how tech companies and businesses can better support minorities and women during City & State's Diversity Summit on Thursday.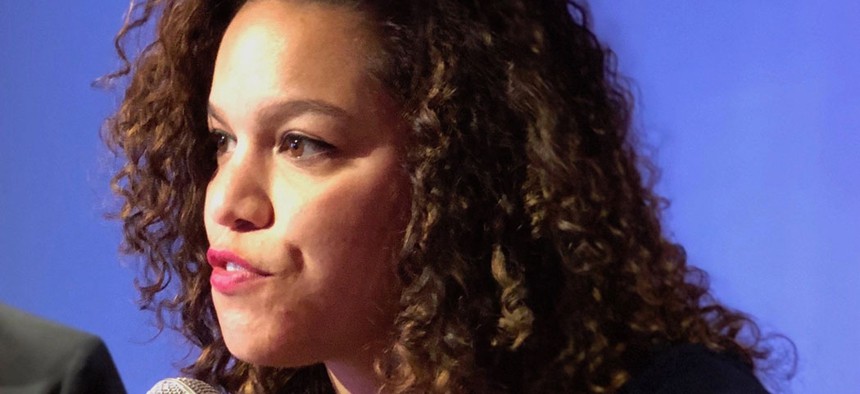 New York is making progress in hiring more women and people of color, and in fostering diverse workplaces, but for many leaders in government, business and technology, that progress is occurring too slowly.
"Are we doing better? The answer is yes," said Wendy Garcia, chief diversity officer at the New York City Comptroller's Office. "Can we do better? Absolutely." 
Garcia and her colleagues graded 31 city agencies on how much business they were doing with woman- and minority-owned firms, and the results were discouraging. "Out of the city's $19 billion spend, only 5 percent was going to women and minority-owned businesses," she said. Garcia joined three other panelists at City & State's Diversity Summit on Thursday to discuss both successes and challenges in recruiting and retaining a diverse workforce. "I think we all can agree that talent is equally distributed – but not opportunity," said Lawanna Kimbro, chief diversity and equity office at the New York City Department of Social Services. "In our organization, we've had to have courageous conversations about why that's so."
That question has long been a challenging one for tech – a field that has traditionally skewed heavily male. Bernie Milan, an enterprise account executive and diversity and inclusion lead at Microsoft in New York, said that within his own company, the stats are dismal. "In a company of 150,000 people, only about 26 percent are women," Milan said, adding that an even smaller portion were African-American and Latinx.
Many will blame the disparity on a lack of trained tech professionals who represent minority groups – a systemic problem rooted in access to education. But as Gary Johnson, director of strategy and operations at the Mayor's Office of the Chief Technology Officer, pointed out on Thursday, a lack of talented women and people of color is not a sufficient excuse. "Two weeks ago, I was at Black Women Talk Tech," he recalled. "There are people that say that there's not enough diverse talent" in the field, "but there were 300 women in the room."
For the rest of today's tech news, head over to First Read Tech.