New York City
Treyger's take on school aid, the charter cap and the SHSAT
New York City Council member Mark Treyger talked to City & State about the first year under a new public schools chancellor, his thoughts on the city and state budgets, and why he isn't tackling the specialized high school admission test.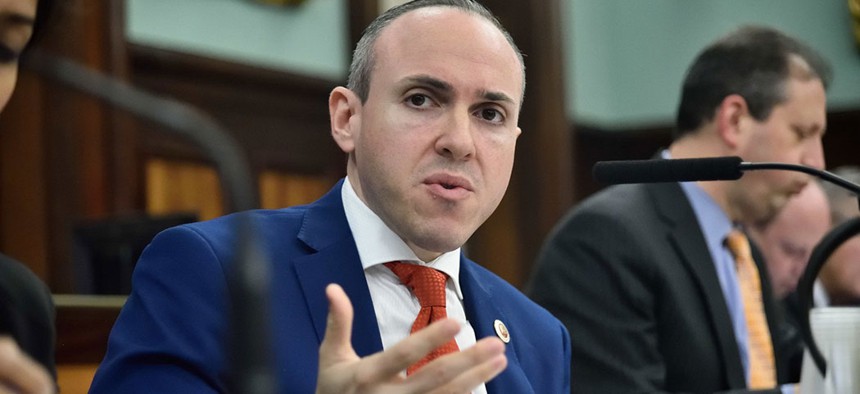 When Mark Treyger was first elected to the New York City Council in November 2013, his history students at New Utrecht High School were hopeful that he'd quit and they'd be able coast through the end of the semester. But Treyger kept on teaching until the end of the semester, just weeks before he started at City Hall.
Now, after eight years as a teacher and union delegate, and two decades attending New York City public schools from pre-K through graduate school, Treyger chairs the City Council's Education Committee, overseeing the largest portion of the city budget. Treyger talked to City & State about the first year under a new public schools chancellor, his thoughts on the city and state budgets, and why he isn't tackling the specialized high school admission test.
Richard Carranza has been New York City schools chancellor for a year now. What changes have you seen?
He instituted some significant structural changes over at Tweed (Courthouse, the Department of Education headquarters) as far as leadership is concerned. He reduced the number of deputy chancellors. He created the positions of executive superintendents to oversee community school districts. The rationale behind it was to create a clearer sense of accountability and a clearer chain of command in the system. And I think in some respects, that might be working. I meet with the chancellor on a quarterly basis, and to his credit, he's been accessible to me when I raise concerns and issues.
Gov. Andrew Cuomo is saying there isn't enough transparency in local school funding. Is he just looking for a reason to not give the full funding?
He makes these charges that "the state spends a lot of money on education, but where's the money going?" At the same time, New York state under his watch has mandated that the city of New York pick up increasing costs for charter school space. He has passed certain unfunded mandates down to the city, which will eat up a lot of education costs. There is fat to be cut from the DOE budget at times. There is an overreliance on certain consultants and other things. So I have been trying to get commitments from the city that, as we're fighting for more money for the city school system, we need to make a commitment that the money reaches school budgets. So if there's an increase to (Fair Student Funding), it goes directly to schools. You bypass the bureaucracy of Tweed.
When the governor makes the claim that we're not transparent, or we don't account for the needs of poor children, respectfully I point to the school allocation memo, which shows the breakdown of the school budgets. But there's no question we need to do a better job of meeting the needs of our children.
How do you feel about New York City Mayor Bill de Blasio's preliminary budget, which mandated some education cuts?
I am not happy that there was a cut – actually, a complete wipeout – of all the funds that we just put in place in the past year for social workers to meet the needs of students in temporary housing. There are over 100,000 students in temporary housing, over 30,000 students who are in shelters, a significant number of children who are forced to double up in homes. This is a student population we see falling behind, chronically absent. And there's no follow-up. You need dedicated, licensed personnel to meet their needs. And we fought very hard to set an increase last year of 20 additional bridging-the-gap social workers to get the number over 70 when we need actually over 150 in my opinion, even more. And (de Blasio) took all that money out in this preliminary budget! Here we go again, this classic budget dance, which to me is outrageous. Because you cannot play politics with students – and especially our most vulnerable students. They need help and support! Their families need guidance from people that know what they're doing. There's a reason why many of these kids fall through the cracks.We don't supply licensed and credentialed personnel to meet them and support them and get them the help that they need. Right now, it's a disconnected system. The fact that he took that out really upsets me.
He did say, at the same time, that they found some areas of waste in the DOE budget to the tune of $23 million in consulting contracts. OK! I think there's room for that to be cut. But don't play with our kids. They need social workers. They need more guidance counselors. That's what our school communities are asking for.
New York City is about to hit the state-mandated cap for operating charter schools. Should more charter schools be allowed to open?
No. It cannot just be a simple conversation or debate about what the number should be. The question should be what impact have (charter schools) had. We still have great disparities and inequity in our school system. Is this the conversation we need to have at the eleventh hour of every budget deal in Albany? I am not in favor of raising the cap. I am in favor of getting every school 100 percent of what they're entitled to.
The mayor unveiled a plan last summer to get rid of the Specialized High School Admissions Test – the entrance exam for the city's elite high schools – but things have been quiet since then. Would the City Council do anything here?
I was very disappointed in how the mayor rolled this out. Not one person from DOE or the mayor's office met with me to say, "Councilman Treyger, we need to work on the specialized high school issue." This was all thrown out at the eleventh hour right before Albany session ended in June and I learned that a number of critical stakeholders were not consulted or given a heads-up. The DOE has its own diversity advisory group. They were not consulted!
There is probably more agreement that we have a problem with how specialized high schools are currently structured. But there's not agreement on how to best support it and deal with it. One test does not fully capture the abilities of a student. At the same time, abolishing one test is not going to be the game-changer that some folks are talking about. I think if they're very serious with dealing with the foundational issues here, then we need to start at the elementary school level and work our way up.
I am the proud product of a nonspecialized high school, Edward R. Murrow. I taught at New Utrecht. I take issues with politicians who say that these eight schools are the best of the best. I will challenge that and say our kids are great. They just deserve better. And if we provide them with the resources and opportunities to excel, they will excel.
So are you making any moves, or is this up to the mayor?
The state would be required to make the change. In my conversations so far with state counterparts, they have a lot of pressing priorities, and they're not sure where this falls in line. They were also somewhat surprised and disappointed that there was not greater collaboration and discussion last year, and that has created division and divisiveness in this conversation. So quite frankly, the state has to act if there are to be changes.