Transportation
Uber puts its money behind congestion pricing
Gov. Andrew Cuomo's congestion pricing proposal is still facing pushback from from suburban law makers.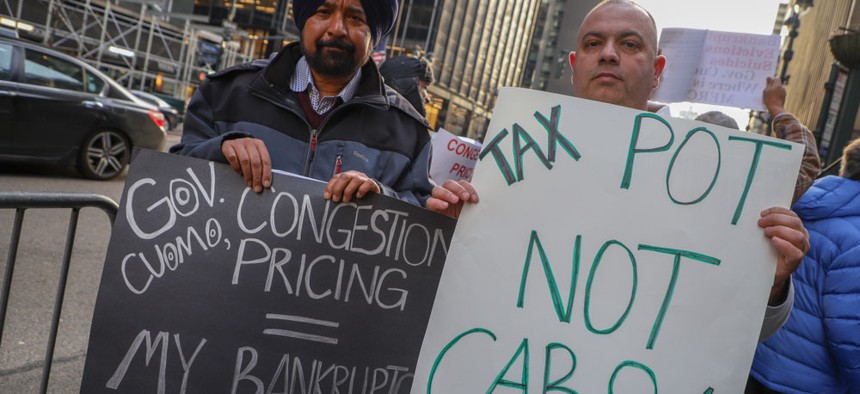 Despite New York City Mayor Bill de Blasio getting on board with Gov. Andrew Cuomo's congestion pricing proposal for Manhattan's central business district, the plan to fund the ailing Metropolitan Transportation Authority by enacting a toll for drivers entering Manhattan below 61st Street still faces some pushback from within the state Legislature – particularly from suburban lawmakers whose constituents would likely be most affected when driving into the city.
But one of congestion pricing's staunchest advocates is ramping up its efforts ahead of the state's April 1 budget deadline. Uber has spent $1 million since last November in its campaign to help pass congestion pricing. Most recently, the ride-hail company funded an ad from the advocacy group Fix Our Transit that ran into the mid-six figures.
Uber, along with other app-based ride-hail services, was hit with a one-year moratorium on new licenses for their vehicles last summer in order for the city to study the companies' effect on increasing congestion in Manhattan. As the market leader, Uber is increasingly blamed for the problem. Along with Uber's move to sue the city over the cap last month, it makes sense that the company is now bolstering its support of congestion pricing. Fewer commuter cars in the city would mean more business for ride-hail vehicles, and if the proposal actually succeeds in decreasing congestion, Uber could use its success to argue the cap on new for-hire app-based vehicles should be lifted because their vehicles are not the cause of the problem
Taxis and for-hire vehicles, it should be noted, have already been hit with a congestion surcharge for rides below 96th Street in Manhattan. "Congestion pricing is the only serious solution to reduce congestion and invest in mass transit, and it's great that the Legislature made steps in the right direction toward passing the governor and mayor's plan," Uber spokesman Harry Hartfield wrote in an email. "All users of Manhattan's congested roads – whether it's a personal vehicle, delivery truck, taxi or Uber – should pay their fair share."
For the rest of today's tech news, head over to First Read Tech.