New York City
How New York City is watching you
Security cameras have become ubiquitous in New York City and several recent events involving them have reinvigorated a discussion or privacy concerns. City & State took a look at the rules – or lack thereof – that govern the use of surveillance technologies.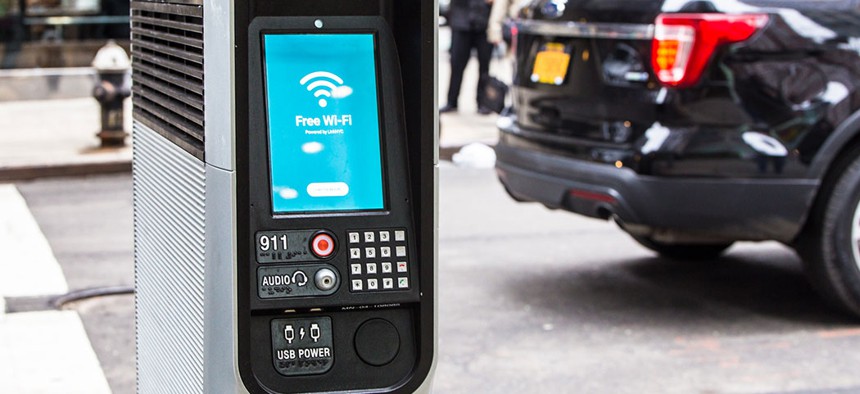 They're everywhere – on our phones, in our computers, on city streets and subway platforms. Cameras have become so ubiquitous that it can be easy to forget that they're there. That's what happened for some New Yorkers last week, when a vandal who attacked dozens of LinkNYC kiosks in New York City was caught red-handed by the cameras installed on the kiosks themselves, prompting shock from those who either didn't know or failed to notice that LinkNYC kiosks come equipped with cameras.
The incident, coupled with an apparently fake facial recognition camera mounted in a subway station, has reinvigorated a discussion of the many cameras and sensors that record, watch or collect data on private citizens, and what law enforcement agencies can do with that information. To clear up some of those questions, City & State took a look at the rules – or lack thereof – that govern the use of surveillance technologies in New York.
What is the NYPD's surveillance network?
New York's surveillance network – which can include low-tech closed-circuit television or high-tech facial recognition – is a vast one that includes both devices installed by private entities like businesses, as well as those deployed by the city government. To be sure, not every security camera in New York City is connected to a central database accessible to law enforcement agencies, but through the NYPD's Domain Awareness System, many of the city's surveillance-capable technologies do come together in one easily accessible platform.
Launched in 2012 as a partnership between the NYPD and Microsoft, the Domain Awareness System is a central command that the police department boasts is "one of the world's largest networks of cameras, license plate readers, and radiological censors, designed to detect and prevent terrorist acts, but also of great value in criminal investigations." The system includes both real-time public CCTV cameras and those owned and operated by private entities that have given the department access to their feeds. Estimates have put the number of cameras worked into the system at 9,000, though Daniel Schwarz, privacy and technology strategist at the New York Civil Liberties Union, said that the number could be higher.
"The NYPD maintains numerous cameras throughout the city for the deterrence, detection and investigation of crime and monitoring of traffic conditions," said Sgt. Jessica McRorie, a spokeswoman for the deputy commissioner of public information in an emailed statement, when asked for more details about that figure. "This includes cameras used to detect terrorist threats. Public safety is a shared responsibility and we rely on our partners in the community to assist us in keeping our City safe by sharing evidence of crimes, including video." LinkNYC cameras, for example, are not connected to the system, but footage was voluntarily shared with the NYPD in order to assist in the investigation into the kiosks' vandal.
What are the laws regarding surveillance in New York state and New York City?
While New York and the NYPD's Domain Awareness System is a far cry from a genuine surveillance state – like, say, China – questions of where and how much government should monitor citizens' whereabouts or other personal data have arisen amid growing concerns about data collection by Big Tech companies like Facebook. As law enforcement adopts more advanced technologies like facial recognition and biometric surveillance, with accuracy is sometimes in doubt or that may produce racially biased results – advocates are calling for regulations specific to the new technologies.
To the disappointment of many privacy advocates, neither New York City nor the state have laws prohibiting or regulating the use of facial recognition technology when people are in public. What does exist in the New York penal code are protections regarding certain places where video recording or other surveillance cannot take place, such as locations like bathrooms or dressing rooms, where citizens have a reasonable expectation of privacy.
In the absence of regulations beyond barring surveillance where citizens have a reasonable expectation of privacy, there are nonetheless constitutional protections in place – primarily through the Fourth Amendment to the U.S. Constitution – that Lee Rowland, policy director at the NYCLU said creates some guard against potentially questionable practices in New York. "We all have to play by the constitutional rules, and the Fourth Amendment protects us against unreasonable searches and seizures by government," she said.
In 2018, the U.S. Supreme Court ruled 5-4 that government agencies generally need a warrant in order to collect mass amounts of customers' cell phone location data. The case stemmed from the conviction of an armed robber, which was made in part on the strength of data collected from the accused's cellphone, amounting to 127 days of records placing his phone at over 12,898 locations. "The reality is, there may be many of these practices that, at least in government hands, do in fact violate the Fourth Amendment," Rowland said. "So if the government is using facial recognition technology and recombining massive databases to create a granular picture of where you walk throughout the day, we believe that would violate the Fourth Amendment without a warrant. But, right now, we don't have a law that says so. We'd have to wait to challenge that in court and get a constitutional ruling."
What efforts have been made to create more protections against surveillance?
Since 2017, the New York City Council has weighed a bill aimed at increasing transparency and public input in how the NYPD uses its various surveillance technologies – whether that's facial recognition, license plate readers or Stingrays, a tool for tracking location data of a criminal suspect's cell phone. The Public Oversight of Surveillance Technology (POST) Act, would, among other things, require that the NYPD issue an impact and use policy about its surveillance technologies and require reporting of any new surveillance tech to the City Council.
Predictably, the bill has stalled under opposition from the NYPD and other law enforcement officials who have argued that making the details, use and whereabouts of all surveillance technology public would hinder their effectiveness. But City Councilwoman Vanessa Gibson, lead sponsor of the bill when it was reintroduced last fall, said that she doesn't think the legislation asks for too much, comparing it to cities that have required that the City Council approve the purchase of new law enforcement surveillance technologies. "We're asking for basic reporting of large purchases the department makes through the contract process and we're also asking for a 30-day public comment period once the purchase announcement is made," Councilwoman Gibson said.
The bill has 16 sponsors, but Gibson said it still faces serious pushback from the law enforcement community. The goal now is to move it through the City Council, as it hasn't had a hearing since 2017. "I've met with the administration, namely the NYPD, along with the mayor's office, to hear a lot of their concerns, and what I'm waiting for now is a series of different language that they believe could be incorporated in the bill where they would be on board," Gibson said.
Where else could surveillance technology be used in the city?
While the use of surveillance technology in public places, like city streets and subway platforms, has been the subject of recent debate, privacy advocates are also drawing attention to those who want to install facial recognition or other biometric surveillance equipment in residential buildings and schools. Rowland said the latter could spark a particularly negative outcome. "Facial recognition technology in particular has a race problem," Rowland said. "The technology's accuracy goes down dramatically along with the darkness of someone's skin tone. Particularly when we're talking about kids – and I think this is an issue in the tenant area as well – these systems are being installed, ostensibly to find outsiders, to find and single out outsiders. So you can imagine, a child of color, going to school, being identified by this technology as an outsider, and that triggering a security response."
A bill introduced by Assemblywoman Monica Wallace would ban the collection of biometric data in schools as well as conduct a study into the effects of its usage. Already, the Lockport City School District in western New York has bought facial recognition technology, though in part due to pushback from groups like the NYCLU, it has yet to use the tech.
There are also surveillance technologies that may not be immediately recognized as such, Rowland said. While video cameras are pretty widely understood to have the capability of recording and surveillance, the expansion of radio-frequency identification technology – including the RFID cards that will become the new norm for the Metropolitan Transportation Authority – prompts surveillance concerns for some, as the contactless RFID cards can be hacked or cloned. "Technology does not have to be a camera to be able to track your movements and give either a corporation or the government a pretty specific list of where you've been and what you've been up to," Rowland said.
How are New York's surveillance practices different from those of other states?
While advocates at the NYCLU point to laws in cities including Seattle and Oakland, where a police department has to get approval from city councils to purchase new technologies, most localities lack specific protections just as New York does.
And even in places that have seen regulation, some see the security benefits of biometric technologies may outweigh privacy concerns. The NYCLU's education counsel Stefanie Coyle said that Florida has implemented a ban on collection on biometric information from children, but in the aftermath of school shootings – including the mass shooting in Parkland that killed 17 students – private security companies are making a case for more data collection as a safety measure.
Advocates of stronger protections against surveillance are aware of the need to strike a balance between harnessing the public safety benefits of these kinds of technologies, and protecting citizens from breaches of privacy. "Obviously, I understand New York City is a lot different. We are always under constant threat," Gibson said. "And when you see what's happening with these mass shootings and things that are happening at synagogues and churches, obviously, of course, I understand, and I'm very sympathetic to that. I also think there could be a minimal level of cooperation that we could get from the NYPD where we are getting some information."
Powered By
NEXT STORY: Cuomo's greatest MTA micro-managing hits