New York State
Self-driving cars' uncertain future in New York
At a summit on burgeoning 5G technology hosted by City & State and Verizon last week, a panel of experts cautioned that when it came to autonomous vehicles it will be some time before the tech is ready to deploy on New York's roads.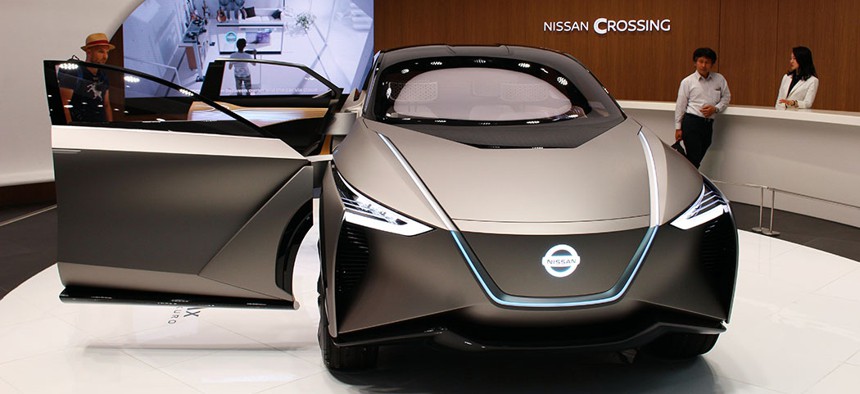 Self-driving cars may be viewed as one of the shinier objects of transportation's next frontier, but some in New York are advocating for a cautious approach to embracing the technology.
At a summit on burgeoning 5G technology hosted by City & State and Verizon last week, a panel of experts from the public and private sector discussed the great leap in technological advancement that could be hastened by the buildout of next-generation wireless connection. But when it came to autonomous vehicles in New York state and New York City, some cautioned that it will be some time before the tech is ready to deploy on New York's roads.
Cordell Schachter, chief technology officer at the New York City Department of Transportation, said that New York should not approach autonomous vehicles as a sector to attract at any cost or try to redesign its roadways and infrastructure to be more conducive to the technology. The companies that build and operate self-driving vehicles should instead figure out how they will fit into New York's existing infrastructure. "New York City has been built, layer upon layer, for hundreds of years. [Autonomous vehicles] need to get ready for us," Schachter said, echoing testimony made by DOT Commissioner Polly Trottenberg before Congress last summer. Schachter added that he didn't think anyone in the city would want to incur the millions of dollars it would cost to make infrastructure changes to accomodate autonomous vehicles.
Autonomous vehicle testing in New York has been allowed since legislation was first passed by the state in 2017 to allow companies to test and demo the automobiles on public roads. Permits were contingent on a few qualifications, including that the company had a $5 million insurance policy and that vehicles were manned by licensed drivers. It was also made clear that companies would have to pay for a police escort during any demos or testing.
New York's program started out as a one-year pilot and was extended for another year in April 2018. Plans to make testing rights permanent in the recently passed state budget, however, were amended to a two-year sunset period for the program. But despite those extensions, few companies have taken advantage of the opportunity, apart from two isolated tests by Cadillac and Audi in 2017. That year, General Motors – and its self-driving arm, Cruise Automation – also had plans to test vehicles in Lower Manhattan, but the plans stalled.
Last month, autonomous vehicle proponents in New York had a small victory with the announcement that Optimus Ride, a self-driving shuttle service, would deploy vehicles on the private roads of Brooklyn Navy Yard this summer, offering New York's first commercial use of autonomous vehicles. But there are a good number of questions to answer before New York sees autonomous vehicles play a major role in transportation.
"On the policy side as relates to public transit, there are a lot of predictions that autonomous vehicles will be so cheap to operate, that it will be pennies on the dollar to have them running around empty all day long, which has obviously very negative implications for congestion, something that's already a big challenge in New York," said Rachel Haot, executive director of the Transit Innovation Partnership, a public-private partnership which operates the Transit Tech Lab accelerator. "How do we make sure that we have a policy framework where we're incentivizing those vehicles to be filled?"
Self-driving technology is designed to be better at operating vehicles than humans, who are notoriously prone to cause accidents when exhausted, distracted or simply irresponsible at the wheel. But the big question for self-driving vehicles – whether public buses and shuttles or private cars – is whether the technology is actually capable of making choices that humans innately understand. "We know some of those experimental vehicles can get fooled by something the size of a large postage stamp on a stop sign that tells them it's not a stop sign and then they'll go through it," Schachter said on Thursday, pointing to one of many possible autonomous vehicle glitches.
"And there's some very subtle things that we take for granted as human beings when we operate vehicles," he added. "We know that an outstretched hand from a police officer in an intersection, where you can see their palm, means to stop. And when they reverse their hand and move it slightly, we know that means 'go.' How many autonomous vehicles can pick up such a subtle signal?"
To be sure, these are questions that the makers of self-driving cars have taken into account and are working to fix. One of Schachter's biggest gripes with the industry is that he said companies have not made data available to government agencies, so officials aren't aware of whether the vehicles are capable of making those complex decisions or not. One of Waymo's self-driving vehicles was shown to obey police hand signals during a demonstration earlier this year.
There have also been a few high-profile accidents associated with autonomous vehicles. In 2018, a self-driving Uber car struck and killed a pedestrian walking outside of a crosswalk in Tempe, Arizona, marking what is believed to be the first autonomous vehicle-related fatality in the United States. The Tempe Police Department reported that the safety driver inside the vehicle was streaming video on her cellphone at the time of the crash. Proponents of self-driving vehicles, however, often cite human-related traffic fatalities to suggest that self-driving cars could vastly improve such accidents. In 2017, the United States saw 37,133 die in motor vehicle crashes.
Even if self-driving vehicles can scale up and prove to be more reliable than humans, New York will have to adjust its heavy reliance on some human-based error. "The city for example brings in a billion dollars a year in traffic fines and violations," Haot said. "When cars are all smart, they will have none of these. So we need a new system."
Still, that doesn't mean that autonomous vehicles and related technologies aren't being hailed as exciting prospects in New York. "There's so much we can do with situational awareness, safety measures, etc., for example with buses, to help improve buses," Haot said, noting that while there are no fully autonomous public transit vehicles in New York yet, some of the same technologies can be used to improve existing systems. "Looking ahead, there's everything from modular autonomous vehicles – they're buses that can get bigger or smaller depending on the demand at a bus station – routes that can change depending on the demand of your customers, and the very concept of a fixed bus station being totally transformed. These are some of the ideas that are really interesting for public transit."
How soon those technologies will proliferate in New York City remains to be seen. In the meantime, the companies that operate self-driving vehicles – the Ubers and Waymos of the world – could do well to prepare their systems for New York, rather than the other way around. "There needs to be much more transparency, data sharing, collaboration if there is an autonomous future," Schachter said. "And there probably will be. But based on what we're hearing now and learning now, it may not be in our lifetimes."
Powered By
NEXT STORY: Citi Bike pulls e-bike fleet