New York State
Closing the window on recreational marijuana
Time is ticking until the sessions end and it's still unclear whether or not legalized recreational marijuana use will be included into the state budget.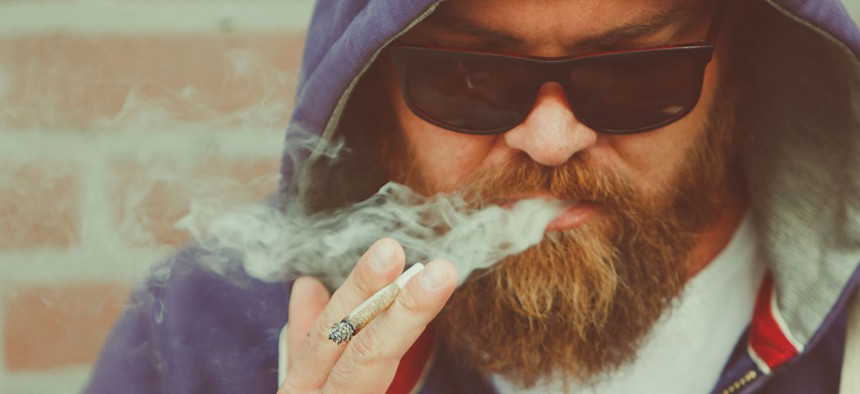 "We have 20 days – two, zero – session days to actually pass marijuana legalization in New York," Melissa Moore, deputy state director for the Drug Policy Alliance in New York, said at the close of a May 9 panel discussion on the future of marijuana in the state. "This is really an all hands on deck moment."
Since that panel, advocates like Moore now have even less time to convince state lawmakers to legalize recreational marijuana. And they have their work cut out for them, as the future of marijuana in this legislative session is far from certain.
When marijuana legalization was bundled into the state budget, state Sen. Liz Krueger, who sponsors the Marijuana Regulation and Taxation Act, felt confident that she had the votes to get it passed. As part of the budget, it was just one of many issues that lawmakers were voting on, giving cover to those who might face backlash from constituents, and it had the strong support of Gov. Andrew Cuomo. Now, as a stand-alone bill, Krueger is not so sure of its prospects, despite maintaining "cautious optimism." She said she had never gauged opinion on a vote outside the budget and acknowledged that doing so could be an issue for some Democratic lawmakers – though she later said she currently does not have enough votes.
"I really do believe that the only way this could get across the finish line in both houses is if (Cuomo) makes it extremely clear this is something he wants done, and he uses political capital and political weight to urge legislators who care about what he thinks about this," Krueger told City & State.
Cuomo has since indicated that if the state Legislature is banking on his support to convince holdouts, they shouldn't be. Asked in a radio interview on WXXI on May 10 if he would use political capital to help get the votes, Cuomo responded by saying that while he supports the bill, "arm-twisting" doesn't work. He added that it's a bad sign if the state Legislature is asking him to secure votes.
"It makes me nervous that they're saying that because they told me they had the votes and they are going to pass it," Cuomo said.
He added, "I would work to do it. I just now have to gauge the feasibility of it."
This may cause some Albany observers to scratch their heads, since Cuomo has been known to twist arms and use his power to get his will done. Same-sex marriage in 2011 and the SAFE Act in 2013 are just two prominent examples, with Cuomo successfully getting his progressive priorities through the Republican-controlled state Senate. In the radio interview, Cuomo said the same-sex marriage issue was different because it involved a legal argument that went beyond ideology in a way that marijuana legalization does not.
Krueger and Assembly Majority Leader Crystal Peoples-Stokes, who is sponsoring the companion bill, are poised to introduce revised legislation that reflects discussions with the governor's office. It is expected to include a much more detailed regulatory framework for recreational marijuana sales, with provisions for CBD products, hemp and an expansion of the medical marijuana program as well as a mechanism to expunge the records of people convicted of marijuana-related crimes. The revised measure is also expected to include additional funding for education, law enforcement, programs for minority entrepreneurs and reinvestment in communities disproportionately harmed by the enforcement of marijuana laws. However, changes this late in the session give lawmakers very little time to review and debate the new language before a vote.
Peoples-Stokes painted a more positive picture of the bill's chances than her Senate counterpart. Unlike Krueger, who would not speculate yet about the outcome of potential votes – or whether there would be a vote – Peoples-Stokes expressed confidence that there is enough support in both chambers.
"I believe that most people, given the opportunity to take an up-or-down vote on this, will vote 'yes,'" Peoples-Stokes told City & State, citing poll numbers that show most New Yorkers support legalization.
Throughout this debate, state Sen. Diane Savino has been a voice of pessimism among the proponents. She has repeatedly said that the state Legislature missed its opportunity to legalize marijuana in the budget, that the opposition remains too strong for a stand-alone measure and that it won't get done until at least 2021, after the next election cycle. It's the reason she and Assemblyman Richard Gottfried introduced a bill expanding the existing medical marijuana program in the state, in order to pass reforms even if the recreational bill, which includes the same expansion, does not succeed.
Doug Greene, the legislative director at marijuana advocacy group Empire State NORML, agreed with Savino's logic that a failure to act this session would close the window for at least two years. And while he remains hopeful, Greene acknowledged that he and other advocates face an uphill battle in the waning days of the legislative session.
"One of the things you have to remember that is central to this story is our opposition is much better organized, much better funded than we are," Greene said, referring to the many parent-teacher groups, the Medical Society of the State of New York, law enforcement across the state and the national group Smart Approaches to Marijuana, which has been very active in New York.
Legalization proponents have scheduled two lobbying days in Albany to change hearts and minds, one at the end of May and one in the middle of June. Greene said they would in particular focus on suburban lawmakers who have expressed reservations about legalization, saying they would need a "suburban strategy." On Long Island, for example, the Democratic county executives in both Nassau and Suffolk counties have said they would opt out of allowing local sales should marijuana become legal, indicating that constituents are not completely on board with legalization. Will there be enough time to come up with and implement the suburban strategy?
"It's possible," Greene said tentatively, "but it's going to be really difficult."
Powered By
NEXT STORY: New York's computer-monitoring bid to stop over-billing