New York State
Cuomo's charter school dilemma
The current cap on charter schools permits 460 to open statewide, but there are no remaining slots reserved for New York City. Though 99 more charters could still open statewide, charter school supporters are pushing to raise the cap this year to continue the industry's growth downstate.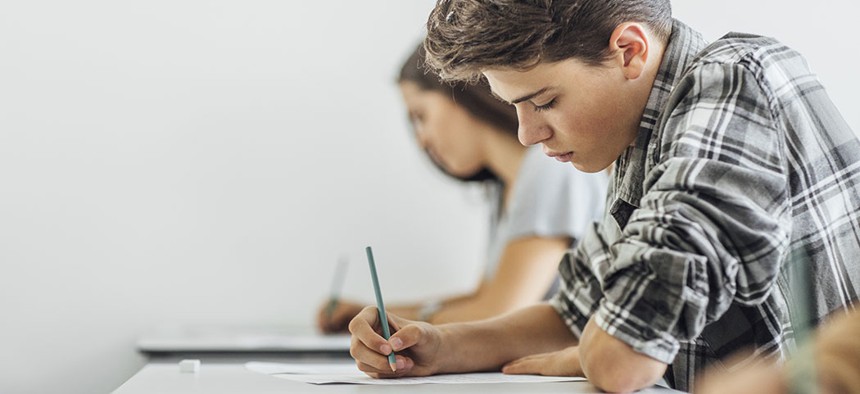 Democratic state lawmakers want to act on a number of issues in the remaining weeks of this year's legislative session, but allowing more charter schools to open in New York City is not on their agenda.
The current cap on charter schools permits 460 to open statewide, but there are no remaining slots reserved for New York City. Though 99 more charters could still open statewide, charter school supporters are pushing to raise the cap this year to continue the industry's growth downstate.
And although the movement's long-standing allies in the state Senate Republican conference are out of power, Gov. Andrew Cuomo recently revived the issue. "We support raising this artificial cap," Rich Azzopardi, the governor's spokesman, told the New York Post in mid-April. "But the Legislature needs to agree as well."
Despite Cuomo's support, charter school proponents face resistance from teachers unions and many Democratic lawmakers who want to leave the cap unchanged. The issue is "not even on the radar screen," Assembly Speaker Carl Heastie said recently, according to North Country Public Radio.
State senators have also been cool to the idea, and no Democratic lawmaker has proposed legislation on the cap in recent weeks. The general mood among Democrats is that charter schools divert critical resources from traditional public schools. "That is where my allegiance lies," said state Sen. Shelley Mayer, who chairs the Education Committee. "I never been a fan of raising the cap."
The cap will test Cuomo's commitment to charter schools at a time when Democrats control both houses of the Legislature and show little desire to help the charter school industry grow. Teachers unions remain opposed, and while some Democratic lawmakers are supportive or at least nominally open to raising the cap, others are adamantly opposed. Hearings are planned in the coming weeks to evaluate education spending and the reporting standards that apply to charters, Mayer said. And while some lawmakers might be lukewarm on charters now, the ongoing popularity of charters suggest that a deal may be possible if the governor pushes hard enough to raise the cap.
And there are reasons for Cuomo to try to deliver for charters. A March Quinnipiac University poll found that slightly more New York City voters support, rather than oppose, the idea of expanding charters in the state. Charters have also become particularly prevalent in minority-heavy areas of New York City, such as the South Bronx, Brooklyn and Harlem. More than 120,000 New York City children attend charter schools, and another 52,700 are on waitlists, according to the New York City Charter School Center. Cuomo made a big push for "equity" in education during the budget season, while giving charters a $37 million increase in funding.
At the same time, the charter school lobby has made serving low-income students of color part of its messaging as it pushed to increase the cap. Cuomo has been sympathetic to their interests in the past, most notably in 2014 when he appeared at a pro-charter protest in Albany. Eva Moskowitz, founder and CEO of Success Academy Charter Schools, told City & State that the governor has been "steadfast" in his support of charters.
While reaffirming Cuomo's support for raising the cap, Azzopardi declined to comment on what the governor has been doing to further that goal when asked by City & State.
Charter school interests donated more than $130,000 to Cuomo's 2018 reelection campaign, and the governor has not slowed down his prolific fundraising in the first year of his third term. By staying in the good graces of charter schools, the governor may be keeping his options open for future campaigns, whether at the state or national levels. Forcing legislators to raise the cap in exchange for concessions on other issues like rent regulations could also help keep lawmakers in line by dividing them on such a thorny issue.
Recent history suggests Democratic lawmakers could go along with an increase as long as they get something in return. In 2017, a deal was struck that effectively raised the cap while nominally keeping it in place. In exchange for an extension of mayoral control, New York City Mayor Bill de Blasio agreed to an administrative change that allowed defunct "zombie" charter school slots to be reissued. A 2015 deal featured a similar win-win, with new charters allowed in New York City while the cap technically stayed at the same level. One possible bargaining chip, mayoral control of New York City's schools, is off the table since it was renewed earlier this year, but lawmakers could still use the cap as leverage on other issues.
"People in my conference have been resistant to charters historically," said Assemblyman Michael Benedetto, a Democrat who chairs the Education Committee. "We have raised the cap at times after much discussion with the Second Floor and the other house. I would certainly never exclude the idea that going forward that it might happen again – that we would raise the cap."
Other education issues will take precedence in the coming weeks, but Mayer said upcoming hearings will examine issues that she and other lawmakers say need to be solved before they would support raising the cap. This includes how charter schools report data on topics like special needs students, English language learners and school discipline, and how that differs from traditional public schools. "We're going to continue to want to explore that," she said. "With respect to the raising of the cap … we'll discuss it in conference."
Some lawmakers who have supported charter schools in the past, such as Assembly Majority Leader Crystal Peoples-Stokes, said they are not pushing to raise the cap now – but that could change under the right conditions, especially in New York City where the cap has been reached.  "I'm not interested in seeing any caps lifted in the Buffalo area," she said. "Now, personally, I would take the same position for New York City … but if my colleagues there have an interest in lifting the cap, then I will support them."
To be sure, lawmakers have good reasons to avoid raising the cap. The influential United Federation of Teachers, which represents public school teachers in New York City, is pushing back against charter schools. "It is time for state government to freeze their growth and to put in place measures to ensure that charters take, keep and educate all kinds of students, while they open up their operations to real public scrutiny," UFT President Michael Mulgrew wrote in a May 3 op-ed in the Daily News.
New York State United Teachers took a similar stance against the cap, while also signaling that they will note which Democrats hold the union line in the weeks to come. "New York educators will be watching closely throughout the rest of this legislative session to see who aligns themselves with greedy corporate charter interests and who stands with public school children who deserve better from Albany," NYSUT spokesman Matthew Hamilton said in a statement.
Charter school supporters have used big rallies at the state Capitol to pressure lawmakers in past years, including in 2015 and 2017. Moskowitz said she has made trips to the Capitol in recent weeks to lobby lawmakers. Supporters have targeted state lawmakers on social media and through visits to district offices recently, but the most high-profile forum lawmakers have noticed in recent weeks have been op-eds in the media where advocates have sought to portray the cap as a social justice issue. "For families where traditional school settings aren't an option, this cap leaves them with nowhere else to turn," Leonard Goldberg, founder and CEO of Opportunity Charter School, wrote in the Daily News on April 30.
Charter school supporters will still have to push hard to raise the cap this year, given the opposition of state lawmakers and organized labor, but they have yet to come out in force – a notable contrast to the supporters of other causes who have filled the halls of the state Capitol in recent weeks.
That could be because the one supporter who matters most is the governor. His aggressive fundraising this year suggests that the 2018 election will not be his last political campaign, and he has made a point of maintaining a centrist position on charter schools, even as he has shifted left on other issues. Whether or not Cuomo wants to – or is able to – raise the charter school cap, publicly calling for it may make political sense.