New York City
Why rabbis can't contain the measles outbreak
Ultra-Orthodox Jewish communities are ground zero for the measles epidemic, even though their religious and political leadership urges vaccination. It's a sign that the political power of rabbis in Hasidic communities is diminishing.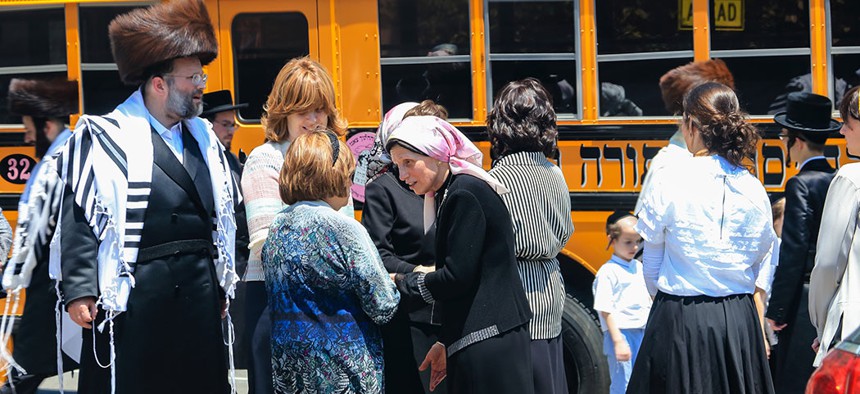 As ultra-Orthodox Jews remembered the plagues of Egypt at their Passover tables last week, a preventable pestilence swept through their neighborhoods. In a strange twist, communities famous for their reverential obedience towards rabbinical authority have brought this about by defying their own leaders' advice.
An outbreak of measles, which the Centers for Disease Control declared eliminated from the United States in 2000, is now at a 25-year high. There are 704 cases in 22 states, including 78 new cases in the last week alone, according to the CDC. More than 500 of those patients were individuals who have not been vaccinated, and 66 were hospitalized.
Ultra-Orthodox, mainly Hasidic communities in and near New York City are ground zero for the epidemic. There have been 423 confirmed cases in Brooklyn and Queens as of April 29, mostly in Orthodox enclaves. South Williamsburg reported 348 cases, or 82 percent of the city total, including 25 new cases last week. And 202 measles cases have been reported in the Hasidic villages in Rockland County, where vaccination rates in yeshivas can be as low as 60 percent, compared with the state's average of 92.5 percent.
What's remarkable is not that skepticism towards modern medicine might take root among religious fundamentalists – anti-vaxxers are also found among evangelical Christians – but that pro-vaccination messaging by religious and political leadership of the Hasidic sects hasn't changed their perspective. It is a sign that the power of religious leaders in Hasidic communities is diminishing.
Anti-vaxxer propaganda has permeated ultra-Orthodox communities for years. Residents point to robocalls from a hotline and a glossy 40-page magazine called the "Vaccine Safety Handbook" from the group Parents Educating and Advocating for Children's Health spreading unfounded rumors that the intravenous medicine contains unkosher materials and can cause autism.
New York City has launched a campaign with rabbis, health professionals and political leaders to promote vaccinations. By April, Mayor Bill de Blasio declared a public health emergency mandating the medicine for unvaccinated individuals or face a $1,000 fine. The city followed through on a threat to shutter religious schools that refuse to fork over immunization and attendance records, temporarily closing five yeshivas and shutting down two other Brooklyn yeshivas this week for ignoring the order.
But the number of cases grew. Five families even sued the city claiming the health department order violated their "children's religious practices" and demanded a temporary restraining order. A Brooklyn judge rejected that argument, noting that they had no letter of support from any clergy.
"In the Jewish community, there's a high rate of autism and the people who are against vaccinations are very firm in their belief," said Mark Meyer Appel, an Orthodox activist and founder of the Bridge Project, a multicultural center in Midwood. "They won't listen to a rabbi or a doctor; they've done their research for years. You're dealing with a very stubborn element."
Civic, religious and medical leaders have tried to counter those claims. Satmar Hasidic leaders, including United Jewish Organizations executive director Rabbi David Niederman, supported the mayor's measles order, proclaiming "take the shot." The Yiddish-language newspaper Der Yid printed an editorial in English urging vaccinations, and 500 doctors who serve Jewish patients around the world signed a letter attesting to the vaccine's safety.
But it seems that their pleas have fallen on deaf ears, despite the long history of Hasidic communities acting as a bloc. For generations New York politicians have sought the endorsements of Hasidic rabbis who deliver votes and connect candidates to ultra-Orthodox business owners and real estate developers.
More recently, experts say, the bifurcated life of the community's political leadership – with one foot in the religious world and the other in the secular world – has made younger generations of ultra-Orthodox families distrust their motives. One factor was the activism of a small group of Hasidic families who went public with allegations of sex abuse that religious leaders inflicted upon their children in ritual baths and schools. Most families had kept their mouths shut for fear of being expelled from yeshivas and shunned and harassed by their neighbors, accepting light sentences of the religious courts instead of calling the police. When families went to the authorities, Brooklyn's then-District Attorney Charles Hynes refused to publicize ultra-Orthodox defendants' names in a concession to rabbinical leaders. Even as the rank-and-file Hasids demonstrated fealty to their rabbis in the wake of the scandal, they began to wonder if leaders have their best interests in mind. And they began to question the leadership's wisdom for lobbying against policies such as the Child Victims Act, which would help Hasidic families whose children were victims of sex abuse seek retribution against rabbis, schools and synagogues. "Ever since child sex abuse, they've become weakened in the community," said Appel, who has advocated for victims. "The Hasidic community of 2019 is a very different Hasidic community than 2000. Very educated young people, they make up their own mind, they go on the computer, do research and they're not about to be bullied."
The mayor's close relationship with Orthodox power brokers in Williamsburg and Borough Park, such as Moishe Indig and Jeremiah Reichberg, has presented other challenges. De Blasio has campaigned extensively and held fundraisers in both neighborhoods. The fundraising tactics of the mayor and his donors drew attention of federal prosecutors, who launched a corruption investigation which ultimately ended in the conviction of one Orthodox donor and the cooperation and sentencing of another. The mayor was cleared of any impropriety.
De Blasio still has had difficulty issuing orders that regulate the ultra-Orthodox way of life – particularly improving the secular curriculum of yeshivas and restricting mohels infected with herpes from performing circumcision rituals. "There's a perception that leaders in the Hasidic community are part of the larger political system, that they're close to the mayor," said Brooklyn Legal Services attorney Marty Needelman, a Williamsburg fixture who works with Hasidic clients. "Some of the women in the religious community are very anti-medicine and there's skepticism among some of the men who are more anti-establishment."
Satmar activist Gary Schlesinger has dealt with many of them personally. As CEO of Parcare Community Health Network, which operates a clinic Williamsburg and urgent care facility in Borough Park, he tried to convince his neighbors to vaccinate their children in his medical center. "I spoke to a lot of these mothers. Nothing you would tell them you're going to be right," he said. "You speak with them for two hours and you think after two hours you think you made some progress – absolutely not."
Access to the internet is the most significant reason for their independence, residents say. Just like the rest of American society, ultra-Orthodox Jews have become more susceptible to bogus information spread outside established authoritative channels, such as social media accounts. Their views are fueled by the rise of mobile phone usage and social media, allowing tech-savvy Hasids to search for articles and opinionated blogs, Twitter accounts, Facebook posts and websites offering alternative views that cater toward an ultra-Orthodox audience. "Millennial couples think they're being open-minded about doing what's good for them rather than listening to the leadership," said Marcos Masri, a Democratic political consultant in Williamsburg and a Kings County Democratic Committee member. "Everyone has a Twitter account and social media became a huge source of information. Someone reads something sends a link to a whole group and that gets forwarded to another group. It opens their mindset."
That's been a challenge for Baby Boomer and Generation X rabbis, who have seen their ability to command entire election districts' worth of voters wane. "In the 2016 presidential primary, they got outvoted," said Williamsburg state committeeman Nick Rizzo. "There used to be 9,000 or 10,000 voters. I'm not saying they could muster that again, but they haven't for many years."
Still, the city's efforts to vaccinate children in ultra-Orthodox neighborhoods has made significant progress: Health workers have administered 21,284 doses of MMR vaccine to people under 19 years old as of April 28.
"There's no doubt we have moved the needle and had a major impact," said Brooklyn Assemblyman Simcha Eichenstein, the first Hasidic lawmaker elected to government. "A lot of parents in last couple of weeks and months have vaccinated their children, but it is true that the anti-vaxxer conduct is reaching into this community."
Powered By
NEXT STORY: Blurring the line between hotels and home-shares