New York State
What you need to know about the Legislature's e-bike agreement
The debate over legalizing electric bikes and scooters on New York streets may soon come to a close. With a vote on the amended bill expected to come Wednesday, here are the most important provisions and the bill's prospects for passing.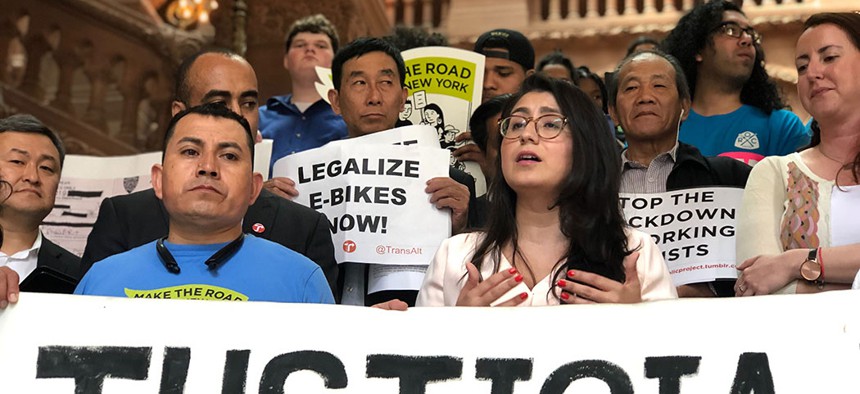 The debate over legalizing electric bikes and scooters on New York streets may soon come to a close if state Sen. Jessica Ramos and Assemblywoman Nily Rozic can push through their newly amended bill by the end of session this week. Before midnight Monday morning, state lawmakers agreed on amendments to the legislation Ramos and Rozic introduced in late April that would legalize the devices across the state.
The e-bike and e-scooter issue has been a hotly contested one across the country and worldwide, as cities big and small grapple with how to regulate the ubiquitous devices. But in New York, the debate has become especially fraught, as advocates highlight the argument that the people suffering most from New York City's crackdown on illegal e-bikes are low-income, immigrant delivery cyclists.
Pedal-assist e-bikes are legal in New York City, and (until recently) have been available through the shared Citi Bike program. But city law still prohibits the use of throttle e-bikes and e-scooters, imposing a $500 fine on those caught using them. Local lawmakers advocating for legalizing throttle e-bikes and e-scooters, like City Councilman Rafael Espinal Jr., have said they'd wait to see what happens with the state legislation before advancing bills at the city level.
With a vote on the amended bill expected to come Wednesday, here are the most important provisions and the bill's prospects for passing in the last days of session.
What's new in the amended bill?
The original version of Ramos and Rozic's bill would fully legalize e-bikes and e-scooters across the state – with certain regulations in place, like capping throttle e-bike speeds at 20 mph. But key language in the amended bill gives local officials even more control over how regulation of the devices will work in their own cities. First, while passage of the bill will make e-bikes and e-scooters legal across the state, municipalities would still be able to set their own regulations, including when and where they can or can't be ridden. The legislation will also allow any city, town or village to entirely prohibit the use of the vehicles.
The deal reached over the weekend notably includes specific carve-outs for Manhattan, where some of the strongest opposition to e-bikes and e-scooters has been voiced. New York City Mayor Bill de Blasio cites safety concerns in his apprehension about legalizing the devices and state Sen. Liz Krueger has emerged as one of the main opponents to the legislation in Albany. Representatives for Krueger, whose district includes the East Side of Manhattan, have said that her concerns center on the fact that Manhattan's streets, bike lanes and sidewalks are already overcrowded. Presenting a new high-speed element to that situation could be dangerous.
In the carve-out lawmakers brokered for Manhattan, companies will not be able to bring any e-scooter sharing programs to the borough for the time being. Outside of Manhattan, companies will have to obtain permission to do so. With Senate Democrats confident about the agreement, this seems to have satisfied the remaining holdouts. Krueger, however, did not respond to a request for comment.
The legislation spells out other regulations, including that anyone under 16 years of age will be prohibited from operating an e-bike or e-scooter, and that any trip data collected by companies operating bike or scooter share programs shall not be sold or distributed to third parties for commercial purposes.
What are lawmakers saying?
Gov. Andrew Cuomo made a similar attempt at creating legal categories for e-bikes and e-scooters and allowing municipalities to decide on regulations in his state budget proposal earlier this year, before dropping it later. During an interview on WAMC on Monday, Cuomo said that he wasn't sure of the status of Ramos and Rozic's legislation, but that he supported the concept.
Perhaps more surprisingly, de Blasio appears to be behind the plan. "We appreciate this commonsense legislation that clarifies the rules around e-bikes on our streets," de Blasio spokesman Seth Stein wrote in an email. "Safety for everyone on our roads is our priority, and we look forward to working with legislators and communities as we develop plans to implement the new law."
Early praise also rolled in from outside the city on Monday, with elected officials on Long Island voicing their support. "Suffolk County needs new, sustainable, reliable transportation options – and e-scooters and e-bikes will deliver," Suffolk County Executive Steve Bellone said in a statement. "I support the legislation by Sen. Ramos and Assemblymember Rozic to authorize our towns and cities to allow e-scooters and e-bikes so that all New Yorkers have access to greater, greener mobility." Advocates have pointed to the potential for e-bikes and e-scooters to close transit gaps on Long Island, just as they have lauded the devices as a last-mile transit solution in the outer boroughs. "Dock-free e-scooters and e-bikes are convenient and environmentally friendly options that will serve to expand green transportation on Long Island," Nassau County Executive Laura Curran added in a statement.
What questions remain to be answered?
It's not yet clear what types of specific regulations will be passed in New York City or in any other localities across the state. In the meantime, de Blasio and the New York Police Department continue to come under fire for a crackdown on e-bikes. The NYPD has been criticized for saddling delivery cyclists with $500 fines instead of the restaurant owners who employ them, and in some cases require them to use the illegal e-bikes. The throttle e-bikes used by delivery workers often have the capacity to reach speeds of up to 28 mph, which is higher than the 25 mph that legal e-bikes would top out at under the legislation. Whether those bikes could be retrofitted for compliance is an outstanding question. And for those who have had their illegal e-bikes confiscated by the NYPD – or other law enforcement across the state – there's no word yet on whether those could or would be returned.
Will it pass?
This is perhaps the ultimate unanswered question. "Time is not in our favor," Ramos told City & State in April, when the legislation was first introduced. "But I have had conversations with many of my colleagues, and I expect to have several co-sponsors over the next few weeks." Two months later, Ramos has done much better than several. At time of writing, Ramos' bill had 25 co-sponsors in the state Senate, while Rozic had 56 co-sponsors in the Assembly. Senate Democratic spokesman Mike Murphy was confident on Monday that the legislation would pass. There's no telling what can happen at the 11th hour, but with the deal struck over the weekend and an expected vote on Wednesday, passage may be imminent.
Powered By
NEXT STORY: NY lawmakers near deal on climate change