New York City
Will the New York City Council cap real estate broker rental fees?
City Councilman Keith Powers introduced a bill to cap at one month's rent the amount renters pay in broker fees, but the real estate industry is lobbying aggressively against it and the outcome remains uncertain.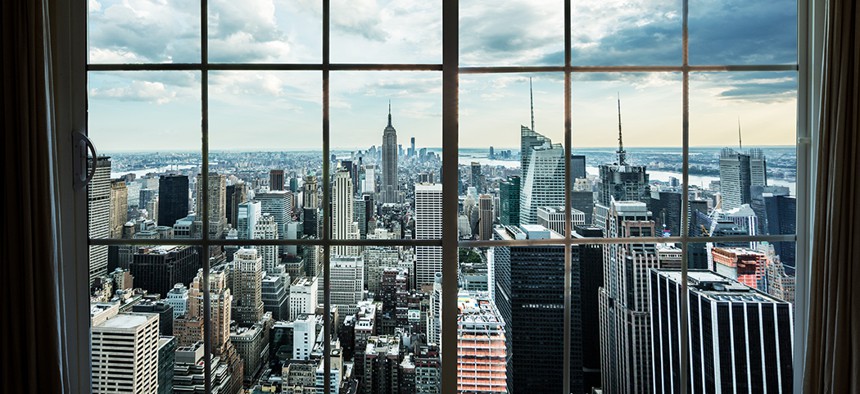 Amid an ever-worsening housing crisis, and following the state Legislature's passage of enhanced rent regulations in June, members of the New York City Council are trying to protect renters' pocketbooks on the local level. City Councilmembers, led by Keith Powers and Carlina Rivera, introduced a package of bills in February to limit upfront rental costs. One measure, sponsored by Powers, would cap at one month's rent the amount that renters can be obligated to pay in broker fees. The broker fee-cap bill currently has 24 cosponsors. The five other bills in the package target other upfront rental costs, including limiting security deposits to one-month's rent and transparency measures such as requiring brokers to disclose a list of how the money tenants pay in fees will be spent. But it is the proposal to limit brokers' payments that has created the most controversy and contentious debate. 
Determined not to lose more ground, the real estate industry is lobbying aggressively against the limit on fee payments. But, with New York City's astronomical cost of living a hot issue at the moment, and assertive progressives ascendant in the Democratic Party, the once-dominant real estate lobby may be unable to stop it.
Non-New York City residents may be confused by the issue, as renting an apartment does not typically come with such additional fees in the rest of the country. Broker fees are a commision that tenants have to pay real estate agents, who are retained by the landlord, when signing an initial lease. According to the real estate website StreetEasy, 43% of all listings in New York City carry broker's' fees. These fees can often cost tenants up to 15% of their annual rents, which adds up to almost two-month's rent. When the average market-rate rent on a two-bedroom apartment in Manhattan is $3,789, that could be upwards of $7,000 that tenants must pay an agent of the landlord's choosing, who represents the landlord's interests, rather than the tenants. The new rule would not apply to brokers hired by renters. 
Powers' bill proposes capping broker fees at one month's rent, cutting the amount tenants have to pay by as much as half. 
The bill was the subject of a City Council Committee on Housing and Buildings hearing on June 27. The hearing was flooded by more than a thousand brokers protesting the proposed cap, with a handful of housing advocates and tenants speaking on behalf of the legislation. The housing groups that testified at the hearing included the Legal Aid Society, Tenants and Neighbors and the Metropolitan Council on Housing. These organizations work with low-income individuals impacted by having to pay broker fees. 
According to Powers, they find "these upfront fees make it extremely difficult to house low-income tenants in New York City and contribute to the growing affordability crisis." 
Broker fees are a significant added cost for low-income renters. Even many middle-class renters don't have $5,000 on hand. Particularly among the young, it is often only those with wealthy families, from whom they can borrow thousands of dollars, who can pay an additional two-month's rent on top of all of their other upfront rental expenses like moving costs. 
Legal Aid Society attorney Robert Desir, who testified at the Council hearing, said low-income New Yorkers face a number of challenges when searching for affordable rental apartments and the broker's fees create an excessively steep hurdle. "When they do find an apartment, then there are additional hurdles in terms of having to provide all these upfront costs," Desir told City & State. "And some of them seem like they're being charged only because there's a housing shortage, particularly for low-rent apartments."
Real estate brokers are represented by the Real Estate Board of New York in this fight. Douglas Wagner, who works for BOND New York Real Estate and sits on REBNY's Residential Board of Directors, said that he is sympathetic to Councilman Powers' desire to make housing more affordable, but he thinks that Powers is overstepping. "The City Council is reaching a little too far in trying to regulate how one individual profession can be compensated," Wagner told City & State. 
Wagner contended that, in addition to brokers, the cap would hurt landlords and tenants. That's because the bill doesn't actually cap the total compensation the broker can receive, only the amount that the tenant has to pay at signing. Since the fee could still be higher than the one month's rent the tenant pays directly, landlords would then pay the rest. As a result, Wagner argued, landlords would have to increase the monthly rent to pay off those fees, placing the price burden back on the tenant. Furthermore, Wagner added that a slightly higher upfront rent the first year could result in renters paying more each subsequent year. "In year two and year three, and year four, every renewal is going to be based on that higher upfront rent that they have to pay in year one," Wagner said. "So there's no way to do what the council members propose without seeing an unintended consequence of rents increasing a little or a lot right away."
This argument that tenants would end up paying the fee back in a higher rent is disputed by the cap's advocates. First off, Desir said the amount that a landlord can increase a tenant's rent really depends on the type of housing. "If it's rent-stabilized housing, then there's a set number that's legal registered rent. There's not an ability to go beyond that and charge whatever they want," Desir said. According to a 2018 Rent Guidelines Board report, roughly 44% of the city's rental market is made up of rent-stabilized units. So Wagner's argument that capping broker fees would make tenants' annual rent increase dramatically doesn't apply to a large percentage of the market. Moreover, some landlords, especially those willing to potentially do without a broker, could simply refuse to pay above and beyond the one-month's broker's fees. 
Affordable housing advocates also note that the upfront cost of broker fees are particularly burdensome for low-income New Yorkers who don't have the savings to shell out an extra two-months rent on top of all of the other initial costs that come with renting an apartment. It's far more manageable for low-income renters to pay out this cost in a slightly higher monthly rent than upfront. It also is less discriminatory, as there is a strong correlation between race and who has greater wealth with which to pay large upfront costs – even when adjusted for income. As of 2016, the median wealth of white American family was $146,984, while the median wealth of black Americans was $3,557.
The Community Service Society of New York conducts an annual survey of low-income New Yorkers. "One of the questions we always ask is, 'How much savings do you have for either emergencies or big purchases?'" Oksana Mironova, a housing policy analyst at the organization, told City & State. "Year after year, we find that low-income New Yorkers – and, for us, that's people who are at or under 200% of the federal poverty line threshold – have minimal savings," Mironova said. The data collected from this survey shows that around 72% of low-income New Yorkers have $1,000 or less in savings, much less than a typical broker's fee for an average New York City apartment.
The majority of brokers who attended the hearing were kept outside of City Hall's gates by police because the Council chamber has a capacity of 250. Wagner said this large showing of brokers was rather the result of a REBNY-led social media and email campaign to get the word out. Wagner estimated the brokers' turnout as, "something like 1,300 or 1,500 people showing up to City Hall. It was more than we expected." Desir said that REBNY made such a strong appearance at the hearing because its members are deeply concerned "and rightfully so: I think that they're concerned about losing a stream of income." However, he added, "In my opinion, it's income that never should have been realized in the first place." 
Wagner said REBNY is taking this bill very seriously and will fight it until the bitter end. However, Wagner added that he would be willing to come together with Councilman Powers and "try to work towards other solutions that will somehow benefit tenants without hurting real estate agents." One of the ideas that has been tossed around, Wagner said, is a tenants' bill of rights. "Where tenants would be able to go into a transaction knowing more transparently and clearly exactly what's laid out for them, so they don't get the kinds of unpleasant surprises that led to Councilman Powers drafting this bill in the first place," Wagner said. 
Despite the strong showing from brokers, Powers said he's optimistic about the bill's chances of passing the Council. "With the amount of sponsors we have, and just having a hearing, I think that's a good sign that we're making progress," Powers told City & State. "I think we're in good shape in terms of where our support is on the council right now. And our sponsors alone almost make up the margin of the votes needed to pass the bill. Obviously, the chair of that committee's on the bill," said Powers, referring to City Councilman Robert E. Cornegy, Jr., who chairs the Committee on Housing and Buildings. The councilman is hoping the legislation will be voted on in the fall. Desir is also optimistic about the bill's chances of passing. If he and Powers are right, the real estate industry could suffer another bruising political defeat. 
Powered By
NEXT STORY: Why did Con Edison cut power in Brooklyn?