Thomas DiNapoli
Is DiNapoli doing enough to target MTA labor costs?
Budget watchdogs say New York Comptroller Thomas DiNapoli should more closely examine subway spending.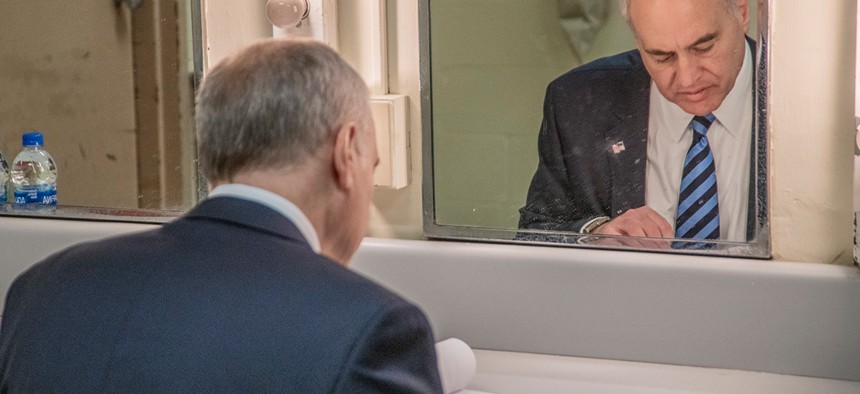 State Comptroller Thomas DiNapoli has audited the Metropolitan Transportation Authority for a myriad of issues large and small, from its on-time performance and homeless outreach to its recycling practices and cleaning products. But some critics say he's too fixated on small-scale issues while failing to fully examine the main driver of the agency's extraordinarily high costs: labor. 
Though several of the comptroller's audits have looked at overtime and operating costs for certain programs, such as railcar and bus maintenance, DiNapoli's office has not covered larger labor costs that make up a whopping 60 percent of the MTA's operating expenses.
The comptroller's focus needs to be centered around improving service for riders, argued Rachael Fauss, senior research analyst at the good government group Reinvent Albany.
"We like to see the State Comptroller acting energetically on oversight, such as personally communicating with the MTA and its Board, since the Legislature at large has not stepped up to the plate," Fauss said in an email. "Oversight needs to focus on big-ticket items that can improve service for riders, and ensure that the MTA is following its own rules. This is particularly crucial as the MTA is gearing up for its 2020-2024 capital plan, which has not yet been made public."
Reinvent Albany released a 170-page report in April detailing specific recommendations to improve the MTA. Among a multitude of suggestions, the report calls for greater oversight of contracts by the comptroller as well as an audit for the MTA's FOIL process. 
"Rather than focusing on one-off cases of wrongdoing, systemic problems and policy issues should be prioritized, so that not only is abuse or waste uncovered, but prevented in the future," Fauss said. 
Nicole Gelinas, a senior fellow at the Manhattan Institute, pointed out that the comptroller's office has previously audited other large institutions, including 19 child care centerscaught misspending public funds."The office has a history of auditing government-service providers, and there is no clear reason why they couldn't do the same at construction contractors that are providing a service to the MTA, including looking at payroll to make sure hours worked are actually worked, for example," Gelinas said. 
The comptroller's performance also came up last year on the campaign trail, as DiNapoli's rival, Jonathan Trichter, argued that he "never found and never has audited the fact that labor costs are driving up the costs of public works projects." "What we have is a total failure, and the guy's been absolutely asleep at the switch when it comes to the MTA crisis," Trichter told City & State in October. "He absolutely failed to detect any of the problems that were coming."
DiNapoli's office responded they have been doing their job when it comes to examining the MTA. According to his office, labor costs were covered in 11 regular MTA audits and six follow-ups issued by DiNapoli, who uncovered cases of overspending and has examined overtime costs at the transit agency since 2009. 
"Comptroller DiNapoli has been sounding the alarm about the MTA's troubled finances and operations, including overtime costs, for years and continues to do so," said Matt Sweeney, a spokesman for the comptroller's office. "The dozens of audits and reports have been cited by other watchdogs and by the MTA itself as it struggles to improve the system for its riders."
The comptroller also penned a July 23 letter urging MTA Chairman and CEO Patrick Foye to address a series of problems, from performance-related deficiencies to overtime pay and operating and inspection costs, all issues that his audits have identified in the past. 
"The MTA will have to do better if it intends to turn the system around," DiNapoli wrote. 
In the wake of a hasty MTA reorganization plan that is set to eliminate 1,900 to 2,700 jobs, the agency, which has a longstanding history of spending beyond its means, is trying to rein in cost growth. The MTA, which is currently in the process of advancing its next five-year capital program – covering the years 2020 to 2024 – needs as much as $60 billion for the plan, according to a 2018 report by state leaders and transit experts. 
When DiNapoli has addressed systemic issues in the past, such as on-time performance and rider safety, the audits and follow-up checks have often generated little response. For example, following an August 2015 audit on on-time performance, the MTA "made limited progress in addressing the problems identified" and subway delays only worsened, according to a follow-up audit in September 2017.
In an audit released on July 29, DiNapoli also exposed one of many costly mishaps by the MTA, whose workers forgot to make the platform of a subway wheelchair-accessible during the station's construction process – a mistake that came with a hefty $617,000 price tag. 
"There's nothing wrong with taking a narrower approach with this audit, but it's only taking us a very particular thing and there are many other factors that are driving up construction costs at the MTA," said Ben Fried of Manhattan-based think tank TransitCenter.
Fried listed noncompetitive bidding, overstaffing, excessive customization of MTA-specific subway parts as well as preliminary design, engineering and management costs, known as "soft costs," as major cost drivers the comptroller should consider auditing. 
"This audit is welcomed but it's only going to be helpful if it's the first in a series," Fried said. 
Of course, others bear varying degrees of responsibility for the MTA and its finances as well. Gov. Andrew Cuomo, who has repeatedly wagged his finger at the MTA, is pressing it to get a handle on its workers' overtime hours. Yet the governor has continued to distance himself from the agency while simultaneously asserting control through his 10-point planto transform the MTA as well as his recent selection of Carolyn Pokorny for MTA inspector general. 
Larry Schwartz, a Cuomo appointee to the MTA board, acknowledged DiNapoli's work at a meeting on June 26, citing the comptroller's office as one of the entities to have issued more than a dozen reports documenting a pattern of time and attendance, pension and payroll fraud theft and abuse spanning the MTA system. 
MTA spokesman Shams Tarek shared a statement with City & State responding to the July 29 audit on wheelchair accessibility, claiming that it "cherry-picks six out of more than 2,000 current and recent projects that were considered," and noting that "the MTA is taking aggressive actions to hold contractors more accountable."
"The MTA works closely with the comptroller's staff to provide requested information," Tarek told City & State, "and responds to each audit with any action plan that's deemed necessary."