James O'Neill
O'Neill: NYPD not locking anyone up on facial recognition hit
NYPD Commissioner James O;Neil is trying to quell concerns about the polic force's use of facial recognition technology following a recent New York Times report.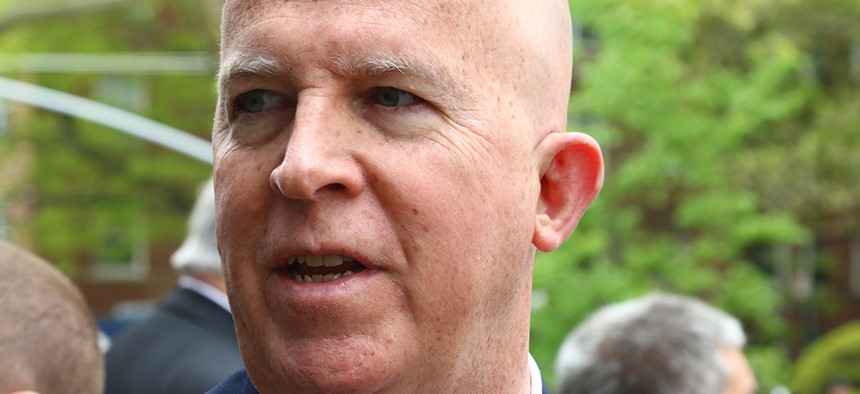 Over the years, the New York Police Department has come around to the benefits of technology like department-wide body cameras and license plate readers. It's a far cry from the 1980s, when cops were outfitted with a nightstick, a revolver and a radio that worked intermittently, said Police Commissioner James O'Neill during remarks at City & State's Protecting New York Summit on Wednesday. But many have perceived the growing use of facial recognition technology as a threat to minority populations, prompting calls to ban its use. An investigation in The New York Times that found the NYPD has used its facial recognition technology on photos of children as young as 11 is unlikely to quell those concerns.
The Times reports that for four years, the NYPD has been loading mug shots of children and teenagers into its facial recognition system to compare to crime scene images. Several City Council members and civil liberties groups were previously unaware of the practice, but the NYPD defended its use, even though few studies have been done to test the accuracy of facial recognition on children.
O'Neill, speaking about the department's general use of facial recognition one day before the Times story was published, said that the technology is just one tool at their disposal, not a smoking gun. "There's been some controversy about facial recognition," he said. "But we use that as a lead. That's not probable cause. We're not locking up anyone based on a facial recognition hit."
For the rest of today's tech news, head over to First Read Tech.
Powered By
NEXT STORY: Is DiNapoli doing enough to target MTA labor costs?