New York City
How 9/11 survivors can get help
It's not too late to apply for compensation for health care costs.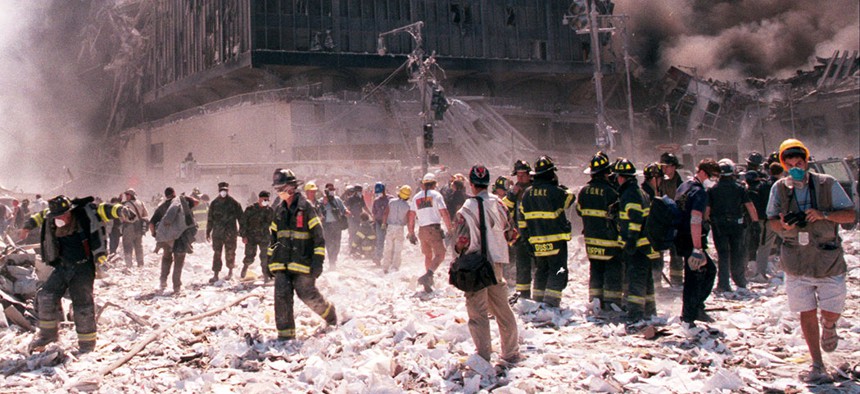 With more than 400,000 people at risk of developing 9/11-related illness, as Bob Hennelly explained in this week's City & State cover story, there are still New Yorkers who may not realize that they're victims of the attacks on the World Trade Center. Others, as Amanda Luz Henning Santiago writes in her first-person account for City & State, know all too well that they're suffering, but have struggled to connect with the health and financial resources made for victims. 
Awareness of some resources seems to be growing. Enrollment in the September 11 Victims Compensation Fund increased by nearly 70% over last year, presumably due in part to the months-long political effort to keep the fund alive. Washington did just that in July, effectively permanently extending and bankrolling the fund. While the battle is over on Capitol Hill, new victims are finding the resources available to them every day. Here's a brief guide.
What's available?
The main resources are the World Trade Center Health Program, which pays for medical and mental health treatment for 9/11-related illnesses, and the September 11th Victim Compensation Fund, which pays victims and immediate family members for the financial losses incurred as a result of those 9/11-related illness or death. Both are federal programs, now fully funded through the July passage of the Never Forget the Heroes Act.
There's also the World Trade Center Health Registry, a city-run program to monitor and study 9/11-related conditions. The registry helps connect victims to treatment – and the WTC Health Program – through the 9/11 Treatment Referral Program.
Who's eligible for all of these?
Anybody involved in the rescue, recovery, demolition or debris removal at the World Trade Center site is eligible for the WTC Health Program. So are people in the wider class of "NYC Survivors" who lived, worked or attended school or day care in the "NYC disaster area" – anywhere in Manhattan south of Houston Street, and parts of Brooklyn Heights within a 1.5 mile radius of the World Trade Center complex.
Once the WTC Health Program or another government entity determines that an illness or death was related to 9/11, then the victim or their family generally has two years to file a claim with the September 11th Victim Compensation Fund, or VCF. 
What health conditions are covered?
A lot of them. The WTC Health Program provides a long list of maladies that health professional found were likely to be caused by exposure to the attacks on 9/11, ranging from asthma to post-traumatic stress disorder to various types of cancers. 
9/11 was years ago. Isn't it too late to sign up?
No. If you fit one of the eligible groups, you can still apply to the WTC Health Program. Accepted survivors get a one-time initial health screening for 9/11-related illnesses, and accepted first responders get annual check-ups to find related health issues. 
The VCF, however, has strict deadlines, depending on the date an illness was certified or a victim died. The fund goes into the details on its FAQ page. 
The WTC Health Registry closed in 2004, and isn't accepting new registrants.
How likely are claimants to succeed?
Of the nearly 52,000 claims filed for the VCF, about 24,000 received awards. 
Are there other resources?
Those are the major government programs, but there are a handful of other still-active foundations that provide community, emotional support and financial resources for survivors. There's Tuesday's Children, which aims to heal those affected by loss, the Families of Freedom Scholarship Fund, which provides educational assistance to the families of 9/11 victims, the Stephen Siller Tunnel to Towers Foundation, which supports first responders and injured military veterans, and so many more.
Powered By
NEXT STORY: Facebook is James' latest tech target