New York State
How would public campaign finance affect unions?
It could limit their influence, but few are opposed.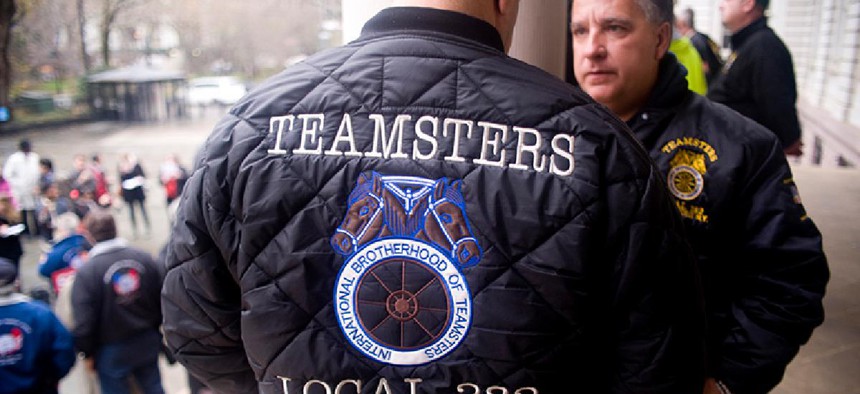 If New York adopts a public financing system for political campaigns, unions could stand to lose because they would no longer be able to contribute an outsized share of a candidate's campaign funds. But with their large memberships, capable of influencing elections through volunteerism, endorsements and voting turnout, such a system could simply require a recalibration of their political strategy.
Unions are a major political player in the state, which has one of the nation's highest unionization rates, and many of them give large sums from political action committees to both individual candidates and party committees. According to a recent analysis from The New York Times, AFL-CIO-affiliated unions in New York spent about $3.9 million in 2018 on state and local elections.
Like any other group that donates through a PAC during the election cycle, it stands to reason that labor would lose some of its political clout under changes currently being considered by the state's Public Campaign Financing Commission. "Unions are certainly viewed as a special interest by some people, and by others they're seen as representing the broader working class," Alex Camarda, senior policy advisor at Reinvent Albany, told City & State. "There's no disputing the fact that unions have a lot of influence in New York state and give a lot of money in campaign contributions and spend a lot of money on lobbying."
At one point during the commission's expert hearing last week, David Previte, state Senate Minority Leader John Flanagan's appointee to the commission, asked one of the testifying experts if she considered unions a "special interest." Previte, who is one of only two Republican appointees among the nine commissioners, said he wanted to make sure that in creating a public campaign finance system, the state – and by extension, Democrats who control the state government and have a majority on the commission – are not trying to exclude "particular interests." He pointed out that on the federal level, unlike in New York, union contributions are treated the same way as corporate and LLC donations. In national elections, unions, corporations and LLCs cannot give directly to political candidates. In New York, state law recently closed the so-called "LLC loophole," ensuring LLCs adhere to the lower contribution limit imposed on corporations. That limit does not apply to unions. 
Treating unions like corporations in campaign finance law would seem to make sense. In the political sphere, they advocate for policy that benefits their members, similar to how a trade group like the Real Estate Board of New York advocates for its members. The difference to progressive activists and lawmakers who are ascendant in New York is that they generally agree with union agendas more often than they do with business interests. 
However, Chisun Lee, senior counsel at the Brennan Center for Justice, draws a distinction between union and other member-based grassroots organizations on the one hand and business interest groups such as trade associations on the other. The former, Lee noted, only attain power if they represent a sizeable number of actual constituents. "It's hard to form a membership-based organization because their power rests entirely in how many human beings belong to them," Lee told City & State. "And that's different than a business interest group where the power lies in the profitability of the companies."
Union leaders could mobilize those individuals to make small-dollar donations that qualify for public matching funds, if the state adopts such a system. In this way, unions could still help fund their chosen candidates, but only through many small donations rather than large sums donated through PACs. Therefore, according to Camarda, unions could actually benefit from a matching fund system, rather than suffer due to the decreased importance of of their formal institutional support. 
However, those same union leaders – many of whom are considered political power brokers – could lose some clout through the dilution of influence, which has been consolidated among the highest ranks. Those leaders would no longer directly control the money flowing into candidate and party coffers.
Lee said that she is disappointed that more unions have not come out to vocally support public campaign financing since, as she sees it, the practice fits with the democratic ideals of unions. According to reporting from the Times in April, only 32BJ SEIU and Communication Workers of America District 1 unequivocally support public campaign financing. Many others declined to comment, supporting the practice in theory or stating that it's not an issue they are involved with. The two unions in support are also part of a coalition called Fair Elections New York, which advocates for public campaign financing. Lee would not speculate as to why unions are staying out of the fight. 
Even under a public campaign finance system with lower overall contribution limits to both candidates and party accounts, unions, like any other member or trade group, could still have outsized influence on elections through outside spending. For example, unions could pay for massive get-out-the-vote efforts or advertisements in support of their preferred candidate, so long as they do not coordinate with the campaign. Similarly, they could still attack the opponent of a preferred candidate through ads and phone calls.
Both 32BJ, which represents building janitors and other workers, and the Communications Workers of America have independent expenditure committees that spend large amounts of money indirectly supporting candidates, a practice they could presumably continue under the new campaign finance system. Those committees, also referred to as super PACs, can spend unlimited cash during elections, but cannot give directly to or coordinate with any candidate. For example, state Sen. Alessandra Biaggi credited 32BJ in part for her victory against former Independent Democratic Conference leader Jeff Klein in 2018. Through its Empire State 32BJ SEIU PAC, the union tallied nearly $109,000 in outside spending alone to support Biaggi. The union spent about $157,000 total in independent expenditures in 2018. CWA, through its PAC New Yorkers Together, spent close to $500,000 in 2018 in support of key Democratic candidates. A spokesperson for 32BJ said that the union sees the money pooled by its members for independent expenditures as different than other independent expenditures from the likes of corporate groups. CWA did not respond to a request for comment.
Experts at last week's hearing suggested that adding public funds to campaigns will minimize the influence of super PACs by giving candidates more money to combat outside spending. Yet Camarda said that it's possible that groups - including unions - that lose clout due to more small donations may increase spending on independent expenditures. Lee disagreed, saying that New York City, which has had a public matching fund system in place for years, did not experience an increase in outside spending as a result. 
Although the New York arm of the AFL-CIO said in March that the state Legislature should not pass public campaign financing yet because it "merits further review," it did not explicitly express opposition to the idea. The Civil Service Employees Union remains one of the only unions that has taken a public stance against using public funds for elections, arguing that the money could be better spent on other things. A spokesman for the union did not return a request for comment.
The Public Campaign Financing Commission holds its third public hearing on Wednesday to hear testimony from the public. Although no experts at the first hearing represented a union, there is still time at the Albany hearing and the two remaining for unions to add their voice to the mix.