New York State
The State Liquor Authority takes aim at delivery apps
A draft advisory would cap commissions of delivery services like Grubhub, but questions remain for apps and restaurants alike.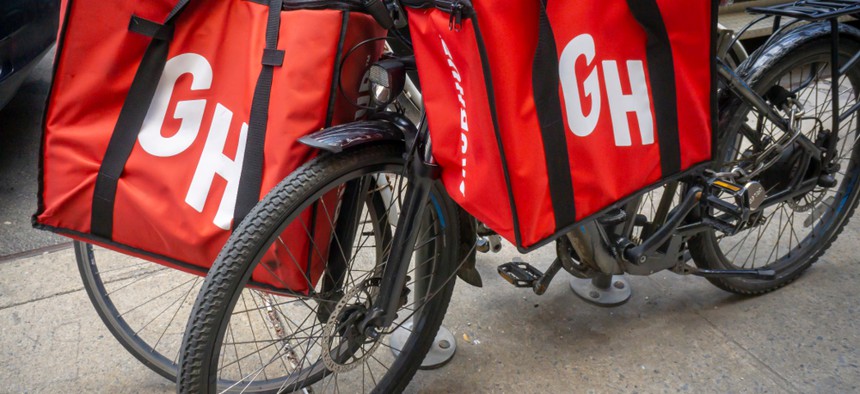 For online and app-based delivery services like Grubhub and DoorDash, this summer has been one filled with scrutiny, in New York and beyond. Now, a proposed advisory released by the New York State Liquor Authority last month could change how much those delivery companies can make off of restaurant orders.
The State Liquor Authority, which regulates restaurants serving alcohol, is considering a new rule that would effectively cap at 10% the commission that third parties – including delivery apps – can take out of orders from any restaurant with a liquor license. Typically, when a customer orders from a restaurant through a delivery service, those third party companies pocket a portion of the profits. UberEats, for example, charges commissions ranging from 10% to 30%.
The state's Alcoholic Beverage Control Law states that in general, any party which shares in the profits of a company with a liquor license must be listed on that license. But one longstanding policy of the State Liquor Authority exempts landlords from that requirement if their percentage of profits doesn't exceed 10%. As currently written, the new draft advisory appears to extend that policy to other third party companies, including apps like Grubhub.
If these third parties took commissions larger than 10%, they would have to be listed on the liquor license, a process that tech companies say is time-consuming and complicated and thus would likely avoid. "(It's) a very bureaucratic endeavor and would require quite a lot of maneuvering and doesn't seem exactly feasible," Zachary Hecht, policy director at the industry association Tech:NYC, said of being listed on a license. 
The draft advisory addresses seven categories of third parties, including fulfillment centers that store and ship a licensee's products to consumers, and promotion companies that offer discounts on the licensee's products. But media coverage of the proposal has focused on online and app-based delivery services, in part because of their impact on New York's restaurant industry. Earlier this summer, New York City Councilman Mark Gjonaj, who chairs the committee on small business, called for an antitrust investigation into Grubhub, which also owns Seamless, another online delivery company. In June, the City Council held a hearing addressing allegations that Grubhub has been overcharging restaurants through fees for phone calls from customers that don't actually result in orders. Grubhub has been accused of charging restaurants fees when a customer calls through the app to make reservations or complain about a previous order, for example. The company recently extended the period of time for which restaurants are able to dispute any charges from 60 to 120 days. 
While a cap on commissions might seem like a positive development for restaurants that feel they're being overcharged by apps, the draft advisory from the Liquor Authority is too vague for groups like the New York State Restaurant Association to know whether to support it or not. 
"In broad strokes, we think some of this may help. However, there's some words in here that aren't actually defined, and that makes us a little nervous," said Kevin Dugan, government affairs director of the New York State Restaurant Association. Dugan mentioned, for example, that the word "profits" lacked a definition in the draft. "If they cap these third party delivery fees at 10% of profits – profits of what? Profits of a single sale? Profits of an alcohol sale? Net profits? Gross profits?"
Capping commissions at 10% would be a hit to how much some of these companies are able to profit from orders, and some worry it could encourage delivery companies to impose other kinds of fees on restaurants – like the phone call fees Grubhub has been accused of imposing – in order to make up the difference. "If (delivery companies) moved to a flat fee system, would those fees be a significant number? Would it all come out in a wash?" Dugan asked. "We're a little unsure about, practically speaking, what this will mean."
The New York City Hospitality Alliance, a nonprofit that represents restaurants and nightlife establishments, said it supports the general idea of a cap on commissions. "If drafted properly, this advisory will provide legal guidance to establishments that are subject to fines and license revocation, on the one hand, and to service providers on the other hand, some of which are extracting large percentage-based fees and engaging in other questionable business practices that hurt our city's restaurants," Andrew Rigie, the group's executive director, wrote in an email.
Tech companies and their industry associations, too, have found the proposed advisory confusing. "The draft includes some internal inconsistencies and vague language that warrant clarification, not only for us, but the seven different categories of third parties referenced within the draft," Brendan Lewis, vice president of communications/public affairs at Grubhub, wrote in an emailed statement.
Others are similarly unclear on what the proposed advisory would actually do, but delivery companies are aligned in their opposition to it. "This is just another example of Albany regulations hurting mom and pop businesses," Uber spokesman Harry Hartfield told City & State. "Albany shouldn't force restaurants to choose between a liquor license or delivery revenue."
At a board meeting in August, the SLA voted to hold off on the advisory issue at least until its Oct. 2 board meeting, giving anyone who wants to comment another month to respond. "The purpose of that is to hash out those kind of issues," said William Crowley, director of public affairs at the SLA, referring to any inconsistencies in the draft.
Another topic at issue is the fact that the draft advisory appears to apply to orders that don't actually include alcoholic beverages, prompting some to question whether those orders actually fall under the scope of the State Liquor Authority. The SLA issued a ruling in 2017 that exempts Grubhub from having to be listed on a restaurant's liquor license as long as Grubhub's profits from sales of alcoholic beverages does not exceed 10%. 
The new proposal would presumably apply that 10% cap to all orders, whether or not the sale includes alcohol. "Let's say that Grubhub/Seamless is delivering for a restaurant with a liquor license, but they never deliver alcohol, because it's not a huge portion of these delivery services' businesses," Tech:NYC's Hecht offered as an example. "They would still be capped at 10% commission for sales (of food) and it seems that that's outside the scope of what SLA should be doing and focusing on."
Asked whether the SLA has that authority, Crowley didn't get specific. "I guess the only way I can answer that is that we regulate anybody that holds a liquor license," he said. Crowley emphasized, however, that the draft advisory is just that – a draft. 
While there has certainly been turmoil between restaurants and apps in recent months, the SLA said that the advisory proposal doesn't stem from a desire to crackdown on delivery services in particular. Crowley said it has been dealing with the issue of third parties for a long time, and a former chairman of the SLA agreed.
"The chairman made it very clear the other day that this is a more comprehensive look at the entire subject of third party providers," said Anthony Casale, referring to comments made by the current chairman, Vincent Bradley, at the Aug. 20 board meeting. Casale chaired the SLA from 1995 to 1998. "(The advisory) was not directed at any one particular industry and definitely not directed at any one particular company."
Still, even Casale acknowledged that there are some questions that remain to be answered in the draft advisory. "I was pleased to learn that the Liquor Authority, in addition to hearing comments, will entertain any questions regarding the proposal," he said, "because there may be some confusion in people's minds as to what some of the language actually means."
Powered By
NEXT STORY: Coming soon: Amazon's new biometric tech