New York City
A bigger, more ambitious Transit Tech Lab
The Transit Innovation Partnership is attempting to innovate the MTA with a second year of its Transit Tech Lab.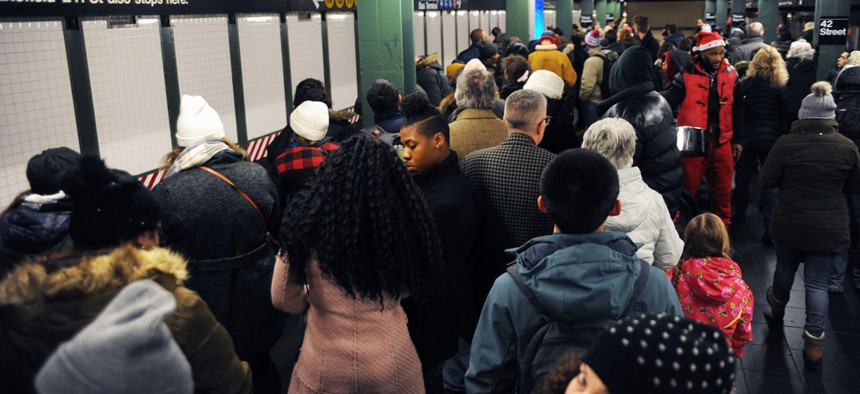 Government is notoriously slow to innovate, and the Metropolitan Transportation Authority is no exception to – and perhaps even an exemplar of – that reality. But the Transit Innovation Partnership – a collaboration between the MTA and the Partnership for New York City – is attempting to change that with a second year of its Transit Tech Lab. 
Last year, the Transit Tech Lab launched as a way to invite startups to tackle long-standing subway and bus problems, and four of those startups are now doing just that in a year-long pilot of their technologies, some of which target issues like subway platform crowding and bus system failures. 
Announcing the second year of the venture in October, the Transit Innovation Partnership laid out three new challenges: accessibility, curb coordination and revenue. They are now seeking applications from startups. In 2020, the Lab will also bring in additional partners: Amtrak, New Jersey Transit, New York City Department of Transportation, New York City Taxi and Limousine Commission, and the Port Authority of New York and New Jersey. "New York transportation infrastructure is governed by multiple overlapping entities and this allows us to deploy pilots and include more of them," said Transit Innovation Partnership Executive Director Rachel Haot in a recent interview with City & State. "It means that we can deploy technologies that are farther-reaching." 
The four companies from the first year of the lab will finish their pilots next summer, at which point they'll presumably hope to continue working with the MTA, but there are no guarantees. "That's where we defer to the transit agencies and their experiences and what they'd like to see," Haot said. "After that point, they are subject to the standard procurement processes of the transit agency that they would be working with, and they would have to comply with all of those guidelines."
For the rest of today's tech news, head over to First Read Tech.
Powered By
NEXT STORY: AOC settles Twitter lawsuit, avoids court showdown