New York City
Can New York be a future space hub?
A handful of lawmakers are pushing the idea of a New York state space program, but there's some work to do before planting a New York state flag on the moon.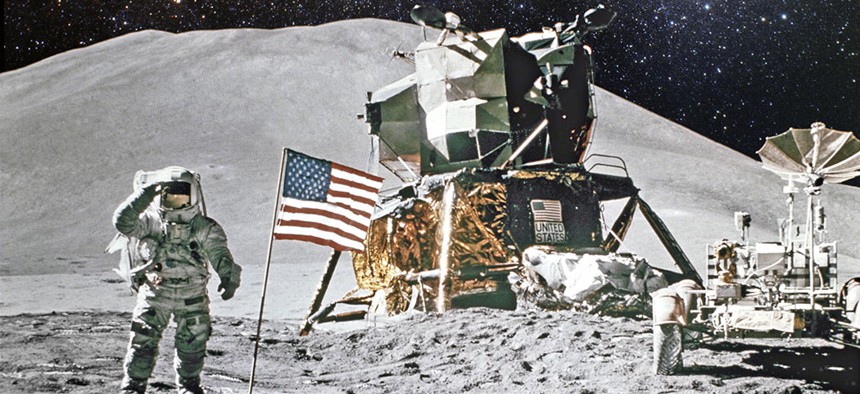 This Tuesday, on the anniversary of the Apollo 12 mission that landed men on the moon for the second time in history, a group of lawmakers and academics gathered at the American Museum of Natural History to promote the notion that 50 years from now, New York could play a major role in the next generation of space exploration. 
During the meeting, convened by Assemblyman Clyde Vanel, who chairs the Assembly Committee on Internet and New Technology, lawmakers questioned academics on points like what they would want a New York state space program to look like, what kind of research and industry activity is already happening in the state, and what the roadblocks are to making New York more prominent in the field.
But Vanel had one question that rang out above the others. "Can we put a New York state flag on the moon?" he asked to an approving, and slightly amused, response. The move would give the motto plastered on the state flag – "excelsior," or "ever upward" – an entirely new meaning.
While the question might have been hyperbolic, the ideas presented by the dozen or so academics to lawmakers – including Vanel, Assemblyman Steve Stern, New York City Councilman Robert Holden and a handful of staffers from other state legislators' offices – were not. After all, New York's involvement in space exploration is not solely aspirational but rooted in history. The lunar module used in the Apollo 11 landing was built on Long Island, which carries the nickname the "cradle of aviation." "We literally landed men on the moon by what was designed and created on Long Island," Stern noted. 
That was before the aerospace company Grumman, which was headquartered in Bethpage and built the module, merged with Northrop in 1994, became "Northrop Grumman," and proceeded to gradually move much of its staff and operations outside the state. A company that once had 25,000 workers in New York became one with just several hundred.
But as the astrophysicists, academics and even some industry professionals in the room on Tuesday attested, there's a great deal of research on space exploration and related fields happening in New York that could be tapped, better funded and expanded upon as part of a New York state space program.
New York state may never compete with Florida's Cape Canaveral as a launch site, but there's still more that could be done. "There's so much more to space than rockets," said Dr. Cecilia Levy, an assistant professor of physics at University at Albany. "There is space exploration, there is space observation, there is space composition, dark matter, there is space weather, there is SETI – the search for extraterrestrial intelligence. And of course there is all the technology and the engineering that is needed to make this happen."
One of a few such opportunities that was mentioned included building – and perhaps even launching – miniaturized satellites, grouped into categories based on mass including "SmallSats" and "NanoSats," which can be used for research and testing of new technologies. Proponents pointed to the benefits of these small satellites, including the fact that they're low cost and something that university students can help build, providing the opportunity for academic institutions to partner with industry.
Most of the scientists in attendance on Tuesday agreed on a few things that could help a state space program, and the overarching goals that most spoke of included expanding research and attracting and retaining talent. While major companies like Grumman may no longer be fueling the space industry in New York, there are a few startups working in the area. Launcher, a rocket startup on Long Island, is developing what it calls the "world's most efficient rocket" to take small satellites to orbit. 
And even in New York City, there are companies like Honeybee. The company, founded in the city in 1983, is a robotics R&D company that has built tools and systems used by NASA, including in various Mars explorations. But even as the company has expanded over the years, its presence in New York has been dwarfed by its other locations in California and Colorado. 
"We're expanding in Colorado and California. And we're not considering expanding currently in New York because the costs of doing so are just prohibitive," said Jason Herman, vice president of the advanced robotics group at Honeybee Robotics. Herman, who was at Tuesday's meeting, said that the high cost of real estate and the competition for talent with other locations make it difficult to build and grow a space company in New York. Others at the meeting suggested that New York ought to provide subsidies for startups working in the field, or state funding for research centers.
Vanel and the other lawmakers took in these suggestions, and while no promises were made, nearly all in the room were swept up in the possibilities of New York taking a more active role in space exploration, observation and research. Asked how he would communicate the space industry as something worth pursuing to his constituents and colleagues, Vanel responded, "How could we not?" "Government used to be in the business of space exploration. The question that you're asking me wouldn't even be a question 40 years ago," he said, adding that as the federal government and even private industry make leaps and bounds in the field, there's room for New York to participate. "My constituents understand jobs and understand economic opportunity."
Holden, Vanel and Stern encouraged academics and industry professionals to continue conversations with them and spoke about holding hearings both in Albany and New York City – something those in the room were glad to hear. "Everyone – from Montauk to Manhattan to Massena to Rochester and Buffalo and Niagara Falls – everybody here in New York is unified in this idea that it's a great idea to do space here," said Charles Liu, associate professor at the College of Staten Island at the City University of New York. "I mean, we won't call it NASA, we might call it ESSA – Empire State Space Agency."
Powered By
NEXT STORY: Why New York City is getting an algorithms officer