New York City
Do self-driving vehicles have a future in New York?
The Empire State is in no hurry to embrace the cars of tomorrow.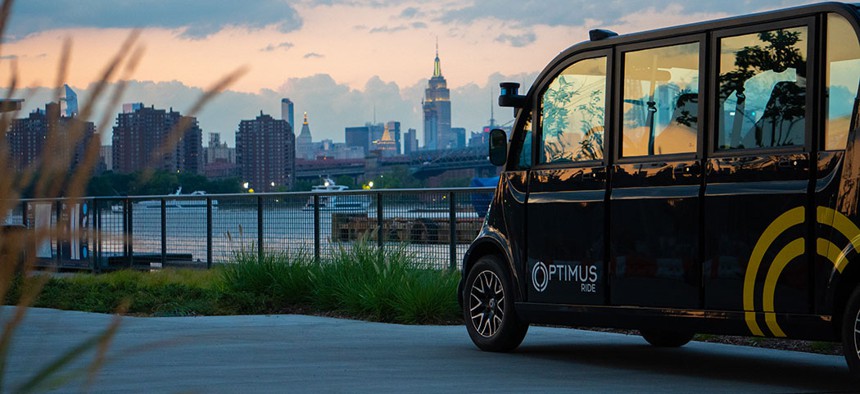 Self-driving vehicles have arrived in New York City. All they need are two drivers apiece.
Three months ago, employees at the Brooklyn Navy Yard gained a new way to travel around the sprawling campus: Optimus Ride's free self-driving shuttle service, which shepherds riders between a Navy Yard entrance and the New York City Ferry dock. Equipped with two safety drivers – one in the driver's seat with their hands hovering above the steering wheel and the other monitoring a computer screen from the front passenger's seat – the vehicles are impressive in their ability to stop for pedestrians and bicyclists. But the shuttles are also slow-moving and cautious – a far cry from KITT in "Knight Rider" or the countless other self-driving cars in pop culture. With years of Silicon Valley hype generated by founders like Elon Musk and companies like Waymo about the revolutionary future of autonomous vehicles, riders in today's models would be forgiven for questioning why the current product is so, well, boring.
Across the country, autonomous cars are progressing more slowly than once expected, and fervor over the technology has dwindled, as questions about safety, costs and timelines arise. Doubts have been punctuated by autonomous vehicle-related accidents – most notably, in 2018 when an autonomous car struck and killed a pedestrian in Arizona. The embrace of autonomous vehicles has been slower in New York than in other states, despite the fact that testing the technology on public streets has been legal since 2017.
Few companies have taken advantage of the ability to test autonomous vehicles in New York, and self-driving shuttles have been limited to small-scale deployments and tests on private campuses, such as at the Brooklyn Navy Yard or the University at Buffalo. And while those in the tech industry often complain that government regulation is slowing down innovation, in the case of self-driving cars, it seems that the technology is just not ready to hit the highways and, especially, the streets of New York City. "Nobody today will tell you that autonomous vehicles are ready to be deployed in New York City," said Zachary Hecht, policy director at the tech nonprofit Tech:NYC. "The technology is not necessarily there yet, and there are a whole host of other factors."
Since 2017, when the state legalized tests of autonomous vehicles, only two companies – Audi and Cadillac – tested the tech. Audi drove about 170 miles around Albany, while Cadillac tested its cars on a drive from New York City into New Jersey. To conduct a test, the law requires a company to submit an application through the state Department of Motor Vehicles, have a $5 million insurance policy and have the test supervised by the New York State Police. And while smaller companies may not be able to afford that insurance policy, Hecht said the state framework for testing makes sense given where the technology is at this point. "I haven't heard many complaints about the self-driving requirements," he said. "I know that some have considered them burdensome, but I think we'd like to see companies take advantage of it, and they're reasonable."
In 2017, Cruise Automation, a subsidiary of General Motors Co., announced plans to test its self-driving cars in lower Manhattan, but that never materialized. A spokesman for Cruise Automation did not respond to a request for comment in time for publication.
Brad Stertz, director of government affairs for Audi of America, said that one thing holding the industry back from more advanced tests is a state law that requires one hand be on a steering wheel at all times when driving a vehicle in New York. State Sen. Joseph Robach has introduced legislation that would allow for hands-free driving when an automated system is engaged, but it has yet to advance through the Legislature. "We want to have the legal authority to actually do full-scale and extensive testing with the hands-free system," Stertz said.
In 2021, the law allowing for the testing of autonomous vehicles in the state will expire, and a spokesman for Gov. Andrew Cuomo did not comment as to what the next steps will be at that time. State Sen. Tim Kennedy, the chairman of the Transportation Committee, sponsored a bill to create a task force to study autonomous vehicles, which passed in the Senate but didn't advance in the Assembly. Kennedy did not respond to a request for comment. Assemblyman Clyde Vanel, who chairs the Subcommittee on Internet and New Technology, has also sponsored a separate bill since 2018 for an autonomous vehicle task force, but it failed to advance both then and in this past session.
"The wrong place to test an experimental vehicle – because that's how we view them – is on New York City streets." – Cordell Schachter, New York City Department of Transportation chief technology officer
While the law allowing the testing of autonomous vehicles was extended for another two years this year, Stertz advocated for a permanent extension. "There's no certainty that once you set up a pretty costly and extensive testing regime in a state, that that's going to be something that you can keep building on and working with and evolving over four, five, six or more years," he said, adding that Audi has had productive conversations with Cuomo on these issues. "This technology is going to continue to evolve into the 2030s, so once you set up shop in a state or set up a pilot program, you want to make sure you can still do it and not have to worry about the Legislature renewing it every year."
In New York City, additional complicating factors include the city's density and the diversity of other actors on the road that autonomous cars must be able to navigate, including pedestrians, bicyclists and e-scooter riders. Autonomous vehicle technology has had problems anticipating what those other players will do, and in New York City, where jaywalking and running red lights happens more often, self-driving cars would likely be among the only rule-followers on the road. "It's a very chaotic street environment. It's a very unpredictable, diverse set of things that you set your eyes upon," said Bruce Schaller, a transportation policy expert and former deputy commissioner at the New York City Department of Transportation. Humans can make eye contact, read body language and in general anticipate what other people are going to do. "Having a machine do that is very, very difficult," he said.
New York City Mayor Bill de Blasio and the city Department of Transportation have firmly opposed using autonomous vehicles on public city streets in the near future, mainly citing safety concerns. "The mayor has been clear – autonomous vehicles are simply not ready for use on our city streets," Seth Stein, a spokesman for the mayor, wrote in an email. Cordell Schachter, chief technology officer at the city Department of Transportation, agreed that the city has no interest in seeing autonomous vehicles on public roads anytime soon. "We think the wrong place to test an experimental vehicle – because that's how we view them – is on New York City streets, with lots of vulnerable road actors who could face very serious consequences if either the vehicle doesn't behave as it should, or if other road actors don't behave as they should around the autonomous vehicle," he said.
While self-driving cars may be years further away than some previously thought – "I have not heard an estimate that I know to be true," Hecht said – that's not stopping some from imagining a future in which the technology is able to make the roads safer. "Computers don't get drunk or send text messages," said Sarah Kaufman, associate director of the New York University Rudin Center for Transportation. "They don't get easily distracted in that way. They don't get angry at cyclists, and they don't blow through red lights. They're forced to behave better."
In New York City, where many are advocating to reduce vehicle usage in favor of public transit, some see a future in which adding autonomous vehicles into the mix could actually help get other vehicles off the road. "The great advantage of autonomous vehicles is that they can be shared very easily, which would limit the need for parking, and that would open up more street space for more active uses and more opportunities to extend the sidewalk or just in general make it a less hostile environment to move around the city," Kaufman said. "The benefit of autonomous vehicles won't be realized unless they are also shared."
"Computers don't get drunk or send text messages. They don't get easily distracted in that way. They don't get angry at cyclists, and they don't blow through red lights." – Sarah Kaufman associate director of the New York University Rudin Center for Transportation
In reality, that shared autonomous vehicle might come in the form of shuttle buses or vans, but Schaller said that those wouldn't necessarily replace the mass transit options like subways that transfer large amounts of people across the city. Instead, they could be a first mile or last mile solution, connecting people in transit deserts to the nearest subway or bus stop. "A transit shuttle is not going to take people long distances," Schaller said. "Speed is actually not that important. What's important is to keep moving, and what's important is not to have to wait too long for it. Autonomy, in the form of shuttles, has the promise of being frequent and slow." He pointed out that that slowness could even be a benefit – easing the concerns of lawmakers who might see autonomous vehicles as 60 mile-per-hour deathtraps. "Slow means their implementation date is earlier," he said.
Schaller pointed to self-driving car company Waymo's testing in and around the Phoenix suburbs – the "self-driving capital of the world," according to Wired – as a model for how testing might eventually happen on public streets in New York. Arizona doesn't have many regulations for autonomous vehicle testing, but nonetheless, Waymo has worked with state and local officials. "They haven't tried to rush anything, they're the leader in the technology by far, but they got there by going at the pace they set for themselves," Schaller said. A spokesperson for Waymo, which is owned by Google's parent company Alphabet Inc., told City & State that the company has no plans to test in New York at this time.
But Phoenix – with its warm, predictable climate and wide streets – is not a perfect analogue to New York City, and deployments of autonomous vehicles there won't be the same as they will be in New York – so working alongside the government may be the name of the game for self-driving cars.
Hecht said that the Brooklyn Navy Yard's slow-moving shuttles are evidence of companies prioritizing safety above all else. "I think it demonstrates that this isn't a technology that some of the companies are trying to merely thrust upon communities or people. There is a concerted effort to make sure these things are safe, that they are actually usable, and not simply say, 'This technology is here, we're deploying in the wild.'" Sertac Karaman, co-founder and president of Optimus Ride, told City & State in August that the company sees its Brooklyn Navy Yard service as a steppingstone. "This deployment may look very small, but I think it really puts New York City on the map in terms of this technology being built and these kinds of services being provided," he said. "Our vision is that eventually the legal processes will be there to allow us to go into public roads."
The city's transportation commissioner, Polly Trottenberg, testified before Congress last year that cities shouldn't have to "get ready" for autonomous vehicles, but autonomous vehicles need to get ready for New York City. Even still, some say there are things New York could be doing now to prepare, including prioritizing the deployment of 5G wireless service and connected vehicle technology – both of which won't only serve self-driving cars, but would benefit the vehicles. The next generation of wireless communication promises faster speeds and lower latency, which means vehicles' reflexes amid changing road conditions or to pedestrians jaywalking, for example, could be quicker. "The cars depend on constant connectivity to the cloud, and although companies like Verizon are building out 5G, which would make it more possible, the connectivity of the vehicles just isn't there yet here in New York, and the amount of bandwidth required by these vehicles could congest the network for other calls," Kaufman said. She also mentioned that GPS is already unreliable in areas like midtown Manhattan, where signals reflect off high-rise buildings.
Self-driving cars are equipped with 3D maps of their surroundings and use sensors to continue to build the map as they drive. But most also use additional cameras and GPS antennas, which means that a bad GPS signal or a slow connection could give the vehicle wrong information, causing it to stop or start at the wrong time and lead to an accident. Some autonomous vehicles, like Waymo's, however, store its crucial systems on computers in the vehicle and don't have to constantly connect to the cloud.
The New York State Bar Association recently convened a task force to study the effects that autonomous vehicles will have on the law and society, and the group hopes to publish its findings in April. The group will study safety in addition to what a self-driving future would mean for accident liability and other legal questions. "You and I aren't going to wake up one day driving down the New York State Thruway and see 16-wheel trucks to the left and the right of us with no one driving them without there being a sophisticated and comprehensive statutory and regulatory regime that ensures safety, ensures data protection privacy and addresses a whole range of issues," said Hank Greenberg, the association's president.
There are also questions about what happens to taxi drivers, Uber drivers and bus operators if self-driving vehicles do eventually replace them. Some of that depends on whether autonomous vehicles replace buses or ride-hailing cars, and even if that answer isn't clear, Hecht said the city should be thinking about it now. "The future of work is not something you can just snap your fingers and address," he said. "It requires long-term planning and long-term policymaking."
Job displacement caused by the deployment of autonomous vehicles is something that labor leaders are thinking about now, too, even if the issue doesn't seem as urgent as it did a few years ago, when autonomous vehicles were thought to be closer to wide-scale use. "I think the possibilities of it seem dimmer through time. Certainly, about three years ago, it was a much bigger concern," said Bhairavi Desai, executive director of the New York Taxi Workers Alliance. Desai advocated for job creation plans, calling the training or retraining of drivers a secondary concern to ensuring that there are new jobs into which those drivers can transition. Desai is also hopeful that with the recent pressure to regulate companies like Uber and Lyft – both in New York and across the country – the industry won't be able to make massive changes without some regulatory input. "There's a growing consensus that these companies need to be regulated," she said. "I think that's given us a lot of hope that they're not going to be able to just on the one hand have like half a million workers on city streets all competing against each other, and then overnight take all the jobs away through automation."
One thing regulators will have on their side is time. Because, like it or not, for the foreseeable future in New York, autonomous vehicles will look a lot like the self-driving shuttles on private roads. Despite the traditional tech ethos of "move fast and break things," Schaller said that most companies aren't focused on putting the pedal to the proverbial metal: "I think everyone looked risk in the face and said it's against our best interests to push this too fast."
Powered By
NEXT STORY: In NYC, drones fly in a legal limbo