Technology
How Tish James is taking on Big Tech
The New York attorney general is taking on Google and Facebook.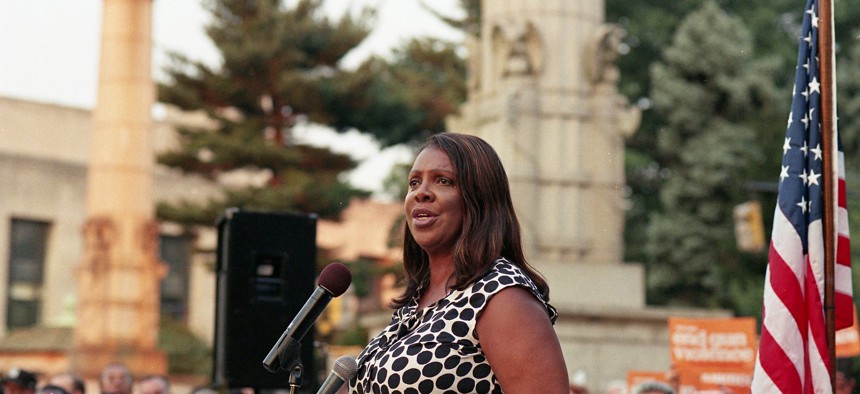 As bipartisan concern mounts over whether tech giants are suppressing competition, House Judiciary Committee Chairman Jerry Nadler has opened an investigation into whether current antitrust laws are at all effective at regulating tech companies. But given that Nadler and other members of Congress are a bit busy with other proceedings these days, it may be left to New York Attorney General Letitia James to get the job done. That job – addressing whether tech behemoths have grown too big for our own good – is of course not something James can get done on her own, which is why large coalitions of attorneys general have formed to investigate companies including Google and Facebook.
"We do have a renewed focus on mergers and anticompetitiveness, not only in the tech industry but in other industries as well," James said in June at a press conference announcing a lawsuit to block a merger between telecommunications companies T-Mobile and Sprint over concerns that the union will hurt competition in the industry. "We're going to take a critical eye on a number of mergers going forward."
Tim Wu, a professor at Columbia Law School and author of the book "The Curse of Bigness: Antitrust in the New Gilded Age," said that state attorneys' general focus on antitrust issues is not something that was born with the advent of Big Tech, but reaches back to cases like Standard Oil. But on issues like the T-Mobile and Sprint merger, Wu said, state-level action comes in part from the severity of the cases and a federal dereliction of duty. And while the federal government has been more active on Big Tech issues, he said, there is some uncertainty about where President Donald Trump stands on antitrust questions in cases like Google or Facebook. "The Trump administration has a history of looking for quid pro quos," he said. "I think states feel like they're the backup."
Wu, who worked under former New York Attorney General Eric Schneiderman as senior enforcement counsel, credited both James and staff – like antitrust bureau head Beau Buffier – with leading on antitrust issues. "I worked in those offices, and if the person at the top is not into this stuff, it doesn't happen," Wu said of James. He also noted that James and her staff have been successful in leading large bipartisan coalitions like the one probing Facebook.
While antitrust may continue to be a focus for James in the long run, the office may have its plate full now, Wu said. "They're hunting elephants. If you have two elephants charging at you, adding a third or fourth is at some point going to strain the resources there," he said, mentioning James leading the actions against Facebook and T-Mobile/Sprint in particular. "I gotta give the New York AG's office (credit)," Wu added. "They are bringing back the tradition of the trust buster, of sort of the fearless public servants who ride into the battle despite the great dangers, even to their careers."
City & State rounded up the details on these antitrust actions as well as some of the other ways James has managed to crack down on issues like data privacy and questions about emerging technologies like cryptocurrency.
Antitrust
T-Mobile/Sprint – A controversial merger between two of the country's largest telecom companies (T-Mobile and Sprint) has gotten nearly all the way through a demanding gauntlet of obstacles, such as Federal Communications Commission and Justice Department approval processes. Now, only one real obstacle remains, and that's James and a cadre of other state attorneys general. Following a 2018 investigation into the merger by former New York Attorney General Barbara Underwood, James is now co-leading a lawsuit with California Attorney General Xavier Becerra, on the grounds that the merger of T-Mobile and Sprint – the third and fourth largest telecom companies in the nation – would hurt competition and raise prices, among other concerns. But in recent weeks, a few states have dropped out of the coalition after reaching settlements with T-Mobile, including Texas and Colorado. 
Facebook – Facebook, the subject of much Big Tech criticism, is now facing an investigation led by James for possible antitrust violations. A total of 47 attorneys general have joined that probe, which will reportedly look into whether the social media giant broke any state or federal laws as a result of anti-competitive conduct, as well as how the company handles user data. Since its founding, Facebook has acquired other social media and messaging companies, including Instagram and WhatsApp. 
Google – James is also participating in a separate antitrust probe, led by Texas Attorney General Ken Paxton and featuring a total of 50 attorneys general. This probe, not unlike the Facebook investigation, is set to concentrate on Google's dominance of the online advertising market. The investigation, may however, be expanded to include scrutiny of whether the company has engaged in anti-competitive conduct in relation to its search and Android software business.
Data privacy
Equifax Inc. – Equifax's 2017 data breach exposed the personal information of more than half of the U.S. population, and a coalition of 50 attorneys general weren't going to let the consumer credit reporting agency get off scot-free. James co-led the coalition and in July announced a $600 million settlement with the company, including a payment of more than $9 million to New York alone, for the more than 8.5 million residents whose personal information had been illegally accessed.
Google/YouTube – The antitrust probe isn't James' first time taking on Google. The attorney general investigated Google and YouTube and concluded that the two companies violated the Children's Online Privacy Protection Act (COPPA) by tracking and targeting advertisements to users who had watched YouTube videos directed to children under the age of 13. In September, the Federal Trade Commission and the attorney general's office fined Google and YouTube a combined $170 million, with $34 million going directly to New York, marking the largest settlement from COPPA enforcement ever.
Online Buddies, Inc. – Smaller tech companies are not immune from James' scrutiny. Online Buddies, Inc., which operates that LGBTQ-targeted dating app "Jack'd," agreed to pay $240,000 in a settlement with the attorney general's office for failing to secure its users' private and nude photos. The settlement also included requirements for the company to implement a "comprehensive security program."
And more
Cardis Enterprises International – Bringing down the now-defunct Nassau County-based tech startup Cardis Enterprises International was another tag-team effort between James and her predecessor, Underwood. Last year, Underwood brought a suit against Cardis for allegedly taking more than $30 million from investors under the false claim that its patented technology would reduce the cost of credit card transactions for businesses. This October, James secured default judgments against the company. 
iFinex – Cryptocurrencies like Bitcoin are perhaps one of the emerging technologies that pose the most regulatory questions, but James has leveled rather straightforward allegations of fraud against iFinex Inc., which operates the virtual asset trading platform Bitfinex and the tether virtual currency Tether Limited. In April, James announced that her office obtained a court order against iFinex demanding the company cease further dissipation of dollars backing the tether coin, after her office determined that iFinex dealt with an undisclosed loss of $850 million by giving Bitfinex access to up to $900 million of Tether's cash reserves to hide the loss. iFinex, meanwhile, has denied the findings.
WeWork – James is reportedly investigating New York's most newsworthy startup that is arguably not really a tech company: WeWork. The attorney general's office said it has yet to confirm or deny the Reuters report that James is looking into the struggling company's issues, including whether founder and former CEO Adam Neumann engaged in self-dealing to enrich himself.