Homelessness
Is de Blasio passing the buck on street homelessness?
The next mayor will decide whether de Blasio's new plan will succeed or fail.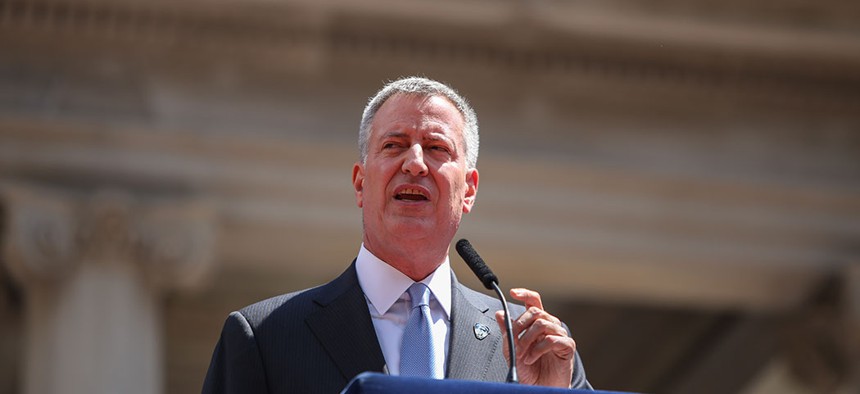 New York City Mayor Bill de Blasio has unveiled a plan to eliminate street homelessness, but there's a catch similar to other ambitious initiatives the mayor has put forward to address the ongoing housing crisis in the city: it all depends on the next mayor following through.
"We" is the operative word in a press release announcing the initiative. "Here's our promise," de Blasio said in a statement. "We will help every last person experiencing long-term homelessness off our streets and we will do more than we ever thought possible to bring them home." 
Conveniently for the mayor, his latest initiative – named "The Journey Home" – aims to achieve its mission three years after he leaves office at the end of 2021. Success depends on the next occupant of Gracie Mansion, who also may be busy implementing de Blasio's ongoing plans to create or preserve 300,000 affordable housing units by 2026, and to "turn the tide" on homelessness by 2022. The mayoral candidates are not exactly lining up to do so. "It's all aspirational bullshit," said one person associated with a potential 2021 candidate. "I don't want to sound like an unhinged Bill de Blasio critic, but this (new plan) seems to be a strategy that jibes with his approach to the job."
De Blasio's latest proposal has been praised by homeless advocates and elected officials who see a lot to like in a plan to address the needs of the approximately 3,600 people who sleep on city streets through a mix of new housing construction and social services. However, the plan contrasts with other high-profile de Blasio initiatives to eliminate traffic deaths or replace Rikers Island with borough-based jails. These two efforts have received significant political buy-in from members of the New York City Council, who have codified goals in city law and secured substantial funding to meet them. The same has yet to be achieved for the mayor's latest homelessness initiative, which may or may not survive into the next mayoral administration.
"A huge number of our plans are everything we can do now," de Blasio told reporters at a Dec. 17 press conference. "The people have to decide they want to continue those plans, obviously. But I think it's actually irresponsible to not offer a roadmap when we think we finally have one that will work long-term."
While a host of city and state elected officials praised the initiative in the press release, some notable names were missing. This included 2021 mayoral contenders like New York City Council Speaker Corey Johnson, City Comptroller Scott Stringer, Bronx Borough President Ruben Diaz Jr., Brooklyn Borough President Eric Adams and former Veterans' Affairs Commissioner Loree Sutton. The responses to inquiries from City & State about their reactions to the new initiative does not inspire confidence that they would see The Journey Home all the way through its 2024 endpoint. "If he wanted a five-year plan, maybe he should have started it three years ago instead of running around pretending to run for president?" said a person close to another 2021 mayoral candidate.
In his six years as mayor, de Blasio has never been one to shy away from announcing plans to confront some of the biggest challenges facing the city. Crime has reached record lows. Traffic deaths have decreased. Rikers is slated for closure and universal pre-K is a reality. However, he has fallen far short of the goals he has set on other issues. His "Renewal" plan to turn around underperforming public schools cost nearly $800 million over four years before he pulled the plug earlier this year. The "Next Generation NYCHA" he announced in 2015 failed to save public housing from falling under the control of a federal monitor. Inequality remains a persistent problem in New York City despite his 2013 campaign pledge to give a "Tale of Two Cities" a happy ending.
Homelessness has been among the most vexing problems facing the city during that time, with about 60,000 people currently living in the city's shelter system (not counting the 20,000 or so people staying in temporary shelters for youth, domestic violence survivors and disaster victims). It is a problem that de Blasio inherited from his predecessor, Michael Bloomberg – whose own efforts to address the problem literally became a joke after his own five-year plan failed. The fact that Bloomberg ended a rental voucher program only exacerbated the problem in the years leading up to de Blasio's election. 
The situation has only gotten worse under de Blasio's watch, with the number of people living in shelters increasing about 40% in between 2012 and 2019. His plan to build new affordable housing appears to be on track, but it has faced plenty of criticism for being too beneficial for relatively affluent people. After clashing with activists for years on that point, de Blasio agreed earlier this month to increase the percentage of units in his housing plan that would be set aside for the homeless. His administration has deflected criticism over the continued use of privately-owned apartments and hotels as homeless shelters by pointing to his "Turning the Tide on Homelessness" plan. Yet the use of hotels continues to attract controversy, and many of the new homeless shelters the plan requires have yet to overcome neighborhood opposition. "Mayor de Blasio's hollow plan to address the crisis, Turning the Tide on Homelessness, has floundered, failing entirely to live up to its title," reads a report released by the Coalition for the Homeless earlier this year. 
To be sure, dealing with street homelessness is a particularly tricky problem. Many of them suffer from drug addiction or mental illness and refuse to cooperate with city-funded outreach workers. So it should be no surprise that the number of people sleeping on the streets has hovered somewhere around its current number for years. A lot of progress could be made in combating street homelessness by adding tens of millions of dollars in new funding for transitional housing, additional outreach services and better data collection on who is living on the streets and why they are homeless. "(We're) building on the lessons we've learned and successes we've achieved over the past three years in bringing more than 2,450 people off the streets and out of the subways," Department of Social Services Commissioner Steven Banks said in the press release. "We're now prepared to go further."
New York City officials who are eyeing a run for mayor in 2021 also have an incentive to criticize an unpopular mayor whose powers face limits imposed from Albany and Washington, D.C. – but their support will be needed down the line when one of them is elected mayor. The responses thus far to the new plan have been less than enthusiastic from the people who are most likely to succeed de Blasio as mayor. Spokesmen for Adams and Diaz Jr. said the officials are currently examining the proposal. Johnson – whose strained relationship with the mayor has made headlines this week – said in a statement that the proposal was a good start but "we need to continue to do more, especially with creating more affordable housing." The plan is only a "Band-Aid" as far as Stringer is concerned. "Once again, the city is doubling-down on more of the same – increased spending on programs that we know aren't working," Stringer said in a statement. 
If de Blasio wants to have his campaign against street homelessness reach a final victory, then his best bet at this point might be the same former Army brigadier general that he recruited as his first veterans' affairs commissioner. Homelessness among veterans decreased by 97% during her five years in command of the agency, an experience that Loree Sutton said she wants to replicate with street homelessness more broadly. She told City & State she would do this by continuing de Blasio's plan if she were elected – but she said she would nonetheless add a bit "to augment, improve and accelerate it." 
Homelessness Case Studies
Powered By
NEXT STORY: Talking workforce development with Civic Hall's Andrew Rasiej