Campaigns & Elections
Advocates, lawmakers warn against new touch-screen voting machines
The ExpressVote XL machines raise questions about reliability and security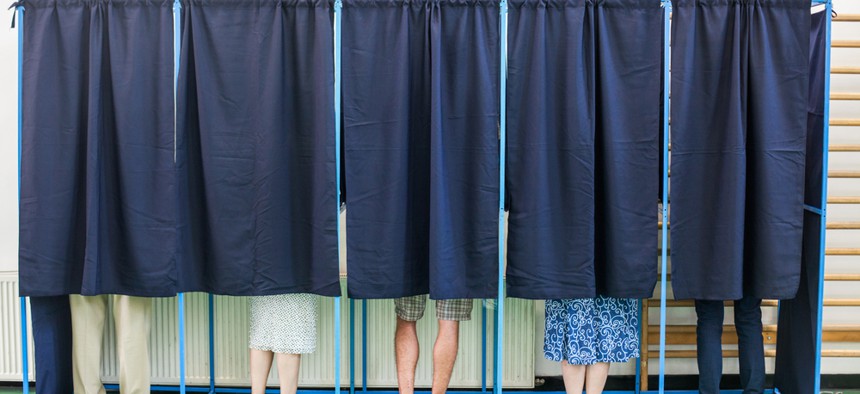 One of the first items on state legislators' agendas at the start of session last year was approving election reforms, like allowing early voting. But as session kicks off in Albany this year, some lawmakers – along with good government group Common Cause New York – rallied against a different kind of election modernization: new touch-screen voting machines.
The ExpressVote XL machines, made by the voting machine company ES&S, were demonstrated on Tuesday in Albany as part of the Board of Elections' certification process, but advocates and lawmakers – including Assemblyman Ron Kim and New York City Public Advocate Jumaane Williams – asked the BOE to think twice before certifying them, saying the touch-screen machines are prone to malfunctioning. In Pennsylvania, where the machines are in use, there have been problems with flawed screens and, in one instance, votes for a particular candidate were undercounted by tens of thousands. Advocates added that the machines are prone to cyberattacks as well.
"The ExpressVote XL has been through hundreds of thousands of hours of testing, including millions of ballots, and is certified by the Federal Election Assistance Commission," ES&S spokeswoman Katina Granger emailed in response to questions raised about the machines' reliability.
But advocates express concern that the Board of Elections will go ahead with certification of the devices despite their questions about reliability and security. "We have in effect been told by the New York State Board of Elections that they don't really have a precedent for not certifying machines," Common Cause New York Deputy Director Sarah Goff said Tuesday. "The process typically works in reverse in that voting machine manufacturers will approach the BOE for certification as opposed to the BOE putting out an RFP, like you would see in other state agencies, requesting new voting machines." 
If the machines are certified by the Board of Elections, however, it would be up to the counties to choose whether they would use them. "It doesn't change any existing machines or any machines that were previously approved," said BOE spokesman John Conklin, who added that rigorous checks on functionality and security are part of the testing process, as mandated by state law. 
For the rest of today's tech news, head over to First Read Tech.
Correction: Sarah Goff's name was misspelled in an earlier version of this story.
Powered By
NEXT STORY: What to know about the state's new bail reform law