Andrew Cuomo
Cuomo gives a shot to an alcohol-friendly agenda
The governor is helping lawmakers overcome opposition to alcohol in movie theaters.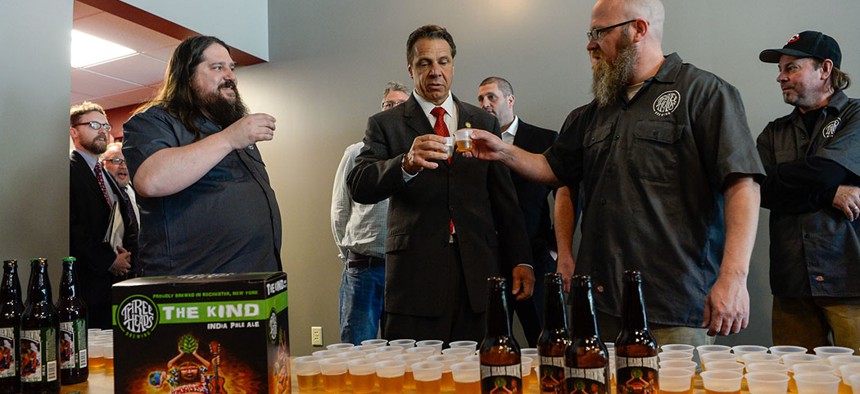 Call it a case of legislative déjà vu, but some state lawmakers and Gov. Andrew Cuomo are once again teaming up to expand alcohol sales in movie theaters. While the effort has fallen short in past years, supporters are hopeful that the proposal can pass in the state budget they are aiming to pass by April 1. 
Cuomo hopes alcohol sales can lure customers, especially millennials, to help resuscitate struggling movie theaters rather than staying at home to watch streaming services like Netflix, which have contributed to an industry-wide decline in public cinemas. While lawmakers from both parties have backed the idea in recent years, some key legislators have been opposed due to concerns about underage sales and other implications of allowing drinking in a type of previously dry public venue. 
Getting the proposal through the state Legislature this time around will require addressing competing concerns to address the declining profit margins for movie theaters big and small while maintaining proper controls over alcohol sales, according to Assemblywoman Pat Fahy of Albany, who has proposed a bill to legalize sales. "The idea here is trying to save theaters, particularly old theaters that are on our main streets," she said. "(The bills has) been so carefully written to make sure that it's not abused and I always explain to people I am not trying to encourage alcohol."
State law currently requires movie theaters to have a restaurant license if they want to serve alcohol. The proposal included in the governor's State of the State proposals would allow "beer, wine, cider, mead, and spirits" one at a time. While Fahy's would only allow beer and wine sales, another proposal from Assemblyman Dan Quart of Manhattan would leave it to the State Liquor Authority to decide whether a theater would be allowed to sell liquor as well. All three proposals would restrict sales to people who buy tickets to movies with a PG-13 rating or higher, to keep booze out of kids movies. 
A bill that would have allowed alcohol sales at movie theaters passed the state Senate by a large margin under GOP control in 2016, but the issue scrambled party roles, with Democrats more opposed than most Republicans. Then-state Senate Minority Leader Andrea Stewart-Cousins voted against the bill, along with arch-conservatives like state Sen. Robert Ortt of Western New York. 
A 40-22 vote in favor in the Senate made little difference in the other chamber of the Legislature. Assemblyman Robin Schimminger of Western New York was credited with blocking the proposal from moving out of the Assembly Economic Development Committee he has chaired for the past two decades. At the time, he said that allowing drinking in theaters would infringe on the rights of teetotalers to enjoy a booze-free show. He also pushed back against attempts in 2016 to allow alcohol sales before noon on Sundays. It remains unclear whether Schimminger, who did not respond to a request for comment by publication time, still holds those same concerns.
The 21-term lawmaker, who has announced he would retire at the end of the year, is not the only opponent of expanding alcohol sales. When the governor pushed for the idea the following year, lawmakers were able to take it out of the final state budget. "We're not supporting that," Heastie told reporters towards the end of the 2017 legislative session. "We want people to be able to take their children to a movie theater and not have to worry about the sobriety of the people sitting next to them." A representative for Heastie did not respond for comment by publication time. Stewart-Cousins told City & State on Jan. 28 that she is open to the new proposal from the governor. "This will be hashed out during the budget," she said. "I'm always open to listening to good arguments and, obviously, conversations with my members."
Given the past opposition of some of the most powerful lawmakers in the Legislature, the state budget process appears to be the easiest way to get move the proposal forward. Any governor has formidable budgetary powers and Cuomo in particular has demonstrated in the past an ability to assert his influence to pass his top priorities over his three terms in office. 
Cuomo is backing the idea as part of a three-part package that aims to update state alcohol laws. Fahy's historical research points to the bygone political sway of vaudeville shows in the early 20th century as the reason why cinemas are not allowed to sell alcohol in 2020. Another proposal supported by the governor would overturn a 1933 law that restricts alcohol manufacturers from selling directly to consumers. Brewers and distillers currently need legislative approval to get a license to serve alcohol. (Small vineyards can apply for a Farm Winery License to serve on-site.) A third proposal aims to make it easier for educational institutions to train people in manufacturing alcoholic beverages without requiring a multitude of licenses and restrictions. 
While these might be niche issues, proponents of expanding alcohol sales say it could make an economic difference. Movie theaters are struggling nationwide and upstate communities could use a new tool to make their downtowns competitive in the digital age, according to Fahy. "Trying to get people off their couches and out into our main streets, our upstate, small-town main streets and urban cores is no small feat," she said. Considering that live theaters and even Chuck E. Cheese allow alcohol sales, family values maybe – just maybe – can survive the intrusion of alcohol into cinemas.