Infrastructure
Cuomo proposes adding 8 new tracks to Penn station
Here's what you need to know about the proposal.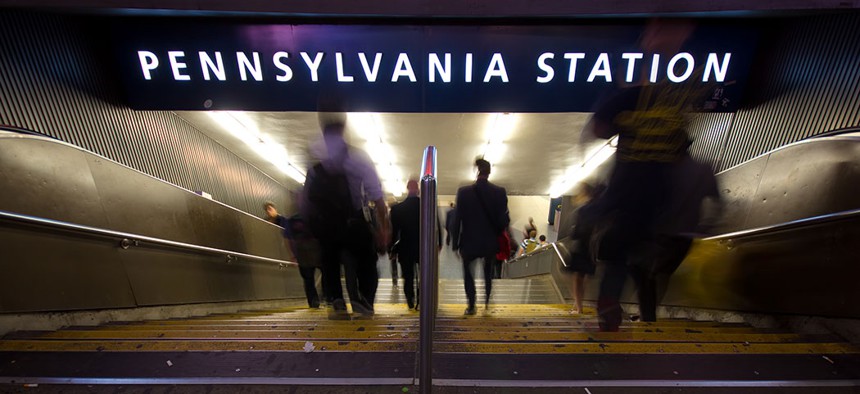 On Monday, Gov. Andrew Cuomo announced a proposal to add eight new tracks to New York City's Penn Station. While many would agree that an expansion of the overcrowded transit hub is sorely needed, it's unclear how the governor would actually complete this new infrastructure project.
The plan, which is being dubbed "The Empire Station Complex," would be comprised of three connected stations, Penn Station, the Farley Building – a Post Office across Eighth Avenue that will be converted into a station – and the new train terminal which is being referred to as "Penn Station South." The new terminal would add 125,000 square feet to the station as a whole, increase its capacity by 40% and serve 175,000 riders a day.
"This is a fundamental reconstruction of the existing Penn," Cuomo said. "We want to change it into a world-class experience."
Though in order to make this happen, the station would need to take over the block south of Penn Station, which contains a mix of homes and businesses – including property owned by the Archdiocese of New York and Amtrak. It's likely it would take two years for the state to acquire these properties, according to The New York Times. The state is also considering the acquisition of Madison Square Garden to create a new station entrance on Eighth Avenue. 
Questions still remain regarding what plan the state has in place to ensure that this project gets completed, how much it will cost and how long it will take. Here's what we know so far about this new-ish proposal:
Cost: It's estimated that it will cost $8 billion to construct another terminal.
Timeline: A timeline for the project's completion is not yet available.
How will this project be funded: According to Cuomo's proposal, funding for the project will come from a Payments in Lieu of Taxes structure, developments above ground on the block south of Penn Station, income and sales taxes and additional funding from Amtrak. The particulars, however, remain quite vague.
Cuomo's proposal isn't entirely new: The governor has long been interested in the renovation of Penn Station – as well as its surrounding neighborhood. A proposal to create Penn South, which would expand rail capacity, was actually introduced in 2014. At the time, it was estimated that it would have cost $404 million to buy up the property nearby for the project, that number has shot up to $1.3 billion a year later. 
But the idea of expanding the station and introducing new tracks dates even further back, to 2011, after then-New Jersey Gov. Chris Christie killed the Access to the Region's Core, which was supposed to double commuter rail capacity between New York and New Jersey.
Past projects don't inspire confidence: The Metropolitan Transportation Authority's East Side Access project, is more than a decade overdue and $6.9 billion over budget. 
The project involves building train tunnels under the East River that connects the Long Island Rail Road to Manhattan's Grand Central Terminal. Its budget has been adjusted over a half-dozen times, ballooning from $4.3 billion to $11.2 billion, its completion date has been pushed from 2009 to 2022. 
"When the agency has a reputation for constantly re-baselining projects, there's healthy skepticism for their project delivery," Rachael Fauss, a senior research analyst at the good-government group Reinvent Albany, told City & State in November, although she expressed optimism that East Side Access would finally be finished this time. 
Reviews are mixed: While some are delighted by the idea of increasing commuter rail capacity, others are dubious of the actual headway Cuomo will be able to make on this project.
The Daily News' editorial board agreed that the expansion was needed but said that Cuomo's plan "will take years and cost billions." The board concluded that the best and most cost effective thing the governor could actually do is fix the "outdated half of Penn."
While Newsday's editorial board expressed similar concerns regarding the timeliness and funding of the project, they remained focused on how this expansion would ultimately benefit commuters. "But Gov. Andrew M. Cuomo is putting grandiose thinking into New York's transit center," writes Newsday. "If such big ideas lead to real change, it'd be a monumental feat benefiting the region."