Technology
Ride-hail cruising cap could be revived by City Council
New York City Council considering legislation to discourage drivers from cruising without passengers.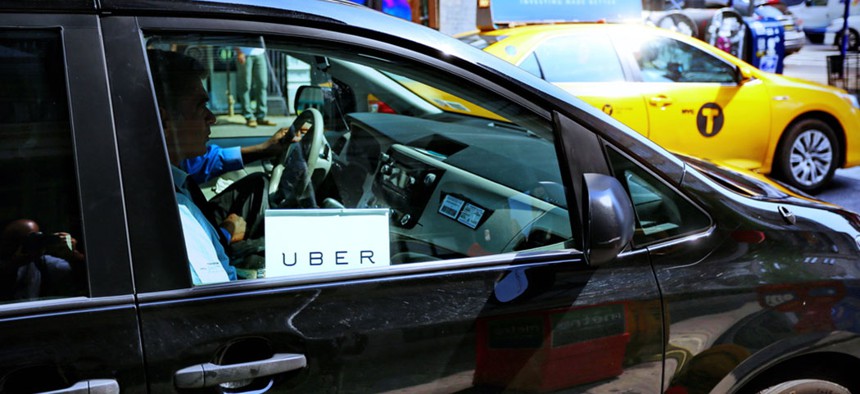 A bid to limit how long ride-hail drivers for companies like Uber and Lyft are able to cruise in Manhattan without passengers could have a second life in the New York City Council after being shot down by a judge last month, Crain's New York Business reported on Friday. In June, New York City Mayor Bill de Blasio proposed a cruising cap south of 96th Street in Manhattan, which would limit ride-hail cars to driving without passengers no more than 36% of the time starting this February – the idea being that such vehicle usage worsens congestion. By August, the cruising cap was set to be further lowered to 31%. But just before Christmas, a state judge struck down the new rule, calling the cap "arbitrary and capricious."
Now, the City Council is reportedly considering legislation that would achieve the same goal of discouraging ride-hail drivers from cruising without passengers. Crain's reports that transportation analyst Charles Komanoff is working on a study for City Council Speaker Corey Johnson to regulate that kind of cruising. One option to lower congestion previously floated by Komanoff would place technology in ride-hail cars to detect when cars are driving without passengers in the Central Business District.
Despite the de Blasio administration's long-held interest in curbing the power of ride-hail companies and the Taxi and Limousine Commission's approval of the cruising cap, the move by state Supreme Court Judge Lyle Frank to strike down the rule was unsurprising to some, as questions had been raised since the beginning about whether the cap was arbitrary. Eric Goldwyn, a research scholar in the NYU Urban Expansion program at the Marron Institute, previously told City & State that a cruising cap may be a good idea in theory but that whatever limits are set should contribute to a clearly defined goal. "Is it, 'we want our Ubers and Lyfts and yellow taxis to only contribute this amount of greenhouse gas emissions?' Is it, 'we want travel speeds to be at this rate?'" Goldwyn asked, raising hypothetical goals. "There's never a sense there's a goal that we're trying to achieve. It's sort of just like, things are chaotic, maybe this (policy) will make things less chaotic."
For the rest of today's tech news, head over to First Read Tech.