Energy & Environment
Everyone's got a problem with the plastic bag ban
Environmentalists say new rules are too permissive and the plastics industry says they are too restrictive.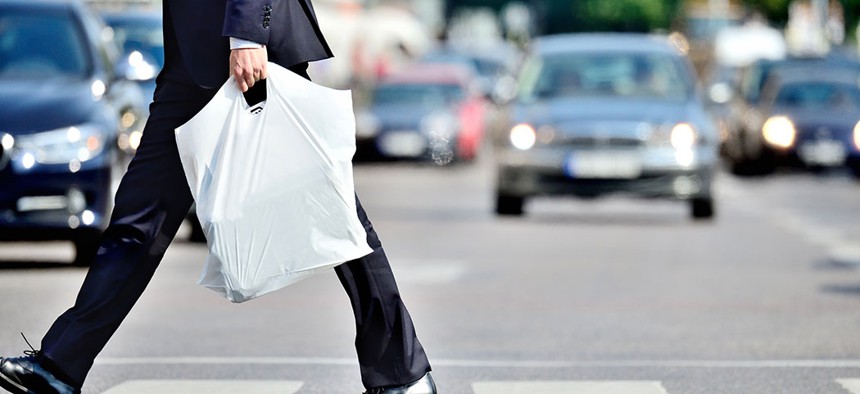 Environmentalists hailed the passage of a statewide plastic bag ban in the 2019 state budget process as a major step towards making New York more environmentally sustainable, but some are increasingly worried the ban might not live up to its hype after the law takes effect on March 1.
Proposed regulations by the state Department of Environmental Conservation would allow plastic bags that are thicker than 10 mils – one-hundredth of an inch – as well as additional exemptions for businesses based on the use and circumstances surrounding compliance with the new limits. Environmentalists say these loopholes could undermine the effectiveness of the ban in ways that a strict reading of the original legislation would not allow, while a key industry group says the new restrictions in New York threaten manufacturers' bottom line.
So, depending on whom you talk to, the new limits on plastic bags are either just right, too lenient or not strict enough to push consumers to rely on reusable bags moving forward. Here are four questions that can help you judge for yourself.
Is it a ban on all plastic bags?
The legislation passed by lawmakers last year was not a complete ban on plastic bags statewide. Disposable bags can still be provided by stores for things like uncooked fish, vegetables, sliced meats, newspapers, trash bags and restaurant takeout orders. Environmentalists are not fans of a regulation proposed by the department which would allow it to grant exemptions to businesses if "there is no reasonable or practical alternative for storing, containing or transporting item." What remains unclear, according to environmentalists, is whether the ban was written in a way that would only allow bodegas, gas stations and convenience stores to provide plastic bags free-of-charge for all purchases or simply those involving food service. "We urge (the department) to clarify this to ensure that small stores and gas stations that serve food will not be exempt from the plastic bag ban," reads a Jan. 31 letter to department Commissioner Basil Seggos from more than 60 environmental advocacy organizations. The department considers bodegas, delis and similar businesses to be subject to the ban taking effect March 1, according to a spokeswoman. In order to incentivize the use of reusable bags, the new law also grants local governments the ability to approve a 5-cent charge on paper bags, the proceeds of which would partly go to a fund to help low-income people get reusable bags, which manufacturers warn are in short supply. 
Is the state allowing bags that are too thick, or not thick enough?
The thinner the plastic bag, the cheaper it is to manufacture. So it should come as no surprise that manufacturers are not fans of regulations proposed by the department that would ban bags (besides those from exempted categories) that are less than 10-mil thick, about 20 times thicker than a typical shopping bag. Ten-mil thick shopping bags (which would on par with industrial plastic sheeting) are not currently manufactured anywhere and the department contends that they would be too expensive to give away even if plastics companies began making them. The new thickness standard was developed through a review of industry standards which define film plastic – the type of plastic used in shopping bags – as anything less than that standard, as well as an examination of plastic bag bans in other states and cities, according to a department spokeswoman. Environmentalists' concerns are misplaced on the issue, Seggos told City & State in a recent interview. "There's really no basis to the criticism," he said. "It's twice or three times as thick as a Macy's bag."
Critics, however, say that retailers have turned to thicker bags in the past to get around bans including those in Ulster County, where the limit was set at 4 mil. The 10-mil standard does decrease the scope of the bag ban, which environmentalists note, in theory, be later exploited by the plastics industry in the future to promote thicker bags or simply push lawmakers or regulators to decrease in the years ahead. Manufacturers for their part, have tried to add an environmentally-friendly spin to their arguments that the state would ideally move closer to a 2.25-mil standard that some say makes a bag reusable, though bag thickness is not the sole criterion. "We don't advocate for the use of more material or more energy to produce a product that we manufacture," said Matt Seaholm, executive director of the American Recyclable Plastic Bag Alliance. "That's just not sustainable. It doesn't make sense. Could we make more money off of a thicker bag? Sure. But that's not the right way to do business and it's certainly not good for the environment." 
So if a business claims hardship, they can get an exception?
The department went outside the letter of the law in two ways, according to environmentalists. The first was by proposing the 10 mil thickness standard. The second was by creating wiggle room within the ban that went beyond what the original legislation outlined to assuage concerns from retailers. One example offered by Seggos has been the idea that pet stores need plastic bags to sell goldfish. Other exemptions could be determined at a later time if the regulations take effect in the end. The more avenues for exemptions, the more the original spirit of the ban is undermined, according to Liz Moran, environmental policy director of the New York Public Interest Research Group. "There's a legal issue here," she said. "Really, the intent is no plastic bags."
What's at stake?
More than 20 billion plastic bags are used every year by New Yorkers, many for just minutes. The legislation has both a concrete goal, limiting the amount of plastic bags in landfills and across the landscape – as well as the loftier goal of endowing people across the state with a great appreciation of how environmental conservation can be promoted in their daily lives. Seaholm said that New York makes up about 6% of the national market for plastic bags and the more restrictive a ban that the state imposes, the more it will hurt the companies the association represents, especially since differents states and local governments are adopting different standards which complicates the industry's ability to comply. "It's tough to exactly quantify," Seaholm said of the New York ban's likely effect. "You have to imagine if New York sets this standard, it will continue to move to other states." Environmentalists say that is precisely the point, but they are not the only ones who get a say in what does and does not count in the ban.