New York State
Heastie's weakening hand on bail reform
Fair or not, the political winds are blowing in favor of changing the recently implemented criminal justice reforms.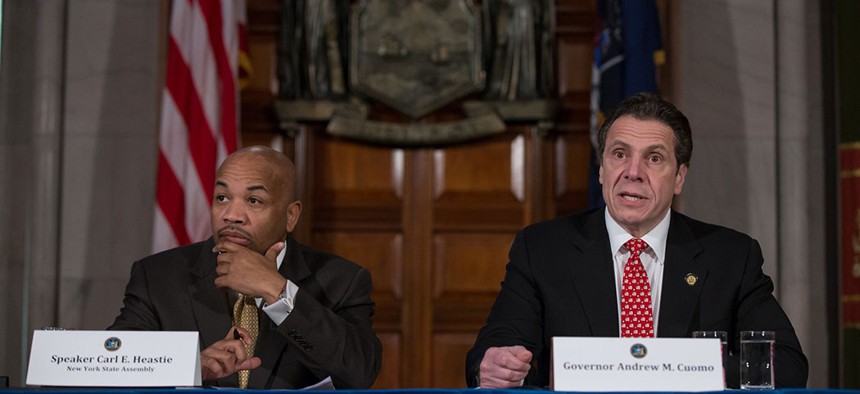 When state Senate Democrats announced a proposal two weeks ago to change newly implemented criminal justice reforms, they incurred the political wrath of liberal lawmakers and activists alike. Members of the Assembly called their Senate colleagues "fake-ass legislators" who were backing a "bullshit" proposal. Activists have publicly warned Senate Majority Leader Andrea Stewart-Cousins that she risks losing support from the progressive left. And Assembly Speaker Carl Heastie has doubled down on his position that it is too soon to reexamine the new limits on cash bail and a requirement that prosecutors turn over evidence to criminal defendants within 15 days of arraignment. 
But while these shows of force suggest that Senate Democrats could pay a political cost for their efforts to change the reforms, political forces are driving lawmakers toward making a deal on the issue in the coming weeks. New polling shows that the reforms are increasingly unpopular with voters in an election year. Both Stewart-Cousins and Gov. Andrew Cuomo said this week that they want to address the issue in the state budget, due April 1. Liberal senators have even left the door open to backing changes once their colleagues translate the Senate proposal into actual legislative language. And adding to the pressure, media reports continue to turn public support against the reforms.
Heastie has cited "misinformation" in the news media as a top concern for his efforts to hold the line on the reforms. Numerous stories in recent months have highlighted anecdotal examples where the new laws have purportedly endangered public safety, claims that some reformers have labeled "fear-mongering." This includes a claim, later proven to be untrue, that the new law contributed to the death of a witness in a case against the MS-13 gang on Long Island. While media outlets have corrected their coverage at times, the damage to the cause of reform remains, Heastie said. "You guys put these stories out there," he told reporters at the Capitol on Tuesday. "But when the information is corrected, it may end up not on Page One where the initial story started, it ends up on Page 13 in some correction like, 'Oops.'" 
Whether negative stories about the reforms are accurate or not, they have taken a toll on public support for the new reforms in recent weeks, despite efforts by activists to draw attention to the positive effects of the reforms, which have allowed many people accused of low-level, nonviolent offenses to keep their jobs and housing while awaiting their day in court. A Siena College poll released on Monday found that nearly 60% of voters now have a negative view of the reforms, a big swing from the majority who favored the reforms last April. The opposition also runs several points higher in the suburbs and upstate, with a majority of New York City voters (where liberal voters are a bigger share of the electorate) also saying the changes are bad for the state. Just 1% of voters agree with Heastie's belief that it is too soon to consider changes to the reforms. 
Democrats gained control of the state Senate in 2018 in large part by winning suburban swing districts on Long Island and in the Hudson Valley. A key political consideration to holding those gains is by making changes to the reforms, which Republicans have seized on as a top issue in their campaigns to win back seats in the chamber. In the past week alone, Democratic district attorneys and state Chief Judge Janet DiFiore have called for lawmakers to change the laws. In the past two days, both Cuomo and Stewart-Cousins have told reporters that the budget process is the way that they want to get them done. 
---
Like the proposal that Cuomo first introduced at the beginning of last year, the Senate proposal aims to completely eliminate cash bail while allowing judges, with some restrictions, to decide who should be jailed before their trial. By giving some ground on the issue of judicial discretion, while eliminating cash bail, both Stewart-Cousins and Cuomo have argued the criminal justice system could move in a more "progressive" direction. "If we can change it within the budget in ways that will enhance what we're doing, I think we ought to do it," Stewart-Cousins told reporters Wednesday. While some liberal senators, such as state Sens. Jessica Ramos and Alessandra Biaggi, have joined activists in saying they are opposed to any rollbacks of the reforms, they have yet to comment about their conference's proposal.
Though the supporters of the newly implemented reforms have made their voices heard in the last two weeks, it appears that they have not been able to sway the Senate or Cuomo to move away from their efforts to make changes to the law in the budget. While they will need Heastie's support in order to do that, the political forces against him have only continued to get stronger. Heastie has a lot to gain politically with progressive and minority voters by holding the line on bail, according to political consultant Hank Sheinkopf, but the political forces against him will make it difficult to resist efforts by the governor and the Senate to make changes. "It's a hard win to get," said Scheinkopf. "The pressure is going to build."
Powered By
NEXT STORY: Holden, Kallos to propose new city "moonshot" division