Budget
What Cuomo's 2021 proposed Medicaid cost-shift on localities could mean
Possible cuts to home health services, and NYC is especially vulnerable under formula that includes property tax cap.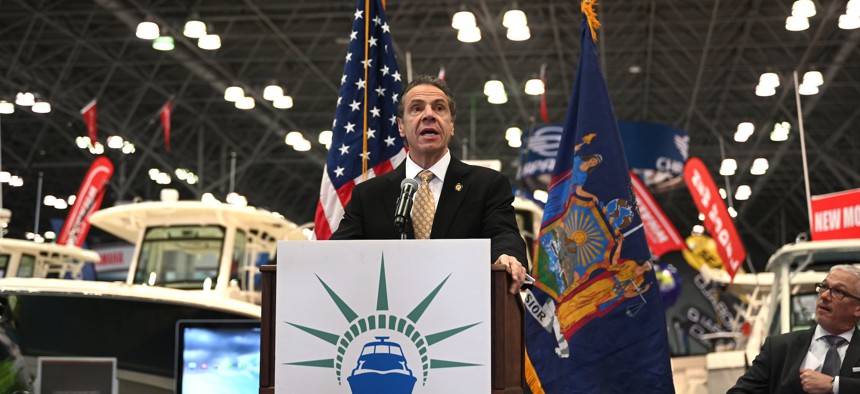 New York City and other localities are up in arms over the additional burden they might shoulder if Gov. Andrew Cuomo's 2021 budget, introduced last month during his State of the State address, were to pass. In an attempt to close a $6.1 billion gap, Cuomo proposes shifting Medicaid costs to counties that don't adhere to criteria that local officials and some experts say is going to be challenging to meet, especially for New York City. 
Cuomo's $178 billion plan would have counties limit property tax growth to 2 percent and Medicaid spending to 3 percent growth annually. Localities that exceed the property tax cap, even if they've stayed within the 3 percent Medicaid spending cap, will be required to pay for all local Medicaid spending growth from the prior year. Local governments that stay within the property tax cap but exceed the Medicaid spending threshold will be required to pay for any growth over 3 percent. 
Additionally, the governor has created a new Medicaid Redesign Team to find $2.5 billion in savings within Medicaid by rooting out waste, fraud, and abuse within the system. Last month, New York State Comptroller Thomas DiNapoli announced that his office had identified nearly $800 million worth of savings in the Medicaid budget, so $2.5 billion seems like a tall order. 
"The consequences are devastating," New York City First Deputy Mayor Dean Fuleihan said about the budget proposal. New York City Mayor Bill de Blasio's administration estimated that Medicaid cost shifts to the city would hit the city to the tune of about $1.1 billion, although the governor is saying that his budget shouldn't cost localities anything. Estimates for each county vary due to uncertainty as to what the baseline growth rate of enrollment will be or the potential success of local governments in controlling costs. 
Westchester County Executive George Latimer also spoke out against the proposal, saying that shifting Medicaid costs onto local governments would destroy the county's budget. "Covering this cost will mean that roads, services and most importantly our taxpayers will suffer," Latimer told state lawmakers. Erie County Executive Mark Poloncarz was similarly dire, stating that this move would result in double-digit property tax hikes and big spending cuts to local programs. 
"The very purpose of the Medicaid Redesign Team is to reduce the program's spending growth by $2.5 billion and return spending growth to 3% while continuing to provide high-quality care to six million New Yorkers and ensuring the system remains financially stable for the future," said Freeman Klopott, spokesman for New York State Division of the Budget. "The budget does not include any funding from local governments for Medicaid, though it does project that the measures designed to return them to the search for savings in the program will work and reduce growth by $150 million."
Medicaid costs are responsible for about $4 billion worth of the total $6.1 billion shortfall. The Cuomo administration posits that localities have "no financial incentive to control costs" and that they have "failed to adequately monitor their programs, leading to overspending." Medicaid has been around for 50 years. Traditionally, the federal government funded 50 percent, the state 25 percent, and local governments 25 percent. Since 2015, the state has picked up all growth in local Medicaid spending, covering something like 35 percent of the costs of Medicaid. According to background information provided by Cuomo's budget division, Medicaid growth is costing the state about $4.5 billion per year, whereas the costs for counties have remained flat. The goal of this budget, then, is to provide incentive for the state and the counties to work together again to find savings.
"For years, when [counties] had local share, they would come and find areas of savings, they would identify inefficiencies in the program, and once we took over the program that completely stopped," said State Budget Director Robert Mujica during a WNYC Radio interview. "So as part of our efforts to control the growth in Medicaid spending, we want local governments to re-engage with us and help us to control costs. This is not just the State's responsibility. That's a false narrative."
Despite Cuomo's claims of irresponsible spending, experts hold that it is the state, not localities, that controls the more powerful levers of Medicaid, specifically reimbursement rates and eligibility standards. "Localities have very little control over Medicaid spending, so to shift the burden onto them would be unfair and in many ways regressive," said Dave Freidfel, director of state studies at the Citizens Budget Commission, a research and advocacy organization that supports fiscal restraint. "It's saying that because you have a lot of people who need Medicaid, people who don't have a lot of income, that means that you as a locality need to pay more. That's just the wrong approach and it's not how any other state in the country does it."
That's why even right-leaning analysis are skeptical that Cuomo's plan will actually reduce waste. "It's not really about controlling costs," said Bill Hammond, policy director at the Empire Center for Public Policy, a conservative think tank. "It's about shifting the blame from Albany to City Hall." 
According to de Blasio's 2021 budget, New York City property tax revenue is expected to reach $31 billion in fiscal year 2021, up from $29.7 billion in 2020. That's a 4.5 percent increase in revenue, which would likely breach the 2 percent cap. (It's a little unclear because the cap excludes tax revenue from new properties that weren't on the tax rolls the year before.) New York City has never had to deal with a state-imposed cap on property taxes before, but other localities have been adhering to a 2 percent ceiling since the property tax cap began in 2011. However, if the economy slows or enters a recession, sales tax revenues will begin to decrease, which will put pressure on localities to override the tax cap. 
Medicaid spending growth outside New York City has also been lower, according to Department of Health data on Medicaid spending, so counties would typically have a better chance on average to stay under the 3 percent spending increase limit. Statewide, the average Medicaid-spending growth rate from fiscal year 2018 to 2019 was 5.6 percent. New York City's was 7 percent. 
New York's Medicaid program costs $75 billion, with the state chipping in over $20 billion, counties paying about $7 billion collectively, and the rest coming from the federal government. It's the second costliest Medicaid program in the country, after California. The Golden State's Medicaid program costs $85 billion, but California has twice the number of residents enrolled in Medicaid as New York, which has 6 million covered by the program.
Normally, enrollment, and therefore costs, rise fastest during recessions when more people's incomes drop low enough to qualify for Medicaid. In recent years, thanks to unemployment being at an all-time low, enrollment in New York's program has been flat. So why are New York's Medicaid costs so high?
One cause is the state-sanctioned increase in minimum wage to $15 per hour. "We're paying people who work in the healthcare sector better, and that increases costs," said Jennifer March, executive director of Citizens' Committee for Children of New York, a nonprofit child advocacy organization that works to make New York City a better place for children. The CCC is concerned that balancing the state budget will negatively impact New York City's neediest children both immediately and in the long run. "You can't have it both ways," March said. "We are a state that committed to providing insurance to people and committed to making sure people make liveable wages. Costs are going to increase."
A $1.7 billion chunk of the $4 billion Medicaid debt comes from last year's bill that rolled over into this year when Cuomo realized that total Medicaid spending would be higher than budgeted, according to Freidfel. 
Sharp enrollment hikes in expensive long-term care programs are another major culprit, specifically personal care services, which involve at-home assistance with non-medical care, like help getting dressed, going to the bathroom or making meals. In New York City alone, enrollment in this program has shot up as high as 14 percent from 2018 to 2019 according to some estimates. In terms of per capita spending on personal care, New York spends six times more than the national average. In 2016, the state accounted for 40 percent of the national spending for personal care. 
In other states, enrollment in this program is discretionary. Slots are limited and they're targeted to the neediest. "New York has made it an entitlement," said Hammond. "So if you meet the minimum threshold, both financially and medically, you get as many hours of personal care as somebody approves for you. Demographics alone don't explain what's going on. The rate of enrollment in the personal care program is growing about 17 times faster than the growth rate of the over-65 population."
Hammond and Freidfel agree that there's definitely room to control costs by looking at what has driven such a rise in personal care services.
"In New York City, there's 1,800 people who run the Medicaid program," said Cuomo during a press conference on Feb 7. "They do the evaluation as to what service you should get: nursing home, home care. They make the determination on how much home care: two hours, four hours, six hours, 24 hours. They then re-evaluate that."
"Cuts to personal care services would be very detrimental to our clients' health because they wouldn't have the choice of providers," said Susan McCormack, director of Consumer Directed Personal Assistance Program at the Long Island Center for Independent Living. McCormack went to Albany this week to lobby for the continuation of long term care services. "The last thing we want to think about is that if somebody can't get the services they need, it would mean either hospitalization or institutionalization. "So many people can't get access to services they need without having somebody in the home. We all understand the Medicaid budget needs to be brought under control, but I don't think attacking personal care is the way to go."
Advocates predict that localities will fight this budget proposal by holding press conferences and lobbying in Albany. "I'm assuming that the city of New York, the counties, and other advocates are going to push back on the cost shifts to localities because it will impede their abilities to actually serve, in our case, the poorest New Yorkers," said March. 
The governor has 30 days from the date he unveiled the proposal to make amendments, and experts say he likely will. Then, the state Legislature will present its own budget in response. 
"The Senate majority will be advancing our one-house budget which reflects our budget priorities," said Senate Majority spokesperson Gary Ginsburg. "We will continue to fight for a budget that provides essential government services and helps reduce the burdens on struggling New York families and localities."
The state Senate's one-house budget resolution includes a boost to aid municipalities funding for local governments. "As a former county legislator and town councilman, I understand the struggles many municipalities face in providing top-quality services without burdening taxpayers, and I will continue fighting to ensure municipalities receive their fair share from Albany," said Sen. Jim Gaughran, a Democrat from Long Island and the chairman of the Senate Local Government Committee. 
It's unlikely that the proposal will pass the Legislature as it is now. "We're in the 10th year of an economic expansion," said Freidfel. "The state shouldn't be in a position where they have to defer payments or push costs onto localities."