Coronavirus
A rent freeze is possible, but the details are murky
A bill in the state Legislature would offer rent relief for struggling tenants, but landlords would be affected too.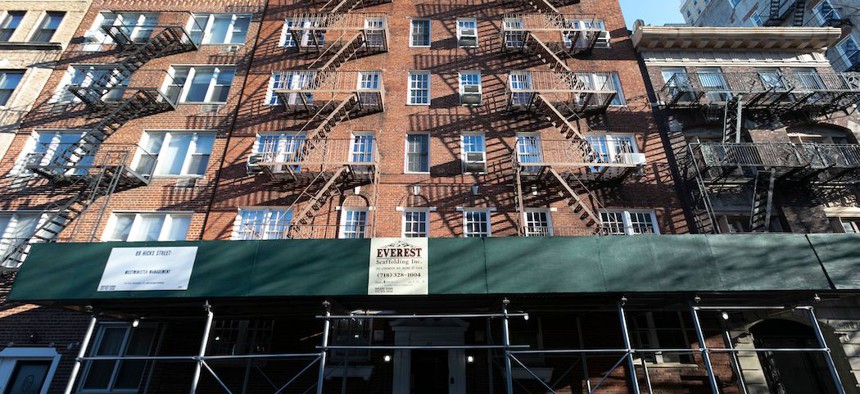 In light of the new coronavirus pandemic, more and more lawmakers and housing advocates are calling for rent cancellation in New York. They argue that as tenants lose their jobs or get their hours cut, they need economic relief. But the main legislative proposal may not be the best way forward, for either landlords or tenants.
Gov. Andrew Cuomo imposed a 90-day eviction moratorium, effectively codifying a memo that came earlier from the state courts. Cuomo, who hasn't publicly supported a rent freeze, has said his action is enough to protect renters because their landlords can't evict them for not paying rent. 
However, tenant advocates have argued that Cuomo's order will simply cause a backlog of evictions once the moratorium is lifted, because it doesn't offer any rent forgiveness. Renters who don't pay now can get penalized later. "People are not paying rent," Cea Weaver, campaign coordinator for the Housing Justice for All coalition, a group of left-leaning organizations advocating for tenant rights, said. "We're desperately seeking a policy solution that's not homelessness."
In order to address the issue, state Sen. Michael Gianaris introduced a rent-relief bill that would allow "any residential tenant or small business commercial tenant in the state that has lost income or has been forced to close their place of business" to have their rent suspended for 90 days. That means that they won't owe any rent during that period, even when it is over. It includes relief for the landlords who need it in the form of mortgage payment forgiveness for 90 days. This goes further than the moratorium on mortgage payments that Cuomo already instituted, which only applies to owners of single and two-family homes facing financial hardships as a result of the pandemic, and only defers those payments to a later date.
Gianaris hopes to remove the burden from both renters and landlords and instead place more of the financial strain on banks and mortgage holders, who are likely to receive significant aid from the federal government. "The federal aid package will be helpful in that regard," Gianaris told New York magazine. "Once you get past that to the next rung, the mortgage holders and the banks, I think they're better equipped to absorb some of the sacrifice and more likely to be the beneficiaries of federal assistance." 
However, Michael Johnson, spokesman for the landlord organization Community Housing Improvement Program, said the Gianaris bill as written does not do enough to protect small landlords like his group's members. He said that the language is far too broad about who would qualify for a rent freeze, and that he is not confident that landlords would actually get the relief the bill promises. "If it got changed in a way that makes sure that residential landlords got relief … the mortgages are not the large chunk of the payments that they have in operating costs," Johnson said, adding that many small landlords may still need to file for bankruptcy under the Gianaris bill. The legislation is fairly light on detail, and Gianaris has admitted that some of that will be decided after passage through state agency regulations. For example, his legislation provides no guidance about how much loss of income would excuse someone from paying rent. 
Economist Josh Mason, who has been working with Housing Justice for All in developing their proposals, also suggested that intervention is best made early in the form of public funds going towards paying rent. "It's much better, for all sorts of reasons, rather than to have a sort of disorderly wave of rents not being paid and mortgages going into default and the financial institutions are in distress … it would be much better to be acting on the front end of that," Mason said. Gianaris' bill would answer part of the question by proactively regulating lack of rent payments, thus providing some order there, but largely relies on the later bailout of financial institutions. 
Housing Justice for All, while supportive of Gianaris' bill, has also proposed a $10 billion landlord relief fund alongside a universal suspension of rent, mortgage and utility payments. This way, there is rent relief for tenants while ensuring that overburdened landlords are receiving direct monetary aid where needed as well. "We are trying to bail out buildings," Weaver said. "We're not trying to bail out banks." She added that more well-off and large landlords, for whom a few months without rent will not bankrupt them, must also be willing to "tighten the belt." Mason said that from an economic standpoint, a bailout for landlords is not fundamentally different from the other industry bailouts during the current crisis and past recessions.
Johnson said that the landlords' group would likely be supportive of the Housing Justice for All universal suspension of rent and mortgage payments. "That's just sort of a simpler way to solve the problem," Johnson said. He added that it's similar to a bill that would create a voucher program for struggling renters that state Sen. Brian Kavangh introduced before the coronavirus pandemic in February. 
But Nicole Gelinas, senior fellow at the conservative think tank the Manhattan Institute, said that direct payments to landlords and property owners is the wrong way to think about the problem. She suggested that New York City come up with commissions to determine how to offer rent forgiveness for commercial tenants forced to shut down their businesses, and rent relief for residential tenants who have lost their jobs. But she said for the property owners, aid should come in the form of loans to stay afloat until their tenants can pay again. "This is part of the downside of long term investments, and the federal government does not generally protect people from declines in their investment," Gelinas said. She noted, however, that the calculus is different for small, residential landlords with rent-regulated buildings, who may need more help since their margins are generally very slim.
The other critical question for Weaver and her proposed landlord relief fund is how the state is supposed to come up with $10 billion, and why is it necessary to subsidize homeowners or renters who haven't suffered any loss of incomes. "The people who are still employed should not see this as a rent holiday," Gelinas said. New York is facing up to $15 billion in lost revenues as lawmakers negotiate the state budget. Progressive activists and lawmakers are calling for increased taxes on the wealthy, but Cuomo has long said he would not add any new revenue sources. "The state and local governments are going to have significant problems keeping basic services up and running," Gelinas said. 
Weaver suggested that the money could come from federal relief funds, but New York is not receiving enough money for that now. Most of the expected $40 billion the state is getting in the most recent stimulus bill is for hospitals, uninsurance and a transit bailout – $3.8 billion is directly for the state government, which will likely go towards filling the expected budget gap. Weaver said that the next federal relief bill should have more money specifically set aside to help renters and property owners.
For renters facing tough times, Gianaris' bill may not be perfect for many stakeholders, but it also may have the greatest chance of becoming reality.