Technology
Corey Johnson talks transportation tech with Kara Swisher
The host of the Recode Decode podcast discussed the future of transportation in NYC with the City Council Speaker.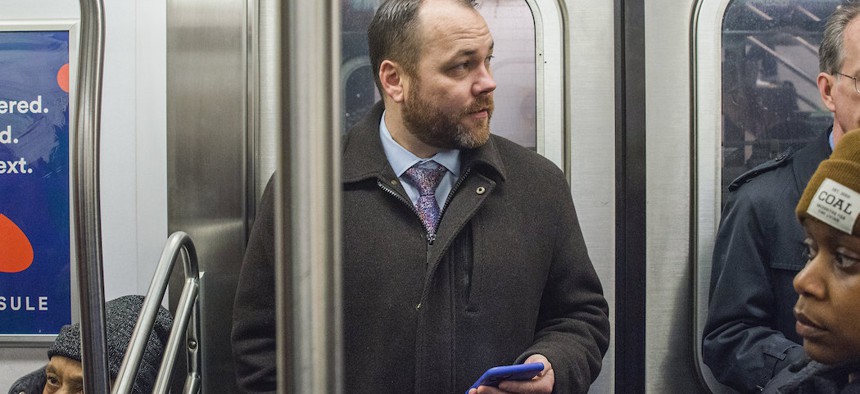 "I met Corey Johnson when he was 17, and now he may become the mayor of New York." That's how Kara Swisher, editor-at-large of the technology publication Recode and host of the Recode Decode podcast, led off a conversation with the New York City Council Speaker on that very podcast last month.
In a discussion that spanned topics from his relationship with New York City Mayor Bill de Blasio to passing a law requiring a master plan for city streets, Johnson talked about the future of transportation and New York City's future as a tech hub.
On everything from e-scooters to autonomous cars, Johnson expressed a mix of concern, hesitation, and interest, while leaving open the possibility that all matter of technological transportation tools could be worked into future New York City streets, if designed correctly.
"I have concerns about scooters," Johnson told Swisher, re-telling a misadventure and fall he suffered while riding a Lime e-scooter in Mexico City. Johnson has previously raised safety concerns about legalizing e-scooters in New York City, especially in Manhattan. 
On the topic of ride-hailing, Johnson said that while apps like Uber and Lyft have met needs that the taxi industry hasn't, he acknowledged the city should have done more to stem the growth of ride-hail. "When this new product came along – Uber and Lyft and these for-hire vehicle companies – it became more popular to have it on-demand, especially for people of color to not be discriminated against," he said, referencing the longstanding discrimination people of color have faced in trying to hail cabs. "I think the real mistake that we in government made was that they were able to explode without a smart level of regulation in place." New York City has since issued a cap on new for-hire vehicle licenses in an attempt to limit that explosion. "I kind of feel like we should have done it two or three years earlier," Johnson said of the cap, which was passed by the Council in 2018. He also called the prospect of autonomous cars interesting, but said he hoped that other, smaller cities could test that technology first so that New York could learn from those pilots.
On the podcast, which can be listened to in full here, Johnson weighed in on all these topics and more – including the spate of tech companies moving into the west side of Manhattan, where Johnson's Council district is located – but was largely mum on how he sees himself stacking up against his competitors running for mayor in 2021. "I don't know if I'm in the lead," Johnson told Swisher. "There's like four major contenders that are running right now. I'm one of them; we'll see what happens."
For the rest of today's tech news, head over to First Read Tech.