Coronavirus
Education funding in the time of coronavirus
Lawmakers are aiming to block some of the governor's education proposals as talks get underway to pass a budget by the end of the week.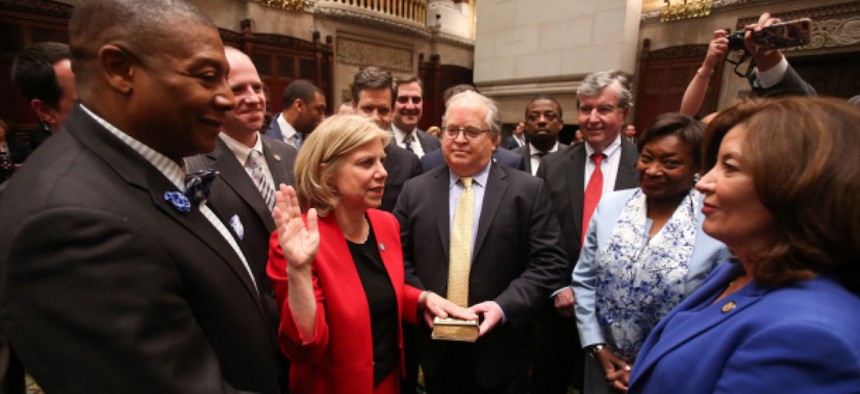 Lawmakers are back in Albany this week and looking to pass a state budget amid the coronavirus outbreak. Among their top priorities will be getting as much funding as possible for their public schools in their districts while blocking some of Gov. Andrew Cuomo's more controversial education proposals. 
The governor wants to allocate a fraction of the $2 billion in new Foundation Aid – a key funding stream for public schools – that was requested by lawmakers and the state Board of Regents. And Cuomo is making other moves that will increase his oversight of public education. This includes consolidating 10 expense-based aid funding streams (which are used to reimburse schools for buying things like textbooks and school buses) and wrapping them into Foundation Aid. He has also said he wants to end the long-running "shares" agreement that gives New York City more or less 38.86% and Long Island 12.96% of new school money, which is part of a broader effort to make his mark on education funding.
Lawmakers are aiming to block many of his proposed changes as they race to reach a budget deal with Cuomo by the end of the week. Last week, City & State caught up with state Senate Education Chair Shelley Mayer and Assembly Education Chair Michael Benedetto to hear how they're approaching the budget as the coronavirus outbreak shutters schools across the state. The interviews have been edited for length and clarity.
Michael Benedetto
Chair, Assembly Education Committee
With so much up in the air in the state budget, do you think any tax proposals should target education spending specifically?
I don't think it's a secret to anybody that we certainly would look at the tax on millionaires in one form of another. But also I think it's justifiable that we look into other revenue-enhancing areas. Sports betting is a possibility out there that we might consider. Specifically for education? No, and I don't know if that's the right way to go.
How do the governor's proposals on education stand out considering your 16 years in the Assembly?
The executive is always trying to do as much as he can and more. The Legislature keeps on saying to the governor: "No, you can't do that." So, you know, he tries to resist. That's no different here than how it has been in the past.
What do you think of the governor saying he wants to end the so-called shares agreement, this idea that Long Island and New York City always get fixed shares of total education spending?
He wants to have more of an influence on the budget than I think he's entitled to. There's nothing new as far as that goes. We're going to push back on that. That will always be the case. As we go forward, we will possibly talk to the governor about what we think should be proper allocations out there to the school districts. That's the way it goes. I'm not overly concerned about that. I hate to call it a tradition, but there's certainly a repetitive nature to it that he's going to try to exert more pressure and allocate money in the way he thinks is fair. 
What about expense-based aid?
The governor has done this in the past and the Assembly has always rejected
those items in the past. I don't think it'll be a far stretch of the imagination that we might be doing so again.
With the rising threat of coronavirus, have you ever seen a disruption of this potential magnitude in your years up here in Albany?
No. The only thing that would be comparable, was when you had the three or four amigos causing the disruption and a breakaway from the Democratic Senate conference 10 years ago. That didn't happen in budget season, though.
Shelley Mayer
Chair, state Senate Education Committee
What's the latest with education funding?
As someone who has schools that are impacted by the coronavirus, I can't think of a more pressing issue than ensuring our schools have the resources they need, whether it's cleaning their schools, whether it's to ensure that there's distance learning. I was at a PTA meeting in Yonkers the other night and these schools are spending money they don't have because they have to, and they're doing the right thing. They've stepped up and to their credit, they're not crying about money other than the fact that they need the money to provide the education their kids deserve.
Tell me more about how coronavirus is factoring into the education side of the budget?
Like it or not, our schools are the place where many basic services for our children are being met. That's why the issues of mental health, particularly in the primary and the early years, is a critical issue across the state in New York City and elsewhere. The schools need additional social workers, school psychologists to deal with students. They need to be able to provide breakfast and lunch to every child. We just have a range of services a school needs to provide and we're dealing with a Foundation Aid formula that's quite old and it hasn't been funded. 
The executive needs to come to the table fully prepared to meet the Regents' description of how this should be paid out. We are somewhat frustrated about having this fight year after year, begging for additions. But they are really just Band-Aids on a system that should be fixed. We should get this done. And then we can move on to a more robust conversation of how schools can educate kids.
It seems like the governor is trying to gain power over districts, including by proposing these changes to expense-based aid. What do you make of it?
Expenses are not reimbursed now at 100%, but at a proportion calculated under a formula where many school districts do not receive that much on their dollar spent. These expenses are carefully reviewed and frequently rejected or refined by the state Education Department. This is not a credit card. It has to do with keeping control at the school boards and the school level where communities know what they need, and taxpayers are paying through property taxes for a substantial portion of many of these capital improvements. So I think it's a misguided idea and I'm hopeful it's totally rejected. 
How do you help school districts like in New Rochelle battle this outbreak moving forward?
It's not only our public schools. Several of these Jewish day schools or other private schools in our communities are facing many of the same challenges, whether it's cleaning, closure and other expenses related to the virus that upset both public and private schools, and I think we will have to grapple with that. 
There's more than a dozen proposals from your colleagues to raise taxes on the wealthy. Are you a fan of any of them?
The leader said that taxes were not our first choice here. I think the coronavirus may impact this conversation going forward.