Coronavirus
Home care attendants helping elderly, disabled lacking equipment
Providers helping people that are at high risk amid the COVID-19 outbreak report shortage of face masks, sanitizer.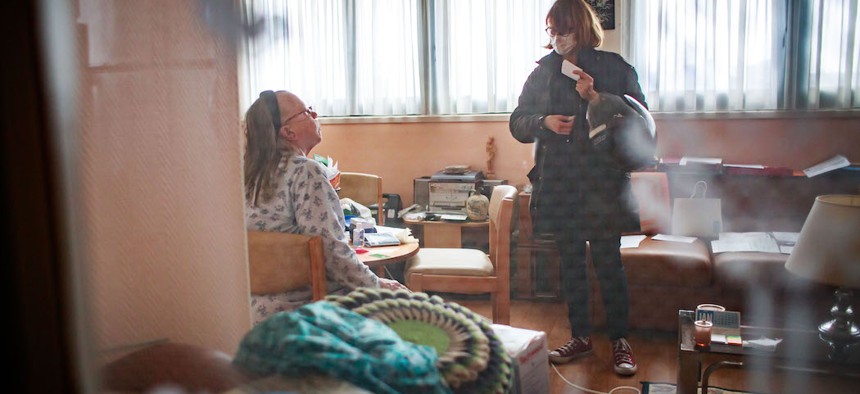 New York officials have especially encouraged olders adults and those with underlying medical conditions to stay home and be careful to avoid contracting COVID-19. But many older, disabled and otherwise frail people are also more reliant on home care workers to help them with day-to-day tasks, which makes it all the more difficult to abide by advice to keep their distance from other people. And that's exacerbated by shortages in protective equipment that make it difficult for home care providers to protect their staff and clients. 
"The personal protective equipment is rationed right now," said Glenmore Matthews, vice president of home care at RiseBoro Community Partnership. "One of the problems we're experiencing now is the face masks."
More than 80% of providers reported that they were in high need of hand sanitizer, according to a recent survey the Home Care Association of New York State, which represents home care agencies, sent to state health officials on March 18. Nearly as many said they had a similar demand for face masks, with most respondents saying they lacked sufficient personal protective equipment. This shows how difficult it may be for home care workers to abide by state guidance encouraging people visiting at-risk people to don face masks.
Some other guidance has also been difficult to implement. Home care providers have been pushed to take the temperature of their staff, but that can be difficult given that workers tend to go directly to their patients' homes rather than to a central office, said Roger Noyes, director of communications for the Home Care Association of New York State. There has been flexibility given on other regulations however, allowing mandated in-home supervision from nurses to be done through "indirect means" such as by telephone or video calling to reduce in-person interactions.
The stakes are all the higher for vulnerable patients who require uninterrupted care, and are usually reliant on technology such as ventilators or have other severe medical conditions. The 281 home care providers who participated in the association's survey reported having 14,106 of these high-need clients. RiseBoro Community Partnership is currently in the process of also identifying which patients lack external support from family members or others as the coronavirus outbreak continues. "Those will be our priority should the state shut down," Matthews said. 
On the other hand, several clients who do have that additional support have begun to decline home care services out of fear that any visitor may give them the new coronavirus. "About half of home care providers are experiencing situations where patients are refusing entry of personnel into the home for fear of exposure," Noyes said.
Providers have been having a difficult time having enough staff on hand as well, as many have had to take days off to watch over their child or because they themselves are sick. It can be particularly difficult for providers to find replacement staff given that workers tend to work with a number of different organizations, Matthews said, so they may already have shifts scheduled elsewhere. RiseBoro has also had to stagger shifts for workers to avoid possible crowds on the subway to mitigate risk of contracting the virus.
For Carlyn Cowen, chief policy and public affairs officer at the Chinese-American Planning Council, which provides home care services, the recent coronavirus outbreak highlights the importance of this work at a time when state officials are looking into cutting funding for long-term care. The governor's appointed Medicaid Redesign Team, which has been tasked with finding savings in the health care program, has just proposed $715 million in reductions to the state's long-term care programs. The cost of these programs has grown significantly over the past several years. From 2013 to 2019 fiscal years, spending on the Managed Long Term Care program tripled.
"COVID-19 really highlights how much of a crisis that is because it is those services – the home care services, the (Consumer Directed Personal Assistance Program) services, the residential services – all of those are the ones keeping people safe and healthy in their homes," Cowen said. "And if they don't have access to those services, they're going to end up in our ERs."