Coronavirus
Homeless New Yorkers at greater risk from COVID-19
A struggle to pay for resources and staff hampers New York City's ability to help the homeless.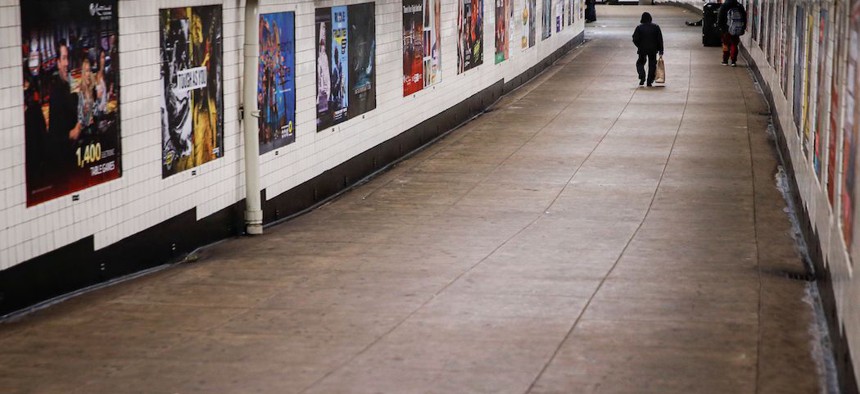 Advice to stay at home to slow the spread of COVID-19 isn't of much help to homeless New Yorkers. Even if they're in shelter, and not only if they're out on the street, they are particularly vulnerable to a widespread health crisis.
Medical experts say that the homeless are more likely to contract the virus because people in homeless shelters are often in close proximity to one another and unsheltered homeless people may lack regular access to soap and hand sanitizer. And because homeless people tend to face more challenges in obtaining medical care, it is likely they may get sicker or die more often if exposed to the coronavirus. That means questions that many New Yorkers have about the virus – such as where to get tested – become all the more daunting for people without permanent homes. 
New York City – which has more than 60,000 homeless people in shelters and an estimated 3,600 on the street – has released guidance for homeless shelter operators as well as outreach teams that communicate with the city's homeless on education about the new coronavirus and practices for cleaning facilities. Complying with guidance in shelters for single adults, which tend to have people sleeping in large groups in a dorm-like setting, is expected to be particularly challenging given that health experts recommend people keep at least six feet in distance between each other to avoid spreading the virus. So far, the city has managed to set aside isolated beds for people suspected of possibly having the coronavirus.
In shelters for homeless families, the city has also set up a system to send those in quarantine meals in response to concerns that they may not have the funds or access to food at grocery stores. 
Security guards at shelters have recently raised the alarm however that they aren't getting sufficient protective gear such as gloves and face masks. A spokesman with the city Department of Homeless Services told the New York Post in a statement that the agency "is always prepared to connect clients and staff alike to any medical services they may need for any reason, including as relates to COVID-19."
Catherine Trapani, executive director of Homeless Services United, which represents shelter providers, said for the most part the city's guidance on programmatic issues, such as identifying symptoms of the virus and setting up isolation beds, has been good. The main challenge for nonprofits is financial. Especially now that public schools are closed, organizations are having staffing challenges as employees navigate their approach to child care and will continue to pay extra for cleaning supplies. "The problem is we were already in a sort of financially precarious place," she said. 
Christine Quinn, former New York City Council Speaker and head of the shelter and supportive housing provider WIN said her organization has gone over budget stocking up its food pantry for clients and cleaning supplies. "Without that relief and reimbursement from the city, there will be service providers who go under," she said.
Many organizations across the human services sector have echoed those concerns as they try to get flexibility with their existing city contracts. They don't expect to hit certain performance goals required in their contracts, because those programs are now closed because of the coronavirus or underutilized as people are encouraged to stay home.
An additional challenge in New York City shelters is acclimating to the recent public school closures. About 114,000 city public school students are homeless and will have to now attend classes online. Most shelters don't have wireless internet access in their residential areas, which will be an obstacle as the city tries to make sure all students have internet available. Working parents in the shelter system will also face child care difficulties with kids out of schools. "Normally, all our child care programs are geared toward – obviously – a functioning school system," Trapani said.
For homeless people outside the shelter system, fewer services are now available to help them. Charities providing food, showers and other help to the homeless are either closing or cut down services to only offering to-go meals. The city's parks department has also closed its recreation centers, which many homeless people use to shower. 
"I've gotten a couple of texts this morning from people like, 'where do we go shower now?'" Josh Dean, executive director of Human.nyc, said. "And they're apparently just washing up in bathrooms using the sink, and that's not nearly the same, especially at a time like this."
The city Department of Homeless Services has recently allowed outreach teams to start distributing socks and hand sanitizer to the city's homeless, overturning a previous rule that prevented outreach workers from giving supplies because officials argued it discouraged people from entering shelters. The rollout on that effort is just beginning now. But for some organizations like New York City Relief – which has been providing meals and handwashing stations for the street homeless – even just finding supplies for clients, staff and volunteers has been difficult. 
"We literally called dozens and dozens of pharmacies, and all of them are sold out, until we found one that had a supply," Josiah Haken, vice president of outreach operations at the nonprofit, said about the process of finding the 95 face masks the organization is using for its staff and volunteers.