Coronavirus
How remote learning will work in New York City
With the help of Apple, T-Mobile, Charter and more, city schools are going virtual, but some say the transition is too little, too late.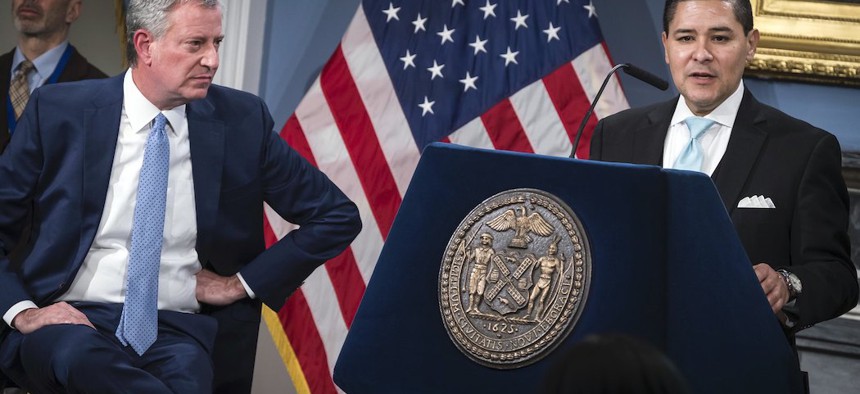 Forget about screen time limits and hit the tablets kids. Your classes will be happening via Apple iPad and Google Classroom soon. When New York City Mayor Bill de Blasio announced Sunday that city schools would close Monday in response to the coronavirus pandemic and remote instruction would begin March 23, it was somewhat unclear exactly how virtual education would work. But over the past few days, the city Department of Education has been working on finalizing plans to take lessons online in order to slow the spread of the coronavirus.
It's no easy task to take the nation's largest school system remote on a dime – especially with economic disparities that students and families lacking devices and internet access face – and New York City's plan could end up costing a pretty penny. 300,000 students currently don't have an internet-connected device at home, and the city will pay to provide iPads to those kids, starting with distributing 25,000 iPads. It's not clear when devices for the other students in need will be distributed, but the city Department of Education plans to prioritize distribution for students in temporary housing.
The city's iPads will come equipped with T-Mobile data plans, so that students who don't have access to Wi-Fi at home will still be able to access the internet. The department also said it was working to provide Google Classroom – an internet platform for creating and grading assignments – to all schools as well.
As internet providers like Charter Communications offer free broadband and Wi-Fi for students who don't already have home internet access, some say the city shouldn't be relying on expensive Apple products and data plans. "I don't think that that is the preferred technology," New York City Councilman Ben Kallos said of the city's approach. "It doesn't seem sustainable. And LTE coverage can be great, but oftentimes it's not as good as broadband in the home."
On Friday, Charter Communications announced that it would begin providing its Spectrum broadband and Wi-Fi for free to families with students in grades K-12 or in college who don't already have a Spectrum broadband subscription. Altice USA announced a similar program on Friday.
Kallos said that sending out iPads with T-Mobile LTE data plans would likely be quicker than having families sign up for broadband internet service, but it might not be the best long-term solution. "I appreciate wanting to get the service up and running using LTE," he said. "But I think that they're really doing families a disservice by not taking advantage of the Charter offer."
Kallos said that the city should instead be focusing on access to broadband service and providing devices like Chromebooks, which tend to be cheaper than iPads and may be able to run more programs at the same time. Laptops and Chromebooks also come with keyboards, while keyboard attachments are typically sold separately for iPads. Many city schools do also use Chromebooks for regular instruction, and the Education Department will be providing guidance to schools on how to lend those out to students. "Everything is on the table to ensure our students continue to get the quality education they deserve, and we're grateful to Apple and T-Mobile for their partnership, as both companies are offering significant discounts for their products and services," city Education Department spokeswoman Isabelle Boundy wrote in an email. "We are open to working with additional partners to serve the children of New York City at this challenging time, and look forward to further conversations with Charter."
But the home internet offer isn't perfect and doesn't cover the entire city. Charter, for example, doesn't offer service in the Bronx. Kallos said he has called on other providers to "step up" like Charter. Other internet providers are taking steps to work with consumers during the coronavirus crisis, including by not charging late payment fees or disconnecting existing accounts for the foreseeable future.
The city Education Department did not disclose how much it paid Apple for the discounted iPads, though the funds will come out of the capital budget. The typical consumer can buy the cheapest iPad available – an iPad Mini – starting at $399, and higher-priced models start at $799.
The city is also getting a discount on its T-Mobile data plans. Kallos said he heard from the Education Department that T-Mobile's data plans would cost the city $3 per student per month, though the department did not confirm that price – only that T-Mobile is offering a significantly discounted plan. Data plans for one device with T-Mobile can cost $30 or more per month for regular customers.
This approach is specific to New York City, but all school districts across the state have to submit their plans for distance learning to the state Education Department under the executive order signed by Gov. Andrew Cuomo on Monday that closed schools statewide for two weeks. Naturally, based on disparities in available resources and technology, each district's approach to remote learning could differ.
In New York City, there is still a prominent broadband internet gap. A July 2019 report from New York City Comptroller Scott Stringer's office found that, as of 2017, 29% of all city households – housing close to 2.2 million New Yorkers – were without broadband internet access. More people didn't have broadband access in the Chinatown and Lower East Side neighborhoods in Manhattan, the Longwood, Melrose and Hunts Points neighborhoods in the Bronx, and the Kensington, Ocean Parkway and Borough Park areas in Brooklyn.
Across the state, and especially in rural areas, that broadband gap can be even more pronounced, meaning that while each school district will be working on its own plans for remote learning, they will also likely have to consider how to cater to students lacking internet access or internet-connected devices.
Many other states are also closing schools and going remote in an effort to slow the spread of coronavirus, and are similarly struggling with how to best connect their students and teachers on very short notice. State Sen. Shelley Mayer, who chairs the chamber's Education Committee, said that these emergency closures make clear the existing discrepancies in internet access across the state. "I know, having spoken to both the chancellor and the interim commissioner, they're very concerned about issues of equity and access," Mayer said, referring to New York City schools Chancellor Richard Carranza and the state's interim education commissioner, Shannon Tahoe. "I think they will focus on that going forward. There may be time for more guidance, we just can't expect everything to be done on day one."
New York and other states will likely have to make these transitions not only using temporary solutions, but prepare for a remote learning situation that could last months. De Blasio said Sunday that city schools will be closed until at least April 20, and that everyone should be prepared for schools to remain closed for the rest of the academic year.
With that in mind, Kallos said it's imperative that the city's solution be one that works for everyone. "There are going to be children who have desktops and laptops who will be able to telecommute much easier and be able to run multiple applications and will have more resources to study and far less distraction versus children who will be getting iPads and will be able to participate in video conversations but may not have many more tools on the tablet for education, but a slew of games and entertainment options," he said. It's not yet clear whether the city Education Department will lock down the iPads to prevent students from purchasing or accessing games on the app store, for example.
But there may be one bright side to all of this, if you're willing to look far ahead. Assemblyman Michael Benedetto, who chairs the Education Committee and echoed Mayer's concerns that all students have equal internet access, said there could be an upside to working through these tough challenges now. He likened the situation to the United States' transition during World War II to becoming a manufacturing giant. "Emergencies sometimes act as a catalyst to advancement," Benedetto said. "This emergency that we're in right now may just add to the advancement of long-distance learning and speed everything up, where educators will be focused on a more organized way to do this. Out of this hovering black cloud, there might be a silver lining as far as the distance learning effort is concerned."