Education
Prospects dim for major charter school victories
Gov. Andrew Cuomo continues to back charters, but he's unlikely to flex his influence in the state Legislature.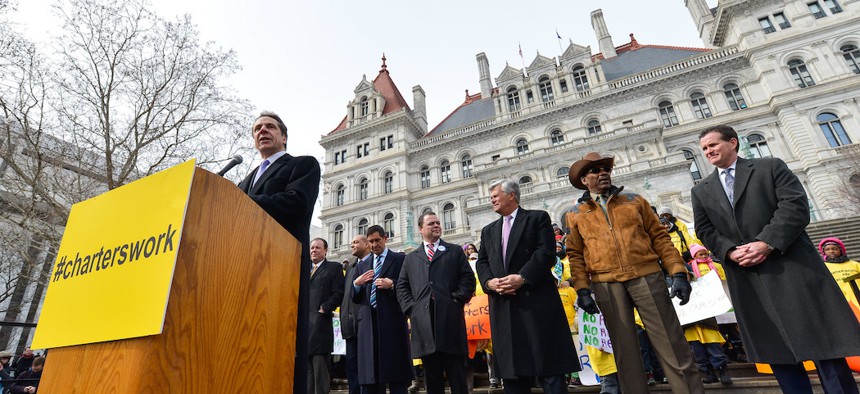 The perennial fight over charter schools in New York has begun anew as budget negotiations ramp up in Albany. And for the second year in a row, Gov. Andrew Cuomo ostensibly finds himself on the front lines of supporting charter schools against the all-Democratic state Legislature. And though the governor introduced a modest proposal to free up some charters for new schools, the odds of getting it approved are not in his favor. And it's unlikely that Cuomo will want to apply the political pressure necessary to gain the cooperation of legislators.
Although the statewide cap on charter schools has not been hit – there are still nearly 100 charters left before the state reaches the 460-school limit – the New York City cap was reached a year ago. That means that besides schools already in the process of opening, the city can't authorize any more charter schools. In last year's round of charter allocations, 13 schools qualified, but only seven received approval while the other six were waitlisted because the cap had been hit. The only way for those and other schools to potentially open is either by eliminating the cap in New York City, or by raising it. That didn't happen last year, despite Cuomo advocating to lift the cap on charter schools.
Unlike last year, the governor made this year's charter school proposal part of his state budget, where he has the most influence over policy and has historically included high-priority items. He proposed a 5.3% per-charter pupil funding bump including a one-time infusion of $24.9 million, which is similar to other increases that were approved in the past, including last year. Cuomo also wants to reissue so-called zombie charters, which are charters belonging to schools that have closed and cannot be reissued without state approval. The proposal would permit at least 15 new charter schools to open in New York City without actually lifting either the statewide cap or the cap in the city.
Cuomo's proposal was relatively well received by charter school advocates, after some charter school parents expressed concern that the governor would abandon them when he didn't mention the issue in his State of the State address. New York City Charter School Center CEO James Merriman testified during a legislative budget hearing that his organization strongly supported the proposal, while adding that it's still not enough to support the growing charter school industry and that the Legislature must raise the cap or eliminate the cap completely. "Governor Cuomo has displayed time and again that he is an advocate for all of New York's children and a believer that all families deserve great school options," Merriman wrote in a statement to City & State.
Just as Cuomo remains supportive of charter schools, charter schools remain supportive of Cuomo. Shortly before the 2018 election, the governor received a late influx of at least $130,000 from people connected to the industry. Since his reelection, he's already raked in at least $200,000 from deep-pocketed charter schools supporters and industry-friendly political action committees. Cuomo has also had a standoffish relationship with the state's powerful teachers union, New York State United Teachers, which did not endorse him in each of his three elections for governor. It makes sense that Cuomo continues being friendly to charters while they continue donating to his campaign and their chief rivals do not.
Still, raising or eliminating the cap is unlikely as Cuomo has not proposed doing so this year, but his track record suggests that he could get a reluctant Legislature to agree to his terms. The governor has successfully muscled through charter school-friendly legislation in the past, most notably in 2014. At the time, New York City Mayor Bill de Blasio placed a moratorium on co-locating charter schools in public school buildings, forcing any new charters to pay rent in private buildings. Cuomo pushed through legislation as part of the budget that required cities to find public space for charters, or else help foot the bill for their rent elsewhere. That came the same year that the governor made an appearance at a pro-charter school rally in Albany.
The governor also gave charter schools a victory in 2015, when a new law raised the New York City charter school cap by 50 and permitted 22 charters belonging to closed schools to be reissued without affecting the overall state cap. Another came in 2017, when the state revamped the charter school funding formula to provide the schools with more money as part of the state budget, and clarified that those 22 zombie charters from 2015 could be allocated in New York City without counting toward its cap.
But the difference now is that each of those times, Cuomo had a Republican state Senate on his side that supported charter schools. And even with it, victories came through leverage and compromise. The 2017 zombie charter guidance came as part of negotiations to renew mayoral control of New York City schools. The funding changes in the budget also represented a middle ground with opponents, and did not go as far as charter school advocates wanted. At the time in April 2017, Success Academy Charter Schools CEO Eva Moskowitz said the budget agreement, which did not include Cuomo's proposal to lift the state cap, "shortchanged" students. A spokesperson for the charter school network declined to comment for this story.
Although the charter school advocates who spoke with City & State suggested that support for charter schools is beginning to grow among Democrats – or at least they're warming up to the alternative schools – publicly, it does not seem much has changed since last year. "That doesn't seem to have very much support in the community right now," state Sen. John Liu, chairman of the New York City Education Committee, told City & State of Cuomo's proposal to reissue the charters of shuttered schools. "I don't think we would approve that proposal." Liu, who has not supported expanding charter schools, said his conference's focus will be "funding Foundation Aid (the main source of state funding for public schools), not charter spots." He added that nothing new with charters can happen without increased accountability for those that run them.
Assemblyman Michael Benedetto, chairman of the Education Committee, declined to comment until the Assembly releases its one-house budget proposal, but gave no indication that his opinions on charter schools have changed significantly. After City & State reached out to Benedetto, it appeared likely that the Assembly would not introduce a one-house proposal as the state Legislature looks to pass the budget more quickly due to the coronavirus outbreak. At the end of the previous session, Benedetto sponsored four bills that would greatly limit charter schools and the industry's growth. State Sen. Shelley Mayer, who chairs the chamber's Education Committee and has long opposed charter schools, told City & State: "My position is well known, but it is a conference decision." Mayer's caveat is a common refrain among state lawmakers, but still leaves the door open a crack for new movement that Liu seemed to reject.
Even if the state Senate Democrats' attitudes toward charters are beginning to thaw, passing pro-charter school legislation in both that chamber and the historically frosty Democratic Assembly would still require a strong push from Cuomo. And right now, it doesn't seem likely that he will apply the necessary pressure. He's done it before for charters in 2014, and he famously got same-sex marriage passed despite a Republican state Senate. But Cuomo is generally strategic about where and when to best use his leverage, and he often avoids making big shows for items that have a chance of failing even with his assistance. Last year, Cuomo did not attempt to personally convince Democratic holdouts to vote in favor of recreational marijuana legalization after it failed to make it into the state budget. While he remained supportive publicly, and recommitted to passage this year, Cuomo did not go the extra mile like he did for same-sex marriage. Charter schools may find themselves in a similar position.
Cuomo spokesman Rich Azzopardi told City & State that charter schools remain a priority for the governor, hence his new proposal in the executive budget. But Azzopardi would not say how much Cuomo would push for either the funding or the ability to reissue charters, nor would he assess how charter schools compare to the governor's other priorities. Since his budget address, Cuomo has not publicly spoken much about charter schools, as discussions of bail reform and Medicaid spending have dominated budget talks. The governor declared that he would not approve a budget that does not include tweaks to the new law eliminating bail in the majority of misdemeanor and nonviolent felony cases. Such strong language suggests that the governor may use some leverage to get a reticent Assembly to agree. He made no such statements about charter schools.
And now, the new coronavirus has overshadowed just about everything else in the state, as both the governor and lawmakers scramble to contain its spread and figure out how its economic impacts will affect the budget. As state leaders in Albany work to pass an early budget, Cuomo has pushed back against the idea of a "bare-bones" budget, but focused his attention on legalizing recreational marijuana and passing an environmental bond act. With this new mindset in Albany, the already slim chance that charter school advocates would see any major victories this year has likely gotten even slimmer.