The state budget process begins amid disease outbreak
Now comes the time to see if lawmakers can keep Cuomo from getting his way on a variety of proposals.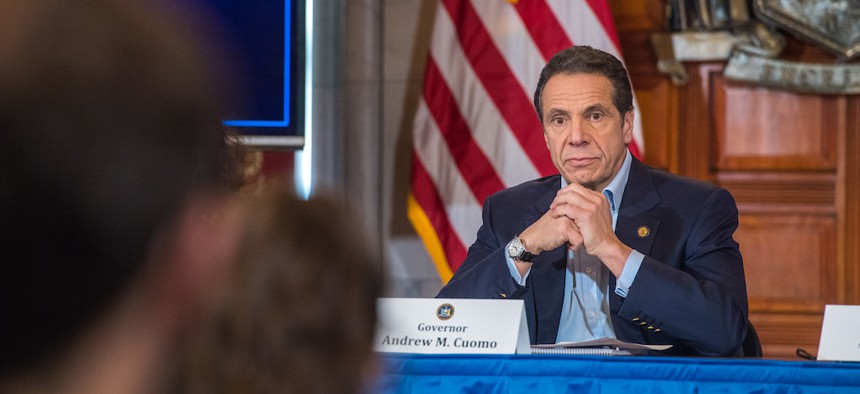 The state Capitol is closed to visitors, but lawmakers are aiming to expedite a state budget deal by the end of the week – although Gov. Andrew Cuomo told reporters over the weekend that he has no appetite for a "bare bones" spending plan for the upcoming year. Assembly Speaker Carl Heastie said that he was canceling scheduled meetings of his chamber until Wednesday at the earliest. "Session will be canceled until later this week when all timely business is ready to be brought for a vote," Senate Majority Leader Andrea Stewart-Cousins said in a statement on Monday morning.
Cuomo has demanded that lawmakers stay on at the state Capitol despite the news that two lawmakers, Assembly Ways and Means Chair Helene Weinstein and Assemblyman Charles Barron, and have contracted the virus. Other lawmakers might end up staying away from the Capitol out of fear of getting infected, injecting more uncertainty into efforts to get a budget deal done in the coming days, well before the April 1 budget deadline. 
The legislative schedule itself remains up in the air. The situation is changing quickly but lawmakers are aiming to meet their "constitutional duties," Assembly Speaker Carl Heastie said in a statement Sunday night. "Plans are being developed for a future schedule and safety protocols while working towards an expedited State Budget," Senate Majority Leader Andrea Stewart-Cousins said in a statement Sunday night. Bail reform, recreational marijuana legalization, billions in funding for environmental programs – but perhaps not Medicaid changes – appear to be in the mix following a whirlwind weekend that included the announcement of the seventh death in New York due to coronavirus. 
Cuomo has formidable budget powers and his ability to pressure lawmakers to approve emergency powers shows he can exert political leverage to his advantage while managing the disease outbreak. But some new developments serve as a reminder that Cuomo's powers only extend so far.
The federal government appears positioned today to take away a key tool that Cuomo wants to use to control how the state manages a $6 billion deficit. If the U.S. Senate passes a bill (which passed the House last week) that includes language limiting New York state's ability to change a state Medicaid program, Cuomo will have to find $2.5 billion somewhere else to balance the books. In other words, Cuomo's Medicaid Redesign Team II, which is tasked with find that amount in budget savings, and whose findings were expected in the upcoming days, will be for nothing. "If I can't change that, we can't do a budget," Cuomo told reporters in a conference call of the provision in the federal bill, which he blamed on U.S. Sen. Charles Schumer and Rep. Nita Lowey, who chairs the House Appropriations Committee. 
Cuomo's budget as a whole is a known quantity, but it remains to be seen how lawmakers will respond. They were scheduled to release their one-house budgets today, but it looks like they are jumping straight into the final stage of negotiations this week. A lot could change in the political dynamics surrounding the budget, but it will still all come down to a vote in the end. In true Albany fashion, the final details of a proposed $178 billion state budget will only have limited time for public debate. 
State lawmakers have a wish list of coronavirus-related bills to pass, and the governor will not lack for levers to pull to get what he wants on cash bail, marijuana, paid gestational surrogacy, eminent domain for Penn Station, and some lesser-known proposals. If lawmakers are to stop Cuomo on a variety of legislative fronts, they will have to do so in the coming days. 
Lawmakers have already been bolstered by online advocacy efforts, which played a key role in expanding free coronavirus treatment and getting Cuomo to change state petitioning requirements for candidates to get on the balance. Activists also successfully pushed for a moratorium on evictions in New York City. An executive order issued by Cuomo over the weekend means that political candidates only need 30% of the normal number of signatures to get on the ballot for the upcoming primaries. It's unclear whether activists and lawmakers alike can use such advocacy to their advantage in efforts to raise taxes on the wealthy – the linchpin in a wider effort to increase state spending on education, health care, and other social programs. Of course, the tumbling stock market and the risk of a recession could pose even greater hurdles for higher taxes on the wealthy. 
Yet there are a few advantages, from a political standpoint, to what is happening with coronavirus, argues Michael Kink, executive director of the Strong Economy For All Coalition, an umbrella group favoring tax increases. People have more time on their hands as society locks down to prevent the spread of the virus. Technology can allow them to get involved with advocacy efforts to raise taxes on the wealthy, who might have greater difficulty opposing them at a time of national unity. "I think we can make the same case (as before)," Kink said. "Right now if there is a billionaire who doesn't want to contribute to the greater good, I think that person is going to be recognized as greedy, self-centered and unpatriotic."
The truncated legislative schedule adds pressure on lawmakers during budget negotiations between the governor, Stewart-Cousins and Heastie. If lawmakers are to stop the governor from getting what he wants on some key legislative fronts, then they will need to unite and stand up to him in a way that has not yet been seen in recent weeks.