Coronavirus
Cuomo orders redistribution of critical medical supplies
Says state will 'share,' not 'seize' ventilators, with compensation or replacement later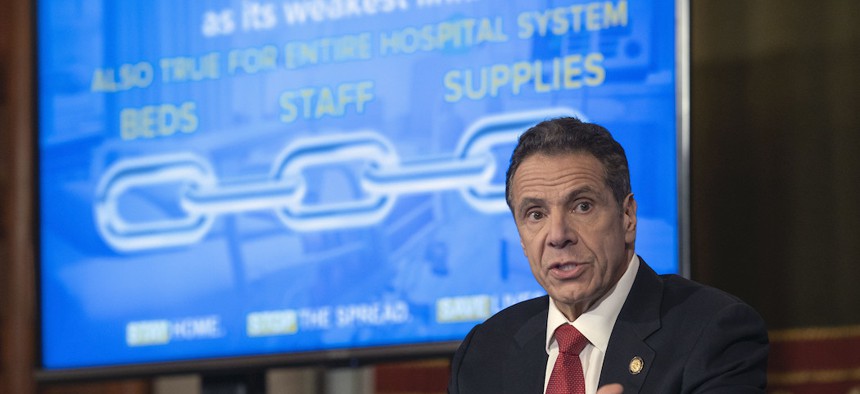 With New York City approaching its projected peak of coronavirus cases, Gov. Andrew Cuomo announced a new executive order by which the state can take ventilators and personal protective equipment from hospitals and other facilities across the state. "I'm not going to get into a situation where we know we are running out of ventilators and we have people dying," Cuomo told reporters at a morning press conference at the state Capitol. 
The order represents a significant assertion of executive power during the crisis, with Cuomo mobilizing the National Guard to collect and redistribute medical supplies that are increasingly in short supply. Cuomo gave his "word" that these private supplies will either be replenished later or the their owners will be financially compensated. "Don't use the word seize," Cuomo said. "We're going to share resources." The governor said "several hundred" ventilators could be moved downstate as part of the efforts, which would likely give the state another day or two of additional capacity for intensive care units. 
State efforts – some less successful than others – remain ongoing to locate masks, gowns, gloves and ventilators from private sources. Cuomo said that he spoke to Jack Ma, CEO of the Chinese online marketplace Alibaba, in the past day as part of the effort. Focus in recent days has also shifted away from a federal stockpile that Cuomo says has effectively been depleted. "I don't think the federal stockpile has enough to help all the states," said Cuomo, who has tangled with the Trump administration in recent weeks over the stockpile. The Trump administration is also granting approval for using new temporary hospitals at Javits Center in Manhattan to handle coronavirus cases.
In the past week, the governor has made an effort to avoid conflict with the administration, couching his requests for more help by noting that the assistance that New York receives now would be reciprocated in the upcoming weeks as the epicenter of the pandemics shifts away from the downstate area.