Coronavirus
Cuomo's chance to redefine public education
Deep cuts to schools could happen unless billions in new federal stimulus funding comes through.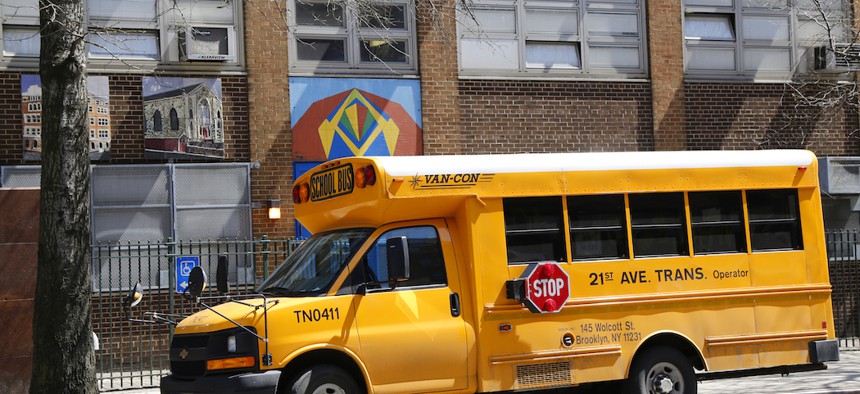 One way or another, Gov. Andrew Cuomo is going to leave his mark on the state education system. His effort to shake up decades' worth of funding practices did not happen in the recently completed state budget process, but the coronavirus pandemic has placed the future of public school funding firmly in the hands of the governor. 
Governors across the country want $500 billion in direct aid from the federal government, and Cuomo and state lawmakers are hoping that would mean billions for New York that would help stave off huge cuts to public education. "Whatever we get from the federal government will determine our state budget," Cuomo said Monday morning, adding that there could be 20% cuts to schools, local governments and hospitals unless federal aid comes through. "I'm worried."
Cuomo has repeatedly pressed U.S. Senate Minority Leader Charles Schumer and House Appropriations Committee Chairwoman Nita Lowey to get it done, but it remains to be seen whether Congress will approve billions in unrestricted aid for New York. If such aid does not materialize in the coming weeks, then the likely cuts to education could run so deep that public schools would be deeply changed for years to come.
"I think it would be largely catastrophic," said Rick Timbs, executive director of the Statewide School Finance Consortium. "I don't know how a system could recover."
Staff would be cut. Vendors would lose business. Schools would no longer be reimbursed for expenses. Substantial pushback would be expected from unions, activists and local officials.
Cuomo has clashed with teachers unions before, and additional federal aid could prove critical to avoiding additional clashes in the upcoming months. "Direct federal aid for schools is critical, but so too is the state seeking new revenues through taxes on the ultrawealthy to help fund essential public services like education," said Andrew Pallotta, president of New York State United Teachers. "Now is the time to invest in our schools, not deny them the resources they need to provide for communities statewide."
Local school districts could negotiate with teacher and staff unions to freeze pay, as they did a decade ago during the Great Recession, according to David Albert of the New York State School Boards Association. But school districts are already turning to their rainy day funds, and districts are already coming to terms with the idea that their funding could be reduced in the near future. "Schools are being conservative and they're not banking on money coming in," he said on "New York Now."
The recently passed state budget includes a provision that allows the governor to make rolling budget cuts if tax revenues fall below current projections. Billions in federal aid could keep state funding for public schools in line with the recently passed state budget, which allocated the same amount as last year.
"It unimaginable," state Senate Education Committee Chairwoman Shelley Mayer said Monday morning of education cuts that the governor said Sunday could reach 50%  without federal aid. "That's why the governor is so right that the next stimulus bill should include funding for the states."
While Mayer said that she has reached out to unspecified members of the state's congressional delegation, other lawmakers said they have not. "I believe our entire congressional delegation knows the depth of the problem and is advocating for the entire state," said Assembly Education Committee Chairman Michael Benedetto. "They know their job."
Cuomo said Sunday that he opposes raising taxes even if the federal aid does not materialize, but state lawmakers say it is an option worth exploring in order to avoid a scenario where districts big and small would lose millions in aid. "To suggest we're going to cut school funding in half is too much fearmongering," said state Sen. John Liu. "Even in the worst-case scenario, there are still revenues to tap."
Lawmakers could pass legislation to override any budget cuts from the governor, but it remains an open question whether they will even meet again this year, especially given the political dynamics surrounding making budget decisions during a reelection year.
That could mean that the governor has a relatively free hand in deciding how the state would manage a multibillion-dollar funding shortfall, in the absence of federal aid. "Let's reimagine how society could be," he told reporters on Monday morning.
While the governor would have a chance to streamline school funding in ways he has always wanted to implement, the present circumstances are hardly enviable, according to Timbs. Budget cuts to schools could create more pressure to rethink his cherished property tax cap in order to help local communities cope with the loss of state aid. 
The bottom line is that there are no good answers at this point to figuring out what to do with public education if the federal aid doesn't come through. Whether there is funding or not, the state has to educate its students – and that costs money.
The overall political uncertainty will not make it any easier for Cuomo to figure out a path ahead on public school funding – no matter what happens in the coming weeks in regard to a fourth federal stimulus bill. "I think we got a real mess on our hands," Timbs said. "I wouldn't want to be the governor."