New York State
How to tackle COVID-19? Launch a task force
What you need to know about the federal, state and city groups responding to the pandemic.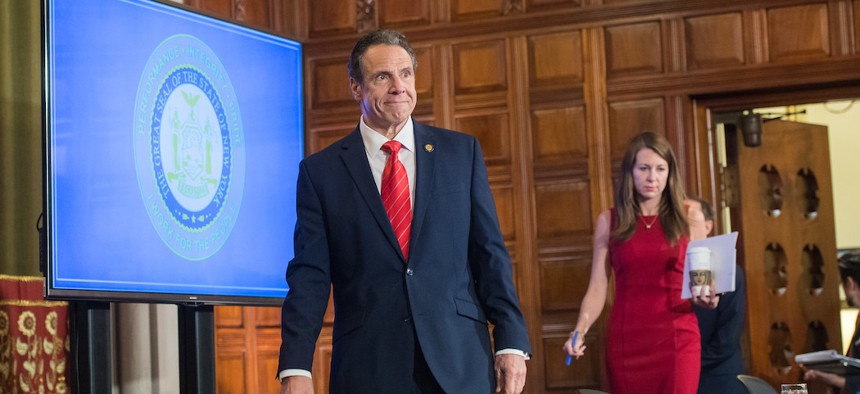 In late January, President Donald Trump announced a task force to combat the coronavirus threat – and as COVID-19 began to take a major toll on the U.S. economy, Trump launched his "Opening Up America Again" plan, with a number of bipartisan groups to provide guidelines for a step-by-step reopening of the country.
In New York, which quickly became the epicenter of the country's outbreak, Gov. Andrew Cuomo and New York City Mayor Bill de Blasio have formed their own advisory councils to restart the economy and rebuild the region. Here's a rundown of the various federal, state and city task forces – and what you need to know about each of them. 
FEDERAL
President's Coronavirus Task Force
On January 29, President Donald Trump announced the President's Coronavirus Task Force, which was charged with coordinating and overseeing the administration's efforts to "monitor, prevent, contain, and mitigate the spread of the coronavirus." When announced, the task force was comprised senior federal officials, coordinated by the National Security Council, and headed by Health and Human Services Secuary Alex Azar. Last month, the task force joined the president for the rollout of "Opening Up America Again," a plan to provide guidelines for a step-by-step reopening. The ultimate decisions, however, are left to individual governors. 
Notable members: Robert Redfield, director of the Centers for Disease Control and Prevention; Anthony Fauci, director of the National Institute of Allergy and Infectious Diseases at the National Institutes of Health; Deborah Birx, White House Coronavirus Task Force response coordinator
What you need to know: Although Azar was announced as the leader of the task force, he has been sidelined as Vice President Mike Pence has taken the lead. Azar now may even be replaced at the Department of Health and Human Services. And he hasn't been the only controversial figure on the task force. What's more, Trump suggested in May that he would disband the task force - only to back off a day later. 
The Great American Economic Revival Groups
Trump announced the formation of the "Great American Economic Revival Industry Groups," a number of business advisory groups, on April 14. These 17 separate industry groups, which include nearly 200 corporate executives, economists, scholars and industry leaders, "will work together with the White House to chart the path forward toward a future of unparalleled American prosperity." Participants include major Trump donors, such as Sheldon Adelson, and even one of the president's business partners, Phil Ruffin, a billionaire casino owner and part-owner of the Trump International Hotel Las Vegas.
Notable members: Las Vegas Sands Corp.'s Sheldon Adelson; Amazon's Jeff Bezos; JPMorgan Chase's Jamie Dimon; Blackstone's Stephen Schwarzman; Apple's Tim Cook; Facebook's Mark Zuckerberg
What you need to know: Some companies – including Cisco Systems, McDonald's and Pfizer – didn't even know their executives would be named to a group, according to The New York Times, and the White House downplayed the efforts, saying no new task force was actually being created. 
The White House's Congressional Task Force
On April 16, the White House announced the formation of a congressional task force to assess when the nation should begin lifting restrictions implemented due to COVID-19. The bipartisan group is composed of nearly 100 members of the House of Representatives and the U.S. Senate. According to The New York Times, the congressional group only learned of its existence shortly before it was announced to the public. The White House said the group is working on expanding access to diagnostic and anti-body tests, ventilators, facemasks and other personal protective equipment. 
Notable members: Every Republican U.S. senator except Mitt Romney; Democratic U.S. Sens. Dick Durbin of Illinois, Dianne Feinstein of California and Amy Klobuchar of Minnesota; and four New York House representatives: Republicans John Katko, Elise Stefanik and Lee Zeldin, and Democrat Tom Suozzi
What you need to know: At the time of the announcement, the group's purpose was unclear,  and several lawmakers were caught off guard by their selection, even wondering why they had been selected by the president at all. What's more, none of them are from New York City, the epicenter of the outbreak in the United States.
STATE
Regional council
On April 13, Gov. Andrew Cuomo and the governors in New Jersey, Connecticut, Rhode Island, Pennsylvania and Delaware announced the creation of a regional task force as a collaborative effort against the coronavirus outbreak. Massachusetts joined the bipartisan effort the same day. Each state will assign a public health official, chief of staff and health and economic development experts that are tasked with when and how to re-open the region after weeks of virtual shutdown. 
Notable members: Gov. Andrew Cuomo of New York, Gov. Phil Murphy of New Jersey, Gov. Ned Lamont of Connecticut, Gov. Gina Raimondo of Rhode Island, Gov. Tom Wolf of Pennsylvania, Gov. John Carney of Delaware and Gov. Charlie Baker of Massachusetts
What you need to know: Cuomo's multi-state approach was announced the same day that Trump made the dubious claim that he, as president, had "total" authority to lift restrictions put in place by governors. In the end, it was Trump, not Cuomo, who backed down (sort of). Raimondo, the governor of Rhode Island, had her own run-in with Cuomo, but she ultimately backed down too. 
Reimagine New York Task Force
As the numbers of COVID-19 deaths across New York steadily decreases, Cuomo has described a "reimagining" of life. On April 20, he called for the creation of a Reimagine New York Task Force – a downstate coalition of regional leaders including New York City's Bill de Blasio, Nassau County's Laura Curran, Suffolk County's Steve Bellone and Westchester County's George Latimer – to improve transportation, housing, education and health care systems for the most vulnerable. "Let's use this situation, this crisis, this time to actually learn the lessons valued from the reflection," Cuomo said. "Let's reimagine what we want society to be."
Notable members: Mayor Bill de Blasio, Nassau County Executive Laura Curran, Suffolk County Executive Steve Bellone, Westchester County Executive George Latimer 
What you need to know: Three of the elected officials named to the task force – Curran, Bellone and Latimer – are Cuomo allies, while de Blasio has famously clashed with the governor in a feud that has not abated during the pandemic. 
COVID-19 Maternity Task Force
On April 20, Secretary to the Governor Melissa DeRosa and the New York State Council on Women and Girls announced the creation of a new COVID-19 maternity task force that would authorize and certify additional dedicated birthing centers and take pressure away from already overwhelmed hospitals. The task force, chaired by DeRosa, is a collection of obstetrical providers, pediatricians and family planning agencies in conjunction with the State 
Department of Health.
Notable members: Founder of Every Mother Counts Christy Turlington Burns
What you need to know: By the end of April, the task force submitted a number of recommendations to the governor, all of which he adopted. DeRosa made headlines for supporting a move by the governor to ensure that women could be joined by a partner while giving birth – which some hospital systems had banned. 
NEW YORK CITY
Fair Recovery Task Force
The coronavirus has exposed inequalities separating New Yorkers, so on April 26, Mayor Bill de Blasio announced the creation of the Fair Recovery Task Force. Much like Cuomo, de Blasio has referred to the crisis as a "clarion call" and as a unique opportunity to "build something new." In June, the group will introduce a recovery road map laying out the city's recovery efforts. 
Notable members: Open Society Foundations President Patrick Gaspard, Federation of Protestant Welfare Agencies CEO Jennifer Jones Austin, former Lt. Gov. Richard Ravitch, Senior Advisor of HR&A Advisors Carl Weisbrod, DC37 Executive Director Henry Garrido, Maria Torres Springer, vice president for U.S. programs at the Ford Foundation
What you need to know: Two of the appointees – Weisbrod and Torres Springer – served in the de Blasio administration. (Or three, if you include Gaspard, a former "agent of the city.") 
Sector Advisory Councils
De Blasio also announced that the city will form a number of Sector Advisory Councils to guide the gradual reopening of the city. The councils are to include representatives for large and small businesses, public health and health care, arts, culture, tourism, labor, nonprofits and social services, faith-based and education and vocational training. The de Blasio administration will meet with them immediately to coordinate the city's recovery. 
Notable members: Terra Holdings' William Zeckendorf, Benenson Capital Partners' Lawrence Benenson, PR executive Ken Sunshine
What you need to know: De Blasio named at least 80 of his political donors to the councils, according to a Daily News analysis. 
Administration Taskforce on Racial Inclusion and Equity
The de Blasio administration also convened a task force to address the hardest-hit communities. The group, comprised of officials from the administration and led by first lady Chirlane McCray and Deputy Mayor J. Phillip Thompson, will monitor response and recovery efforts in affected neighborhoods and consult with minority- and women-owned businesses, community health care providers and city officials and agencies to minimize racial and economic disparities. 
Notable members: First lady Chirlane McCray and Deputy Mayor J. Phillip Thompson 
What you need to know: McCray, who is reportedly eyeing a run for Brooklyn borough president, has come under another round of criticism over her appointment.