Education
Long-distance learning for the long haul
If New York schools do reopen this fall, it's likely that remote learning will still play a major role.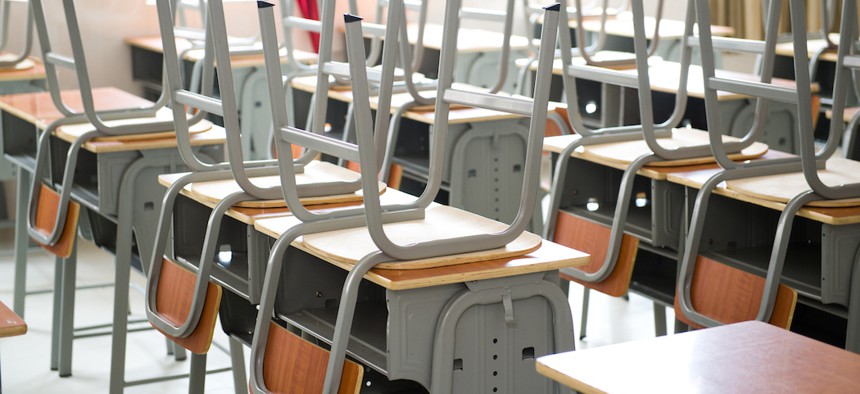 By the time June rolls around each year, students, teachers and staff are normally wrapping up their lesson plans, itching for summer vacation and the chance to take a break from school for a few months. But not this year.
Just as it has done with virtually everything else, the coronavirus has changed schooling in New York into something unrecognizable – an all-remote, largely online effort at keeping students engaged, while dealing with immense obstacles like a lack of internet access or internet-connected devices, sick relatives and friends, and families in economic distress.
Gov. Andrew Cuomo's announcement on May 1 that school buildings would remain closed and remote learning would continue for the rest of the academic year confirmed what many had already assumed. But it shed no light on what teaching would look like when buildings eventually reopen. Now, instead of taking a mental break from school, district leaders, school administrators, and city and state officials will spend the next few months figuring out how to reopen schools safely – whether that's in September or not.
There may, however, be an upside to all that extra work. When Cuomo originally closed schools across the state in mid-March, many school districts only had days to figure out how to transition to remote learning and continue providing meals and other services to students who relied on them. At least this time around, there is more time to plan for how to educate kids across New York in the middle of a pandemic. "We know that the way we closed schools was not good because there was no plan in place," said Michael Mulgrew, president of the United Federation of Teachers, the public school teachers union in New York City. "That's why the educators, as a community, we've just said we're going to start putting our own plans in place."
There are a number of questions that loom large for school districts making plans to reopen. What kinds of coronavirus testing and tracing systems have to be in place before students and staff feel safe going back to school? How do school districts build modified schedules around social distancing? How could schools improve and expand remote learning? Perhaps most importantly, how do districts prepare for the eventuality that the coronavirus could throw those well laid plans into disarray if students, teachers or their families get sick, or if a second wave of the virus forces schools to close again?
What appears clear to experts and advocates is that schools are unlikely to welcome all students back into their buildings all of the time come September. Spokespeople for the state Education Department and the New York City Department of Education did not comment on plans for reopening, but city schools Chancellor Richard Carranza called it only a "50-50" shot that schools will reopen in September.
If schools do reopen then and social distancing measures are still recommended, they would likely operate on a rotating schedule. A class could be split into two groups, for example, and group A goes to the physical school building on Monday, Wednesday and Friday, and group B goes in on Tuesdays and Thursdays. Groups A and B would then switch their days each week so each student gets the same amount of in-person instruction. Others have suggested a split schedule with half the class attending school in the morning and half in the afternoon. Mulgrew said that in overcrowded New York City schools, a schedule where students attend class every third day may be necessary.
Of course, when kids aren't scheduled to be physically in class, they'd still have to attend remote classes and work from home. Though some praise the speed with which schools made the transition to remote learning, the transition has illuminated inequalities among students.
One of the challenges has been getting every student an internet-connected device. A significant amount of reporting has been done on this issue in New York City. As of late April, 19,000 students who had requested devices – mostly from a pool of 300,000 iPads the city Department of Education bought in the past two months – still don't have them. Some students in New York City also lack access to Wi-Fi.
The speedy transition to remote learning has also highlighted inequalities in rural school districts. High-speed broadband internet remains elusive in rural parts of the state, and many school districts don't have devices to hand out or buy for their students. David Little, the executive director of the Rural Schools Association of New York State, said that when the Smart Schools Bond Act – a $2 billion initiative to invest in classroom technology and broadband connectivity – was set up in 2014, schools in the New York City area were able to buy these devices while rural schools spent money on hardwiring their facilities for internet. Essentially, rural schools have been forced to play catch up.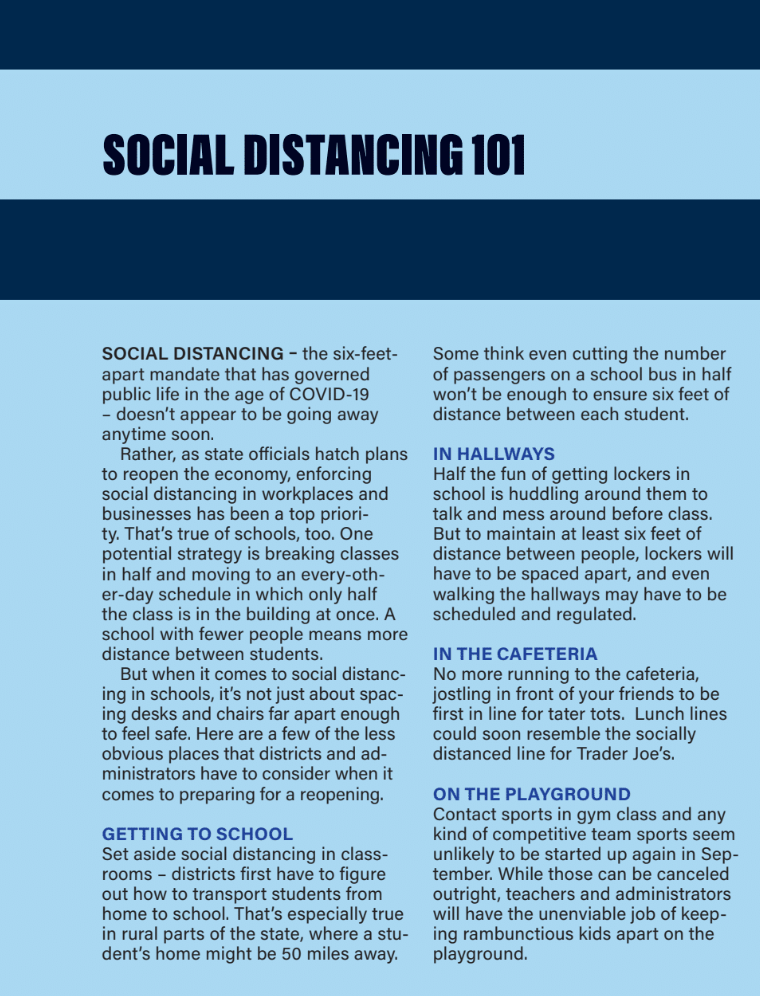 Ideally, these next few months will provide some opportunity for districts to make remote learning more accessible by the time school starts again in the fall. Kevin Casey, executive director of the School Administrators Association of New York State, said in parts of the state that don't have internet access, they are deploying school buses as mobile Wi-Fi hot spots to reach students closer to their homes. Other innovative efforts could be piloted over the summer. School districts could use the time to conduct a thorough inventory of which students lack devices or internet access and address those situations individually.
Cuomo recently tapped ex-Google CEO Eric Schmidt and the Bill and Melinda Gates Foundation to help the state "reimagine" remote learning and post-pandemic education in general. Some advocates and progressive lawmakers criticized Cuomo's reliance on tech billionaires to steer state policy. 
While school districts may be able to make some progress on providing the means for remote learning, it's still a challenge to make it work. A variety of limitations – a lack of physical space, supervision and individual attention – can still stand in the way of effective remote education. "Hardware is only a prerequisite to the time and ability of those students to learn online," said David Bloomfield, an education professor at Brooklyn College and CUNY Graduate Center. "That has a lot to do with home circumstance as well as their ability to comprehend the material."
The challenge of reopening schools doesn't just have to do with learning and what happens in the classroom – it's every other task and activity in school's orbit, including transportation, walking through the hallways and eating lunch in the cafeteria. If school buses usually transport 60 students and that number is cut in half because of a split schedule, 30 students is still too many on a bus to maintain social distancing, Little said. And what about spacing out lockers or policing the way students travel through the hallways? Some have suggested that instead of students moving from class to class throughout the day, teachers move between classrooms. It's less foot traffic in the hallway. But it could get complicated when a chemistry teacher comes into a English classroom unequipped with beakers or bunsen burners.
These are all questions that will have to be addressed, but a perfect solution that addresses them all may not exist. "I think that until you've got a vaccine or until you've got this massive testing and tracing system that the governor has described, you have to assume that people aren't safe in doing this," Little said. "They're just trying to keep the rate of transmission below what the hospitals can handle."
Little's point gets back to the source of the problem: the coronavirus. While the rate of new cases in New York has been slowing, it's unclear what the rate of transmission will look like in September. And as experts continue to warn of a second wave of the virus in the fall, schools will have to prepare for a full school shutdown, even if they do reopen briefly. There's also the possibility that parents and families won't be comfortable sending their children back to school in September. The same concerns apply for teachers and staff who live with people who are vulnerable to the virus, or who are vulnerable themselves.
Practically, a number of new hygienic measures will have to be put in place, with face masks and coverings for everyone in the building. Asking kindergarteners to wash their hands for at least 20 seconds and stay 6 feet away from their classmates, however, is easier said than done. "When we implement all these different procedures, there's going to have to be some level of training, of professional development for teaching staff, administrative staff, because they in turn will have to educate not only the students, but parents with pickup and drop-off issues, vendors, anyone that might come to the school," Casey said.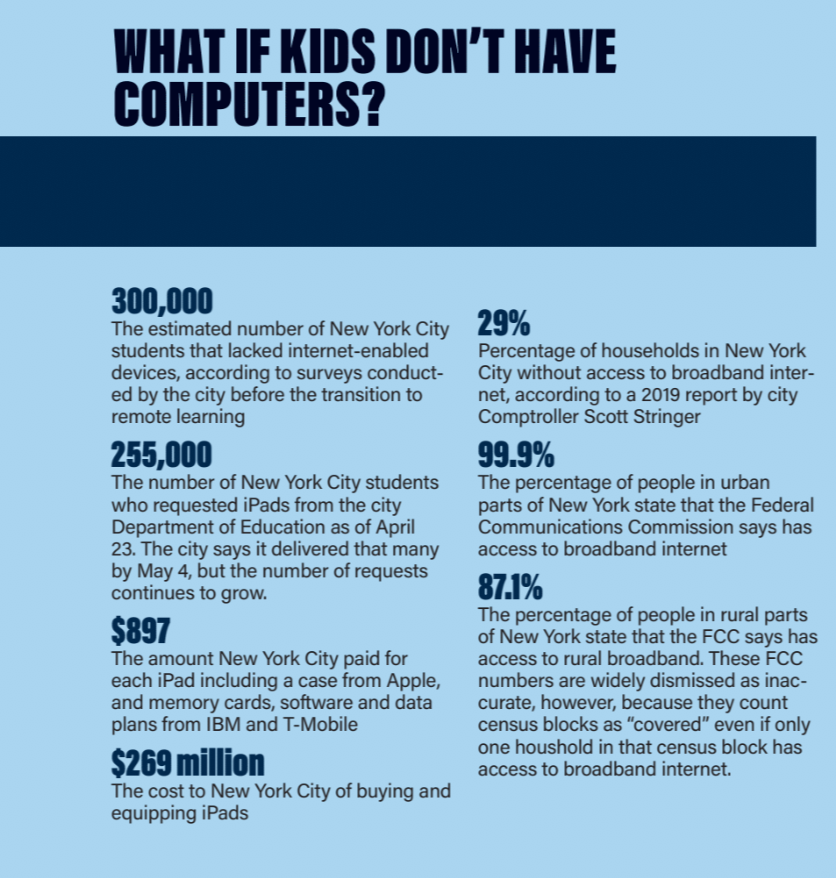 After announcing that schools will close for the rest of this academic year, Cuomo said that schools have to start developing reopening plans, including protocols to safeguard students and staff, and that those plans will have to be approved by the state. The state Education Department also recently announced a task force that will guide the reopening of schools, made up of educators – like superintendents, principals, teachers – as well as parents, school board members and others.
But having to make those plans – including provisions for expanding remote learning or running school buses more frequently – while Cuomo is discussing 20% cuts in state aid to schools if federal aid doesn't come through, makes the task especially daunting. "You cut state aid 20% and I'll tell you what happens to a third of the rural schools," Little said. "You don't have to worry about them opening, because they won't."