MTA
MTA tests high-tech super-cleaners
Ultraviolet machines, antimicrobials and disinfectants are all at the MTA's disposal.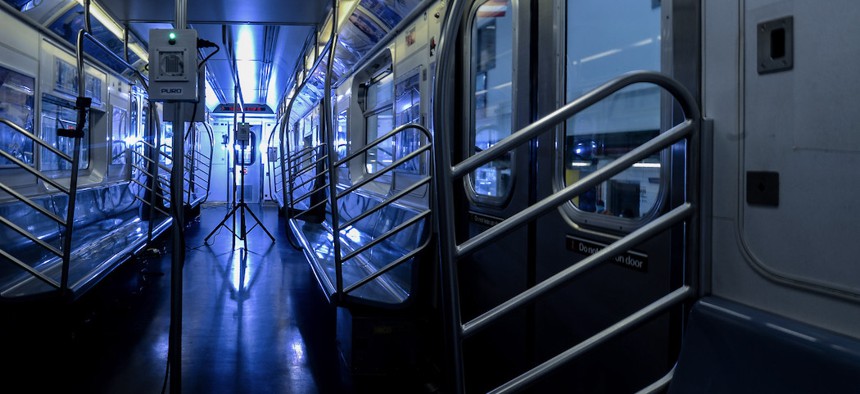 The Metropolitan Transportation Authority is spending hundreds of millions of dollars to limit the spread of the coronavirus on public transit. Much of this effort relies on old-fashioned cleaning products and plenty of manpower, but a little bit of science could go a long way toward making the job easier.
Pilot programs now underway are expanding the agency's cleaning arsenal, such as electrically charged disinfectants that can stick to seats for days. Antimicrobials could safeguard railings and doors even longer. Ultraviolet machines that are being tested can blast train cars and platforms with the virus-killing light of the sun.
New technologies, such as implementing temperature checks at subway stations, could also keep sick people out of the system, allowing the MTA to conserve resources as it battles a multibillion-dollar budget deficit. 
"We're spending more than ever before on cleaning and disinfecting and these expenses are not likely to decline anytime soon," Pat Foye, president and chairman of the MTA, said at a board meeting Wednesday. "The reality is the state and the city are in the same dire financial straits as we are, and are in no position right now to come up with the funding the MTA needs. We need federal action."
The search for a cleaning superweapon began soon after the first cases of the coronavirus were reported in the state. Maintaining confidence in the public transit system was key to managing the unfolding crisis, the governor told agency heads at a March 2 meeting at the Capitol, where he charged Foye with exploring the potential of electrostatic sprayers.
Nearly three months later, much still has to be analysed about the efficiency and costs of the new cleaning technologies. For now, the MTA remains hopeful it will prove its worth in the coming months – and that these technologies are a smart long-term investment, even after the health crisis has passed.
"This isn't just going to be for when we have COVID but also for the future as well," said Ken Lovett, an MTA spokesman. "It's another arrow in our quiver."