New York State
Why are NYC's EMS workers paid less than other first responders?
EMS workers make less than cops and firefighters and COVID-19 has hit them hard. That's why they want a raise.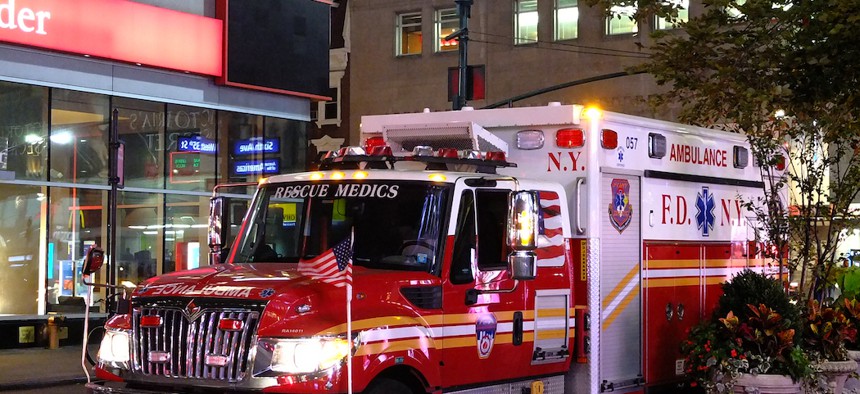 New York City's emergency medical services workers have been facing particularly harsh conditions since COVID-19 broke out across the state. "This is like 9/11 happening every day," Vincent Variale, president of the Uniformed EMS Officers Union, Local 3621, which represents the EMS and emergency medical technicians that work under the Fire Department of New York, told NPR.
"I've seen more cardiac arrests, which means people who aren't breathing and have no pulse, in the last two months than I probably have in the last five years," Anthony Almojera, a lieutenant paramedic with the FDNY and vice president of the city's FDNY EMS Local 3621 union, told City & State. 
Before the virus, the city's 911 system typically got about 4,000 EMS calls per day. On March 26, it received over 7,000, a call volume unseen since 9/11. Since early March, EMS workers have become stricken with COVID-19 putting a strain on an already strained profession, blighted by high turnover rates due to low salaries and a lack of benefits. In 2018, the FDNY promoted 900 EMS to firefighters, which many EMTs find hard to turn down due to the significantly higher salary, causing an even greater staffing shortage. Over 1,000 FDNY EMS workers have been contracted or are being monitored for the disease, out of 4,500 total FDNY EMS employees and at least five have died from it.
In New York City, the current starting salary for a trained EMS worker is about $33,320, whereas the starting salary for a NYPD officer is $42,500 and it's $45,196 for a city firefighter. After five years, firefighters make $86,000 compared to around $50,000 for EMTs with five years' $65,226 for paramedics, who have more training and perform more advanced procedures. While EMS workers often work in the FDNY and alongside firefighters, they are not entitled to the same line-of-duty benefits that firefighters get. If an EMS worker dies on the job, their beneficiaries will only receive three years worth of their pay, while cops' and firefighters' beneficiaries will receive their full salary in perpetuity, as well as their health benefits. 
EMS workers have jobs that are just as grueling as their first responder counterparts, so why aren't they receiving compensation equal to theirs? EMS union leaders suspect that they haven't seen a bump in pay because city and state officials don't recognize the risks involved in what they do, such as being attacked by patients and handling biohazardous materials while racing through traffic. Some have also alleged that EMS workers low wages are the result of racial and gender discrimination, since the city's EMS workforce is predominately women and minorities, while FDNY firefighters are 78% white and 99% male, NYPD officers are more diverse, however, as 47% are white and 83% are male.
In Jan. 2019, New York City Mayor Bill de Blasio addressed criticisms regarding the disparity in pay during city contract negotiations with FDNY EMS unions, after their contracts expired in 2018. "I have deep, deep respect for our EMTs and everyone who works at EMS," he said. "I think the work is different. We are trying to make sure people are treated fairly and paid fairly, but I do think the work is different," the mayor added, insinuating that EMTs have less dangerous jobs than police officers and firefighters and do not deserve equal pay and benefits. "But it is a conversation that we continue to have with their representatives." Negotiations between the city and its FDNY EMS unions are ongoing.
However, many experts disagree with de Blasio and say that emergency medical response is just as demanding and strenuous as that fighting fires or crime. In 2017, a study revealed that EMTs were just as likely as firefighters and cops to be killed on the job and even more likely to be injured. EMS workers also respond to a much higher volume of 911 calls than other first responders, even though there are far fewer EMS workers in comparison to other first responder departments. There are currently only 13,000 EMS workers in the city, divided between the FDNY EMS department and private EMS services. The contract negotiations that occurred in 2019, only applied to the 4,500 FDNY EMS workers. In comparison, the NYPD has about 36,000 officers on the force. 
Paramedics in the city also arguably have more education than some cops and firefighters. "This is like a nursing or physician's assistant program that you go to for two years, which is compressed into nine months," Oren Barzilay, president of FDNY EMS Local 2507 union, told City & State. "So they can't say that we're not highly educated. It's just the opposite. Our paramedic training is equivalent to an associate's degree."
EMS workers have been campaigning for higher salaries and better benefits for years. In Sept. 2019, FDNY EMS Local 2507, along with several other EMS unions, filed a lawsuit against the city alleging that the city was engaging in discriminatory pay practices, due to its diverse workforce. That same month, EMS workers rallied at City Hall for pay parity with other first responders, joined by City Council Speaker Corey Johnson and New York Attorney General Letitia James. 
Three months ago, City Hall began working with EMT and EMS unions on a collective bargaining agreement to increase the starting salaries for EMT workers, as more workers continue to leave their low-paying jobs. However, nothing has come of these talks yet. City officials have also shown an interest in providing more robust line-of-duty benefits, to EMS workers but have yet to lay out a plan to grant these benefits. 
Moreover, New York City's Independent Budget Office says that providing workers with raises during these financially desperate times is unrealistic. "The public embrace of EMS workers and the recognition of their role as first responders has come at a time when city dollars are shrinking," the office said in a statement to City & State. "This makes the ability to provide raises that would put them on par with other first responders very difficult to afford in the current fiscal climate." 
Low salaries have led to an extremely high turnover rate among EMTs over the years. Due to a lack of workers, EMS response times increased by 19 seconds for life-threatening emergencies and a minute and 30 seconds for all other emergencies, in 2019. "Every second counts — every second is lost brain cells," a long-time paramedic told the New York Post in 2019. "Brain death starts to occur in four to six minutes."
Many EMS workers are forced to work extra jobs because they can't afford to live in the city without them. Most already work at least 60 hours a week, according to Almojera, and many workers are extremely burnt out as a result. "When you have this much turnover, the people who decide to say, get burnt out very fast because you don't get to have the support over the relationships with your co-workers because they're leaving," Almojera said. "Most of the people I know that work two or three jobs, I have guys that I work with at my station who drive Uber, who stock shelves at a grocery store, because they can't afford to just work as an EMS full-time." 
Almojera himself works two additional jobs to make ends meet, as a paramedic in Belmont, New York and as a defibrillator inspector.
If the city had more EMS workers, the pandemic would have been less destructive for the EMTs, according to Almojera, who believes that with a larger and more senior staff the city's EMS system would have been far less overwhelmed. "The pandemic hits and 25% of the workforce gets sick," he said. "They dropped the ball on initiatives such as alternative work schedules, so that we can isolate people better, (personal protective equipment), which they did not have enough of in the beginning. And a whole host of other things. The chickens have come home to roost." 
Because so many people end up finding other jobs that pay significantly higher salaries, the city's EMS workforce is largely run by rookies. In 2019, 60% of the city's EMS workers had less than three years on the job. "If you're a firefighter, there's always a senior person on the truck," Almojera said. "No cop goes out on their own when they're new. I have literally put two 21-year-olds on the trucks to go ahead with 911 calls in this pandemic because I have nobody else." 
Without senior personnel on staff, younger EMS workers lack the guidance and wisdom that veteran EMS workers can provide when it comes to medical procedures and emotional trauma. 
Just two weeks ago, EMT worker John Mondello died of suicide after only three weeks on the job. "He told his coworkers, 'I don't know what I'm seeing and it's hard for me to handle this,'" Almojera said. "Now, we know suicide is a complex, there's multiple layers to it, but that's definitely a big layer to it. He's working with people his own age, they're not going to be able to sit there and navigate that (emotional response to the pandemic)." 
Powered By
NEXT STORY: What will NYC kids do this summer?