Criminal justice
The remaining obstacles to police transparency
Repealing 50-a may make police records public, but lengthy record requests could stand in the way of actually seeing them.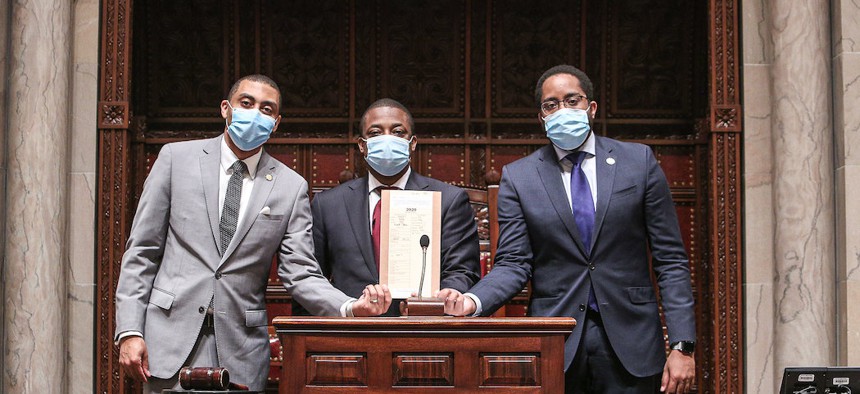 In the wake of protests against police brutality, the state Legislature passed legislation to repeal the law that has long kept police disciplinary records private: Section 50-a. The bill now awaits Gov. Andrew Cuomo's signature, who said he would sign it this week. While it's undoubtedly a large victory for police reform advocates, roadblocks still remain in accessing what likely will soon be public information.
The bill repealing 50-a does not make the release of police disciplinary records compulsory. It does not require law enforcement agencies to create a searchable public database easily accessible to the general public. Nor does it state that departments must provide information directly upon request. Unless individual departments choose to be more forthcoming than required, records of misconduct, histories of complaints and internal trial transcripts will need to be requested through the state's Freedom of Information Law. As anyone who has ever filed a records request in New York City knows, the process can be a long and arduous one.
According to state law, a government agency must provide the requested information, or deny a request, within five business days. However, information is hardly ever turned over that quickly in New York City, or at the state level. If more time is needed to locate the desired files or determine if they can be released, an agency can inform the filer it needs more time, usually no more than 20 days. But that goal post can keep shifting through continued extensions causing indefinite delays in receiving even the most basic information in apparent violation of the law. In 2017, The Village Voice wrote about how it took six months for New York City Mayor Bill de Blasio's administration to release the materials it uses to train its media relations staff. It consisted largely of talking points meant for media outlets like The Village Voice.
And that's if an agency even grants the request. If a filer feels like their request was improperly denied, they have a lengthy legal battle ahead of them. It took NY1 and the New York Post three years and a court case to gain access to the series of City Hall emails now known as the "agents of the city" emails.
The New York City Police Department is particularly notorious for how it handles Freedom of Information Law, or FOIL, requests. The department only started accepting requests by email in 2017, even though the state law had required it since 2006. "The NYPD is certainly not a stellar example of an agency when it comes to responding to FOIL," Michael Sisitzky, a lawyer who leads police transparency and accountability advocacy at the New York Civil Liberties Union, told City & State. He said the department frequently delays its responses and asks for more time than seems necessary. "It's certainly likely that folks will see delays," Sisitzky said of 50-a requests. "And given the history of how the NYPD has responded to any number of FOIL requests, there's a possibility that they may try to push for redactions or withholding of records."
An NYPD spokeswoman did not respond to criticisms of the department's FOIL procedures, but said it was reviewing the new legislation.
"The NYPD has long-advocated for the reform of 50-a and the need for greater transparency while also balancing officer safety," Sgt. Mary Frances O'Donnell said in a statement to City & State. "We will review the final version of the legislation after it is signed by the Governor and utilize it in a manner that ensures greater transparency and fairness."
Sisitzky was quick to note that the imminent repeal of 50-a still represents a major policy shift by eliminating all past case law strictly restricting access to disciplinary records and making those records subject to records requests. And the bill includes well-defined criteria for when information can be redacted or withheld. It's limited to personal information like someone's home address and medical records, and certain technical infractions for minor rule violations. "This was a critically necessary component," Sisitzky said. "It breaks down the complete barrier of secrecy that 50-a erected."
But the responsiveness to FOIL requests and overall transparency when 50-a is repealed will ultimately be up to the NYPD, which has said it's committed to being more transparent. "I think this is a great opportunity if they want to put that rhetoric into action," Sisitzky said. "But it's really on them to prove that they were serious about everything that they've been saying the past few years."
De Blasio has long said he's committed to more transparency and profusely praised the passage of the bill to repeal 50-a. "You can use a word like historic, and it can sometimes be overused," de Blasio said on Wednesday, "This is historic. This is one of the moments where things change." But he would not say yet whether he would instruct the NYPD to quickly make that information when requested, instead of making filers go through the potentially lengthy Freedom of Information Law process.
Section 50-a has long stood in the way of accessing records related to police misconduct, but for decades, the NYPD would physically post daily disciplinary decisions in the press room at One Police Plaza, available for anyone in the public to see. But in response to a Legal Aid Society request for several years of disciplinary decisions, then-NYPD Commissioner Bill Bratton said in 2016 the NYPD had been in violation of 50-a by posting those decisions at police headquarters and stopped the practice immediately. A judge codified that interpretation in 2018 in response to an NYCLU lawsuit. De Blasio on Wednesday stood by his past assertions that he did not like the policy change in 2016 and that the decision was not his, but that his then-corporation counsel said it was the law.
New York City's largest police union reacted sharply to the repeal of 50-a. "The unfettered release of police personnel records will allow unstable people to target police officers and our families for harassment or worse," Police Benevolent Association President Patrick Lynch said in a statement. "A dangerous cop-hater only needs a police officer's name, linked to a few false or frivolous complaints, to be inspired to commit violence."
Still, Sisitzky remained optimistic about the implications of the imminent repeal of 50-a, despite some potential setbacks with records requests. And while there's more work to be done to ensure compliance with the law and increase police accountability in other ways, there is no denying the newly passed legislation represents a monumental victory. "It may end up being a long process in some cases," Sisitzky said, "but the mere fact that this process is now available is something that is transformative."
Powered By
NEXT STORY: The police reforms passed by New York state