Housing
What is the current state of eviction protections in New York?
A patchwork of guidance can be hard to understand for renters and landlords as housing courts reopen.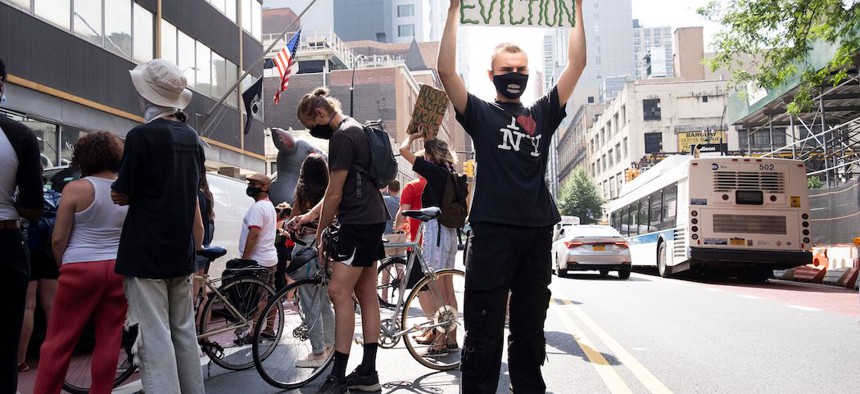 Even though New York has managed to get the coronavirus outbreak under control, a return to any sense of normalcy still seems a long way off. The financial hardships facing the nearly 1.5 million unemployed New Yorkers will continue, as many of the people who lost their jobs or a portion of their income due to the pandemic haven't recovered yet. Across the state, people are still struggling to pay rent and may have additional fears about becoming homeless because it would likely put them at greater risk of contracting the virus.
Various protections are in place to prevent people from getting evicted, but the patchwork of legislation, executive orders and court decisions can be confusing and are far from all-encompassing. And while many tenants are protected from eviction for now, those are stopgap measures that continue to delay the problems to a later date. But understanding the protections available is an important first step to figuring out broader solutions for renters.
The earliest eviction safeguards date back to March 16, when housing court eviction proceedings were suspended due to the pandemic. Four days later, on March 20, Gov. Andrew Cuomo signed an executive order that created a blanket eviction moratorium for 90 days – until June 20. That meant that until at least June 20, no landlord in the state could evict a tenant for any reason, and Cuomo's order expanded protections to prevent landlords from filing new eviction cases as well, although those cases would have been paused right after filing.
As June 20 drew closer and the pandemic was far from over, Cuomo extended his moratorium until Aug. 20, but with a caveat. With the renewal, only those who suffered financial hardship caused by the pandemic or qualified for unemployment benefits were protected from eviction for nonpayment of rent. The order caused confusion among landlords and tenants alike about who the executive order applied to and what constituted a financial hardship. It also gives renters a defense against an eviction that they have to prove, rather than putting the burden of proof on the landlords.
Since the order only protects against eviction for nonpayment of rent, those facing eviction for any other reason could still end up homeless during the pandemic. Cuomo's moratorium renewal excluded many people originally covered by the original order.
Despite the change, guidance from the court system has still prevented any evictions from taking place. Although the New York City's housing courts partially reopened at the end of June, they have continued a pause on evictions through at least Aug. 5. While Cuomo's executive order no longer offers blanket protections, renters still have a few more days at least before the courts begin to move forward with eviction cases. Until then, landlords have no legal authority to force anyone out of their homes, although they can – and many have been – file new evictions cases that will begin after Aug. 5.
Some courts in New York City may soon begin moving forward with in-person trials for pending cases that were filed before March 16, the date the original rules went into effect. Brooklyn Housing Court, for example, was set to resume in-person appearances on Monday. However, courts still cannot issue eviction orders, meaning that landlords still cannot legally evict any tenants yet.
Although Cuomo's moratorium was set to last until Aug. 20, he rescinded the executive order soon after he signed the Tenant Safe Harbor Act on June 30, effectively replacing his own moratorium with guidance from the new law. Under it, no tenant – who can prove they faced a financial hardship during the pandemic – can ever be evicted for nonpayment of any rent accrued from March 7 effectively until all pandemic-related government restrictions are lifted in a given county. The new law offers tenants a defense, but they still must make their case before a judge if their landlord tries to evict them for not paying rent. It does not apply to those who have not suffered financial hardships, face eviction for reasons other than nonpayment of rent and anyone facing eviction for missed payments prior to March 7.
Importantly, the Tenant Safe Harbor Act does not cancel rent, so tenants are still responsible for paying it back at some point. And although tenants are protected from eviction and thus capable of remaining housed, judges can still impose a money judgement on tenants for the rent payments they missed. The law falls well short of the blanket cancellation of rent that many housing advocates have called for, which would forgive any rent payment accrued during the pandemic. Although lawmakers have introduced legislation that would enact something closer to what advocates want, those bills didn't pass during the normally scheduled session or during any of the times the state Legislature sporadically met during the summer.
Anything to the scale that housing and tenant activists want would require an incredible influx of money to recoup the losses that landlords would accrue for months of missed rent payments. Mass rent relief would necessitate additional federal aid to supplement whatever the state would pay, or federal action for a nationwide program, but as Congress and the White House negotiate on the next stimulus package, neither appears to be in the cards.
In the meantime, the state is accepting applications to a much more scaled back rent relief program until July 30, ending a two-week window that began July 16. The COVID Rent Relief Program, run by New York state Homes and Community Renewal, offers a one-time rent voucher paid directly to the landlords of qualified applicants. The program was created by legislation Cuomo signed in June that set aside $100 million of federal coronavirus funds to pay the rent of New Yorkers facing hardships due to the pandemic. In order to qualify, the household income of an applicant must have been no higher than 80% of the area median income both before March 1 and at the time of applying, must be paying more than 30% of their income in rent at both times or prove they had less monthly income between April and July than before March 1 as a result of the pandemic. Although many tenants facing financial hardships are protected against losing their homes, the COVID Rent Relief Program will help lessen the burden that will come when accrued rent payments must eventually be paid.
Despite the protections in place, many still face the prospect of homelessness during a pandemic because they don't fit into the protected categories. For example, those who are unable to show they lost income as a result of the pandemic, including those receiving disability benefits and gig workers whose income may often be in flux, may face eviction in the coming weeks. And the pandemic is still far from over. Undocumented immigrants, who are ineligible for unemployment benefits and other federal aid from the coronavirus relief packages, are also at increased risk of eviction because in fighting to prove that the eviction protections apply to them, they may need to disclose their immigration status.
Those who remain in their homes but are hit with money judgements will also face lasting financial damage. To pay off the debt, landlords can use a variety of collection methods, including garnishing wages. And while they may not be homeless, getting sued over nonpayment of rent can ruin someone's credit, making major financial transactions much more difficult or nearly impossible. Although Cuomo declared in March that he "took care of the rent issue," a point he has reiterated multiple times with promises of revisiting it in the future if it got worse, preventing evictions – for those who qualify – is far from a cure-all for the hardships that many tenants are facing during the pandemic. The issue of rent – and mortgage payments for that matter – will surely be a hot topic once again when the state Legislature begins anew in January, or even sooner if it reconvenes before the end of the year.
Powered By
NEXT STORY: NYPD disciplinary records put in quarantine