Transportation
How safe is your commute?
Your best chance to stay healthy on buses, trains and automobiles.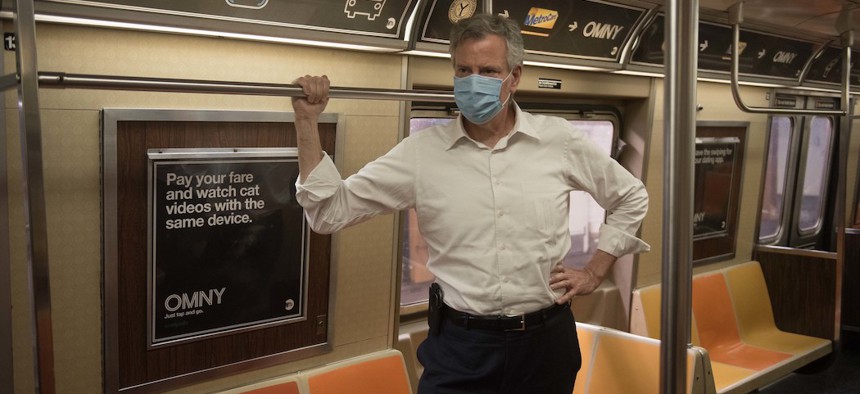 While riding public transit may risk some exposure to the coronavirus, research suggests that mass transit has not been linked to so-called superspreader events, and that the danger may be less than the public imagines. Of course, the safety of public transportation depends in part on whether your fellow riders adhere to precautions like social distancing and wearing masks.
Here's the latest on the safety of different modes of transit around the city, what precautions are in place and how they're being enforced.
Subway
With ridership still down almost 80% of pre-pandemic levels, it's clear that fear of coronavirus transmission on the New York City subway is still high. But, in part because it's so much less crowded than usual, the subway may be safer than many realize. While the extent to which the city's packed subway cars contributed to the outbreak of the coronavirus in New York is intensely debated, recent studies from Tokyo, Paris and Austria haven't linked any coronavirus infection clusters to mass transit systems. In New York, fresh air replaces the filtered air on subway cars at least 18 times an hour – several times the recommended amount of air-exchange for restaurants or offices. Universal masking and the tendency of transit riders to keep to themselves also help. During the height of New York's outbreak, however, before mask-wearing became the norm, many MTA subway workers contracted COVID-19 and died from it. Public health experts say that when it comes to an airborne virus, ventilation is more important than the expensive disinfecting efforts being made on the city's subways – which have been characterized as "hygiene theater." Still, some warn that recent findings about the risk of transmission on mass transit should be absorbed with caution, as ridership is still well below normal and the risk could increase with more riders. 
Buses
While many still fear the subway, bus ridership hasn't fallen quite as much as subway ridership through the pandemic. Some bus converts have said that's because it's easier to see how crowded a bus is. Experts have also suggested that keeping the windows down on a bus could lower the risk of transmission.
Riders of any public transit in New York – buses and subways included – are also required to wear face coverings, and the MTA has been given 4 million masks to hand out to riders. But it's on riders to actually comply with those rules. While some surveys put mask compliance at over 90% on subways, others have observed riders wearing masks incorrectly or not wearing them at all. The transit workers union, TWU Local 100, has called for cops to enforce mask wearing on subways, saying those who don't put drivers and other passengers at risk. During the height of the pandemic, before the mask requirement, bus drivers were among the hardest-hit occupations. Those who refuse to wear a mask could find themselves kicked off a bus or subway, but reporting noncompliance has sometimes fallen to passengers tweeting at the MTA and hoping someone will follow up.
Cabs and ride-hailing
While taxi and for-hire vehicle ridership is still down below pre-pandemic levels, some may reason that catching a cab or an Uber to get to work is relatively safe. As a car passenger, you would only be in contact with the driver, although you'll be sitting less than 6 feet from him or her. Rolling down a window in a car reduces the risk of transmission, said Stephen Morse, professor of epidemiology at the Columbia University Mailman School of Public Health. 
Face coverings are now required for all passengers and drivers of taxis, app-based ride-hailing vehicles and livery car services – both by the city Taxi & Limousine Commission and private companies such as Uber and Lyft. But there have been some hiccups in enforcement. One Lyft driver in New York had his TLC license revoked and was kicked off the Lyft app when he was arrested after refusing a ride to a passenger not wearing a mask – seemingly the opposite of what the city should be doing to protect passengers and drivers. (His license and Lyft account were later reinstated.) Overall, though, compliance in for-hire vehicles appears to be fairly good, said Brendan Sexton, executive director of the Independent Drivers Guild, which represents for-hire vehicle drivers in New York. "I think for the most part, the drivers have been protected from not picking up (passengers) without masks," Sexton told City & State. "From talking to drivers, it seems like it doesn't happen very often where a passenger is not wearing a mask." 
A spokesperson for the TLC said that drivers can refuse a ride to a passenger who is not wearing a face covering, while passengers can call 311 to report a driver who is not wearing a face covering. A spokesperson for Lyft added that both riders and drivers can cancel rides with no penalty if the other is not following the company's health safety guidelines. 
Passengers are also required to sit in the back seat of a vehicle, and pooled rides are prohibited, the TLC spokesperson said. Taxis are also usually equipped with plastic partitions between the front and back seat, and some app-based ride-hailing drivers have been installing makeshift ones as well. Any TLC vehicle can have a temporary plastic partition installed, but the cost of doing so may fall on the driver.
Of course, as with driving oneself, riding in a car is much more likely to result in a fatal accident than taking the subway. 
Ferries
While the NYC Ferry isn't exactly the most popular form of transportation – it's inaccessible to much of the city and ridership is largely white and upper-middle class – its outdoor space on the upper deck is a bonus for those who can use it to commute. "We generally believe outdoors is safer than indoors, so that offers great opportunities to reduce your risk of infection while enjoying the magnificent view," Morse said of ferries. Riders on the NYC Ferry are required to wear face coverings and maintain social distancing. The Staten Island Ferry has sought to encourage social distancing by marking off every other seat with an "X" in masking tape – a move that elicited some eyerolls on Twitter.