Education
Remote learning challenges will likely continue in New York
Students left behind in the spring face the same technology issues this fall.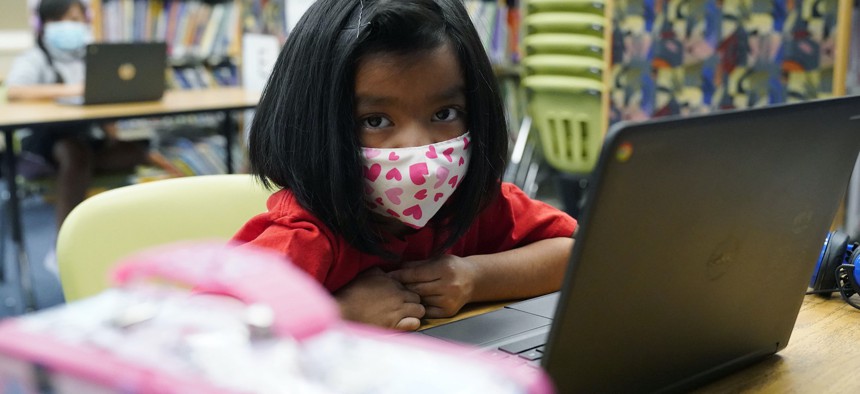 Nothing about remote education during the pandemic has proven easy – for students, teachers or parents. But for New York City and state residents who lack reliable, accessible or affordable internet service, remote learning was incredibly difficult. Now, even as some school districts finalize plans to send students back to the classroom for at least part of the time, families are grappling with the fact that online classes will continue for many students this fall.
While districts across the state have cobbled together short-term solutions to get all of their students connected to the internet, most of those plans fell short this spring, driving a wedge between the kids who had reliable access to a computer and high-speed internet, and those who did not. They may have had to share devices with their siblings, rely on a slower connection via Wi-Fi hot spots or cell service, or even receive instruction through paper packets distributed by the school.
And though districts are still working to get devices like iPads or Wi-Fi hot spots in the hands of kids who need them, some parents and advocates have doubts that remote learning will run any smoother this fall. "We're starting out no better off than we were last March, despite everybody talking about the problem, and the governor saying, 'Well, we can do this now. We've shown that we can operate from home and we ought to be expanding that,'" said David Little, executive director of the Rural Schools Association of New York State.
The state reported that 98% of residents and businesses in New York have broadband internet service, but high-speed internet access is harder to come by in rural parts of the state. The Federal Communications Commission reported that 87.1% of rural New York has broadband coverage – though many take issue with that calculation because the commission counted a census block as "covered" if even just one household had broadband access.
"We're starting out no better off than we were last March." – David Little, Rural Schools Association of New York State
And while the existence of high-speed internet infrastructure isn't lacking as much in New York City, high prices mean that roughly 1.5 million New Yorkers don't have a home or mobile broadband connection. A 2019 report from New York City Comptroller Scott Stringer's office found that about 44% of city residents in poverty lacked broadband access, and nearly one-third of Hispanic and Black New Yorkers lacked access, compared to about 20% of white residents.
For the students who are more likely to lack access to the tools needed for remote learning – including Black and Hispanic students, low-income families and students in rural parts of the state – another year of at least partially remote learning means the risk of falling even further behind. Of the roughly 337,000 students in New York City who have opted for full-time remote learning as of Aug. 24, about 37% are Hispanic, 20% are Black and 11% are white, though those numbers could change since students can opt for full-time remote learning at any point. Hispanic students make up roughly 41% of all public school students, Black students account for roughly 22% and white students account for 16%. As Chalkbeat New York reports, the data shows that New York City is mirroring a national trend of families of color being more skeptical of the return to the classroom. "We know from a poll that we just did that two-thirds of Black, Latinx and low-income families will likely rely on remote learning," said Dia Bryant, deputy director at The Education Trust–New York, an advocacy group that focuses on low-income students and students of color.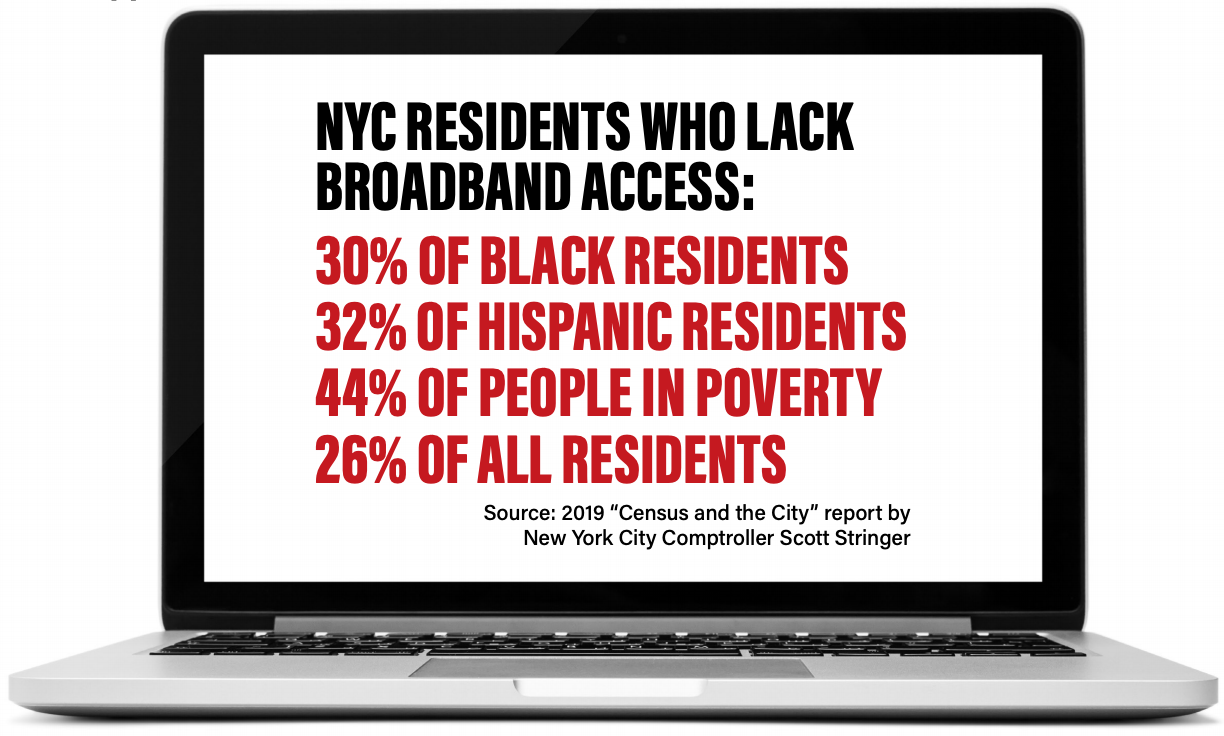 There were already achievement gaps in New York schools that leave students of color less likely to graduate from high school in four years. Only 73% of students of color who started high school in 2012 graduated in four years, compared to 89% of white students, according to the state Education Department. "Knowing the gaps that existed before the pandemic and thinking about that now, if we don't have remote learning right … these children actually stand to lose (the most)," Bryant said.
Here's the problem: Getting remote learning "right" means correcting the long-standing digital divide that exists in New York – and across America. That divide can't be fully or equitably bridged by the short-term remote learning solutions that districts have come up with so far. As Little said, "Providing internet access is not the business of a school district. It's not what they do."
That doesn't mean those districts aren't trying. The New York City Department of Education undertook a massive effort this spring to distribute more than 300,000 internet-enabled iPads and other devices like Chromebooks to students in need. "We know that a significant portion of instruction will happen remotely this fall, which is why we've distributed 175,000 school-based devices, lent 321,500 internet-enabled iPads with hot spots that allow up to five devices to connect to them, and accelerated broadband citywide," Danielle Filson, a city Education Department spokesperson, wrote in an email.(The last example refers to a commitment by Mayor Bill de Blasio in July to extend free or low-cost broadband service to 600,000 New Yorkers over the next year and a half.) Though it took weeks for some students to initially get their hands on those devices in the spring, the department prioritized distribution for students in homeless shelters.
Even though some lauded that effort – which cost the department more than $269 million – it failed to put all students on an even playing field. "We know that there's been hiccups along the way, and we know that the city has done an enormous amount of work and effort to place equipment and technology in the hands of households and families that need it most," said Raysa Rodriguez, associate executive director for policy and advocacy at the Citizens' Committee for Children of New York, a child advocacy group. "But we also know that distance learning didn't work equally for all."
Some students also lacked adequate cellular service to take advantage of the LTE internet connection on the iPads. "We heard about some students who were not able to connect at all and other students who were able to connect but the connection was very slow," said Randi Levine, policy director at Advocates for Children of New York, an education advocacy group that works primarily with low-income families. "Unfortunately, if it takes you 20 minutes to download a three-minute video lesson, you might give up."
"Distance learning didn't work equally for all." – Raysa Rodriguez, Citizens' Committee for Children of New York
Rodriguez also said the primary way for parents to request a device in the spring was through an online survey on the department's website – something that some families weren't able to do if they lacked internet access or a connected device. "We rely too heavily on gathering information from families via surveys and other approaches that require equal access to the internet as well as the digital literacy skills to be able to engage in those approaches," she said.
There's very little data available to determine just how many students remote learning failed to reach in the spring. The city reported that between April 6 and June 19, the daily average "interaction rate" for remote learning was 87%. But parents and teachers have criticized that statistic, noting that an interaction could be a student logging into a virtual classroom and walking away from the computer or even a parent sending an email to the teacher.
Other school districts in the state have tried to connect students to the internet, handing out school-owned devices or purchasing new ones for students to use at home. Some districts also sent out mobile Wi-Fi hot spots along with a tablet or Chromebook, so that the device could be connected to the internet. But because rural parts of the state lack not just affordable internet, but any internet connection at all, school districts sometimes had to get more creative. "What we saw a tremendous amount of during the winter and spring was hot spots – cars parked in school parking lots with parents and kids, so that the kids could access the school's internet," Little said. Hospitals were giving out their Wi-Fi passwords so students could sit in their parking lots too, he said.
These solutions, of course, won't work for everyone. Relying on Wi-Fi hot spots in hospital or other parking lots requires a student to drive or be driven to that lot by a parent. As one July New York Times editorial put it: "Doing schoolwork in the parking lot is not a solution."
"If it takes you 20 minutes to download a three-minute video lesson, you might give up." – Randi Levine, Advocates for Children of New York policy director
Other times, a student might use his or her cellphone as a Wi-Fi hot spot, which can provide a much slower connection than high-speed broadband. When no tech solutions worked, school districts sent paper packets to students. Sometimes, the packets would be delivered on a bus, along with a student's school lunch for the day. "The bus would drop off a meal and a packet of information," Little said. "We don't have any long-term or even short-term data on the amount of learning loss that took place over that time period." In these cases, students might not have any face-to-face contact with a teacher or peers during the day.
Some students did benefit from free broadband service offers from providers that included Charter Communications, Verizon Communications and Altice USA. Those companies offered a few months of free service to families with K-12 or college students, giving high-speed internet to some families who otherwise wouldn't have been able to afford it. But that fix was always going to be temporary.
On this front, students may actually be worse off ahead of the fall semester than they were in the spring. Those companies have so far not extended their offers of free broadband service, despite pressure from public officials to do so, though some companies offer reduced rates for qualifying low-income families. "We need broadband companies to donate statewide and get out of the profit-making business during this period and make broadband free for every family that has distance learning and every school," state Sen. Shelley Mayer, who chairs the Education Committee, said during a City & State webinar this month. "This idea that you're going to charge now in the middle of this pandemic, even a reduced fee, is ridiculous. This is a moment to do the patriotic thing and ensure everyone has broadband."
After the hardship that students experienced in the spring, the same students will likely be facing the same challenges this fall, with little changing in what options students have to get connected.
Like last year, New York City will loan students with internet-enabled iPads if they don't already have internet access. De Blasio said he will accelerate his Internet Master Plan, a $2.1 billion program announced in January to achieve universal broadband access. In July, de Blasio said the city will accelerate that plan and spend $157 million to expand broadband internet access to 600,000 New Yorkers – including 200,000 public housing residents – over the next year and a half. But even if it is completed in that time, New Yorkers will be unlikely to see any results from those efforts this year.
The primary way for parents to request a device was through an online survey – something that families weren't able to do if they lacked internet access or a device.
New York City also announced it will have the capacity to supervise 100,000 students this year at "learning labs," a child care program that will supervise young children of working parents at places like libraries. The program would also have the added benefit of providing a place to work for students without internet access. Rodriguez said spots in the program should be prioritized for students living in homeless shelters or temporary housing, but there are few details on how those learning labs will work or who will have access to them. City Hall did not respond to a request for comment about how the child care program will work.
For school districts in the state that will be operating remotely at least part time this fall, little has changed for their disconnected students. For the most part, school districts will rely on the same short-term solutions – handing out Chromebooks and Wi-Fi hot spots, for example – that fell short for some students in the spring.
Rochester City School District, which will be remote for the first 10 weeks of classes, will distribute laptops and personal Wi-Fi hot spots, but county legislators have objected to that solution, saying the connection offered by hot spots is too slow. At Yonkers Public Schools, which recently delayed plans for in-person instruction until October, officials have acknowledged that paper packets may need to be distributed to students who don't have the necessary technology or internet access.
The summer has afforded some schools more time to purchase devices for their students. Mark Davey, district superintendent at the Champlain Valley Board of Cooperative Educational Services, told City & State that North Country districts were able to purchase additional laptops and Chromebooks in preparation for the fall.
New York state has largely left these decisions up to individual school districts. The state Education Department's reopening guidance required individual districts to determine the level of internet access that students and teachers have at home, and address that need "to the extent practicable" and provide information technology support to students, parents and staff. Little, the executive director of the Rural Schools Association of New York State, said that as schools face 20% cuts in state aid, the task of equipping all students with the means to access remote learning can't fall on school districts alone.
Gov. Andrew Cuomo convened a Reimagine Education Advisory Council in the spring to come up with innovative ways to incorporate technology in education, while the state Education Department's reopening task force studied the issues posed by remote learning. "Everybody came to the same conclusion: 'Damn, we better get some internet access out to kids that don't have it," Little said. "But it doesn't happen overnight, and when the state doesn't have any resources to put behind that effort, all they can really do is double down on the threats they've made to providers who have proven beyond a shadow of a doubt that this is no emergency for them."
Cuomo also recently approved $94 million in school technology upgrades through the Smart Schools Bond Act, a $2 billion initiative that was approved in 2014 to invest in classroom technology and broadband connectivity. But that program existed before the pandemic and doesn't represent a new source of funding.
There's not much debate that in 2020 – and during the pandemic especially – internet access is a necessity. In part because of the challenges many students faced with remote learning, some state lawmakers said they support regulating broadband like a public utility – a move that could hold internet providers accountable for expanding service to where it's needed most. "I think broadband is going to remain a problem unless we find ways to significantly subsidize it, or make it a standard utility," said Bryant, of The Education Trust–New York. State Sen. Jen Metzger and Assembly Member Sean Ryan – sponsors of a recently passed bill that would require the Public Service Commission to conduct a detailed study of broadband availability in the state – have bothexpressed interest in treating broadband like a public utility. Last year, Cuomo vetoed a bill that would have studied the feasibility of a state-owned and operated internet service in New York, saying that it was "well-intentioned" but too expensive to complete.
In the meantime, state and local governments can subsidize the expansion of broadband service – as de Blasio plans to do – but the results of those efforts likely won't offer immediate benefits to help students with online classes this year. Not to mention the fact that state and local governments, facing major budget deficits, will be unlikely to make a huge investment in that effort anytime soon.
Bryant, however, remained hopeful that if lawmakers commit to creating equal access to education for students on the margins, universal internet access will eventually be a part of that solution. "I think that if students (from) Black, Latinx and low-income families become a priority in the way we're thinking about policies, there's no way that it can't," Bryant said. "To not give access is a disservice."