Budget
Why upstate cities are in extreme financial peril
Rochester, Buffalo and Syracuse are likely to face some of the worst revenue shortfalls among major cities in the country.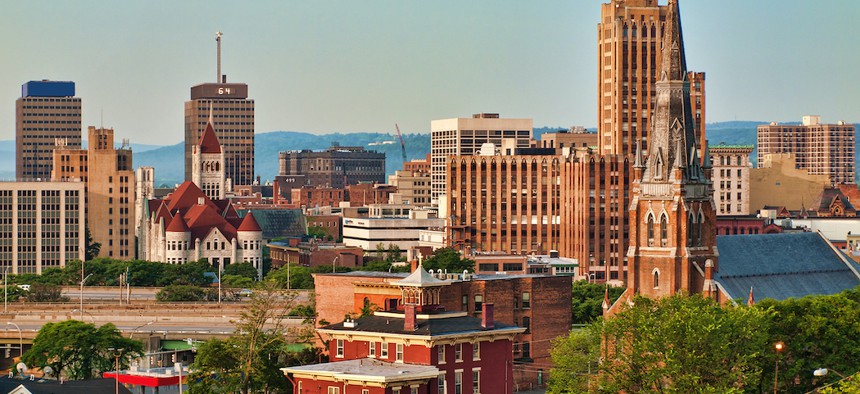 Many of New York's cities' budgets are among the hardest hit in the United States by the coronavirus pandemic. Rochester, Buffalo and Syracuse are the top three cities that could see the worst declines in revenue, according to an analysis set to be published in the National Tax Journal and reported by The New York Times last week, with New York City ranking in fifth place just below Detroit. In a worst-case scenario, Rochester and Buffalo could lose around 20% of their annual revenue.
The upstate cities' losse are due to a relatively heavy reliance on state aid and sales tax revenue. State aid accounts for about half of Rochester's overall revenue and represents the largest revenue source for Buffalo. Close to two-thirds of Syracuse's income is derived from state aid and sales tax receipts. 
New York state facing a $14.5 billion decline in revenues bodes poorly for these cities. The state has already been withholding 20% of its payments to cities, including Buffalo, Rochester and Syracuse, since June, which will likely transform into permanent cuts unless the federal government sends aid. New York City also anticipates a $763 million shortfall in state aid in this year's budget, though the most significant hit to the city has been its decline in tax revenues – especially from sales tax – which accounts for about 87% of its shortfall in fiscal year 2021, according to the Citizens Budget Commission's analysis of the city's budget in June. 
With businesses closed for months and a slowing economy, it's also no surprise that sales tax collection has fallen across most of the state. There is some indication that may be improving recently. The state comptroller's office found that the 8% decline in sales tax revenue seen in July compared with last year also represents the least steep decline since the pandemic began in March. 
"In New York state, we have local sales tax rates that are higher than other states," which makes the hit even more drastic for cities more reliant on that revenue stream, said Gang Chen, 
a professor at the University at Albany's Rockefeller College of Public Affairs. 
New York ranks among the top five states with the highest average local sales tax rates, with an average rate of 4.5%, according to the Tax Foundation, a think tank. Taking into account the state tax rate combined with county and city sales taxes, New York City's sales tax rates nears 9%, for example, whereas Boston has one of 6.25%. With a lower sales tax rate, Boston is financially better off for now because it relies more heavily on a more stable revenue stream: property taxes. 
A report from the state comptroller's office in July explained about sales tax: "Collections will likely continue to decline over the next several months, though perhaps not at the same rate, and further mid-year reductions in State aid are still possible. This combination puts counties, cities and less-wealthy school districts in an especially tenuous position." While property tax has proven to be a more stable revenue stream, the report found that it "is not able to make up for losses in other revenues as it once did."
New York being home to many of the worst hit cities is also due to unique attributes of the state, such as the New York City region's outsized role in subsidizing cities upstate. "What we've done in New York over the years is to basically take the fruits of the prosperity in the New York region and redistribute it to the poorer areas and poorer cities," said Howard Chernick, a professor emeritus of economics at Hunter College who worked on the analysis. Most other states don't have a similar financial imbalance regionally, he said, and even in states that do, that funding isn't redistributed as much as it is in New York. 
The financial crunch cities are in has already begun to translate into more severe cuts. The Rochester City School District is already planning to immediately slash one-fifth of its budget, because it expects to lose more than $130 million in state aid. Facing $41 million in revenue losses, Syracuse cut $18.1 million from its budget through hiring freezes and part-time furloughs for more than 400 employees – including the mayor and his top aides, who will be furloughed for two days each month. This translates to reduced police overtime, delays in waste pick up and less park maintenance. 
The drastic outcomes also haven't been affected by the financial responsibility of different cities pre-pandemic, according to the analysis. Buffalo has suffered from budget shortfalls for years, but has ended up in a similarly difficult situation to Syracuse, which had been projecting a $1 million surplus before the pandemic. "It's frustrating for us, given all the great things that were happening in Syracuse," said Frank Caliva, chief administrative officer for the city.
Officials from cities across the state have been consistent in their calls for federal aid, without which residents may see hits to public services across the board. "Without that federal assistance, we'll continue to go through a hiring freeze and look at discretionary spending and make some adjustments there, said Chris Wagner, budget director for Rochester. "Without some federal assistance, if these revenue streams continue to be stressed, I think we're going to be forced to make some potentially significant cuts to services."
Jasmine Gripper, executive director of the Alliance for Quality Education, said deeper cuts to state aid for school districts would likely have a dire consequence for vulnerable students in cities heavily reliant on that funding. A 20% reduction in state payments to New York's school districts would translate to more than $5 billion in state aid, with New York City, Buffalo, Rochester and Syracuse standing to lose the most money, she said. "A 20% cut doesn't hit all districts evenly. It actually disproportionately hits districts that are high-need, that are mostly Black and brown students and rely on the state for their aid."