New York City
Why New York City delayed school reopening
A deal between Mayor Bill de Blasio and organized labor avoids a costly political fight.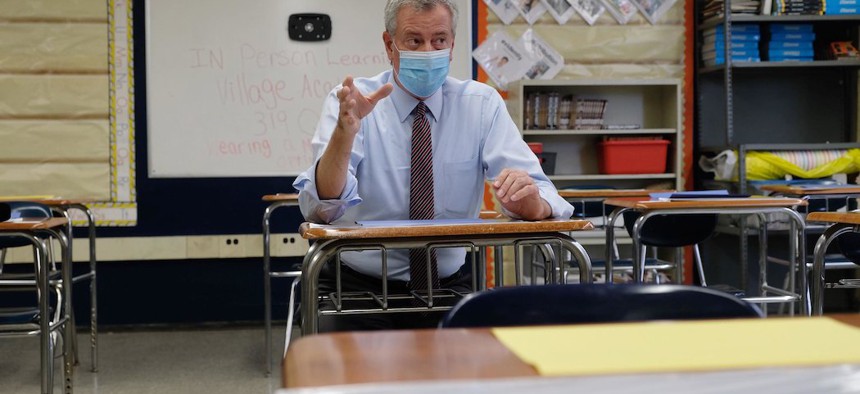 A little extra time and money spent on reopening schools could pay some big political dividends for New York City Mayor Bill de Blasio, who announced a deal with organized labor Tuesday morning that will delay by 11 days the reopening of public schools to in-person learning. 
Teachers will report to schools on Sept. 8 and virtual learning will begin on Sept. 16, with in-person kicking off Sept. 21 under the plan, which will also require the city to test a fraction of students, teachers and staff in each public school each month for the coronavirus. In exchange, city teachers will drop their threat to stage a strike just hours before thousands of union delegates are scheduled to meet.
While some political observers suggest the deal could always fall apart, it appears that the United Federation of Teachers is on board with the mayor's efforts to reopen schools for now. "Our independent medical experts have stamped this plan," Michael Mulgrew, president of the UFT, said at a press conference with the mayor. "We now can say the New York City public school system has the most aggressive policies and greatest safeguards of any school system in the United States of America."
The mayor reportedly softened his stance on delaying the beginning of the school year after Mulgrew, one of a dozen union leaders the mayor is meeting with this afternoon, announced his union's support for de Blasio's effort to get $5 billion in additional borrowing authority approved by the state Legislature. Public sector unions and the mayor are also negotiating on cutting $1 billion in costs to help the city avoid 22,000 layoffs as it confronts a multi-billion budget deficit caused by the pandemic. 
Some in the Twittersphere expressed relief about the deal following days of uncertainty over the prospects of a strike. "Health and safety must be our top priorities," tweeted New York City Comptroller Scott Stringer, a 2021 mayoral candidate. "These protocols will help protect our teachers, children, families, and our entire school community."
Other Twitter users criticized the mayor for not resolving the issue earlier. "Students, Parents and Teachers are facing nearly impossible choices, and we deserve clearer planning, contingencies and leadership from this administration," tweeted Dianne Morales, another 2021 mayoral hopeful. 
Powered By
NEXT STORY: Will gig workers be classified as employees?