Labor
Will labor stick with the establishment?
After losing to progressive insurgents, will unions learn to love the DSA?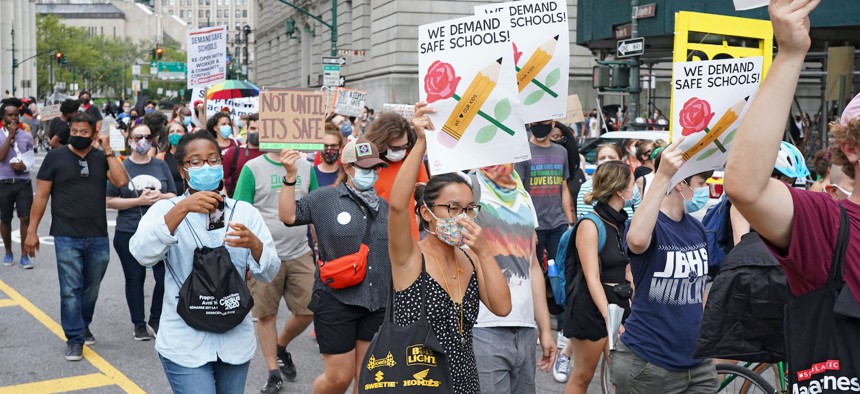 Endorsing Jabari Brisport might have seemed like an obvious choice for the United Federation of Teachers in the spring. Brisport, a UFT member who teaches at Medgar Evers College Preparatory School, a public middle school in Brooklyn, was running for an open Brooklyn state Senate seat. And his most prominent opponent in the Democratic primary, Assembly Member Tremaine Wright, was a supporter of charter schools, while the union and Brisport are against them. But when it came time to endorse candidates, the UFT sided with Wright over its own member. 
Of course, the UFT was just following the crowd. Wright, an attorney who has served in the Assembly since 2017, was endorsed by most of the city's biggest labor unions, including 1199 SEIU, 32BJ SEIU, District Council 37 and Transport Workers Union Local 100. Brisport got the backing of just two smaller unions, UNITE HERE Local 100 and Teamsters Local 814.
Brisport ended up winning decisively, with 58% of the vote to Wright's 34%, thanks to support from left-wing grassroots activists, including the New York City chapter of the Democratic Socialists of America. NYC-DSA also helped three other candidates to victory over incumbent state legislators. It would have been understandable for Brisport to hold UFT in contempt and gloat in the light of his upset victory. Instead, he reached out to leaders at UFT, 1199, the New York State Nurses Association and other unions that had supported his opponent. "We said we just want to make sure we're on a good foot," Brisport told City & State. "We want to have good personal relationships with all of them, not just for our personal benefit, but because unions are good. And we want to make sure we're supporting them in their endeavors at every opportunity in the next few years."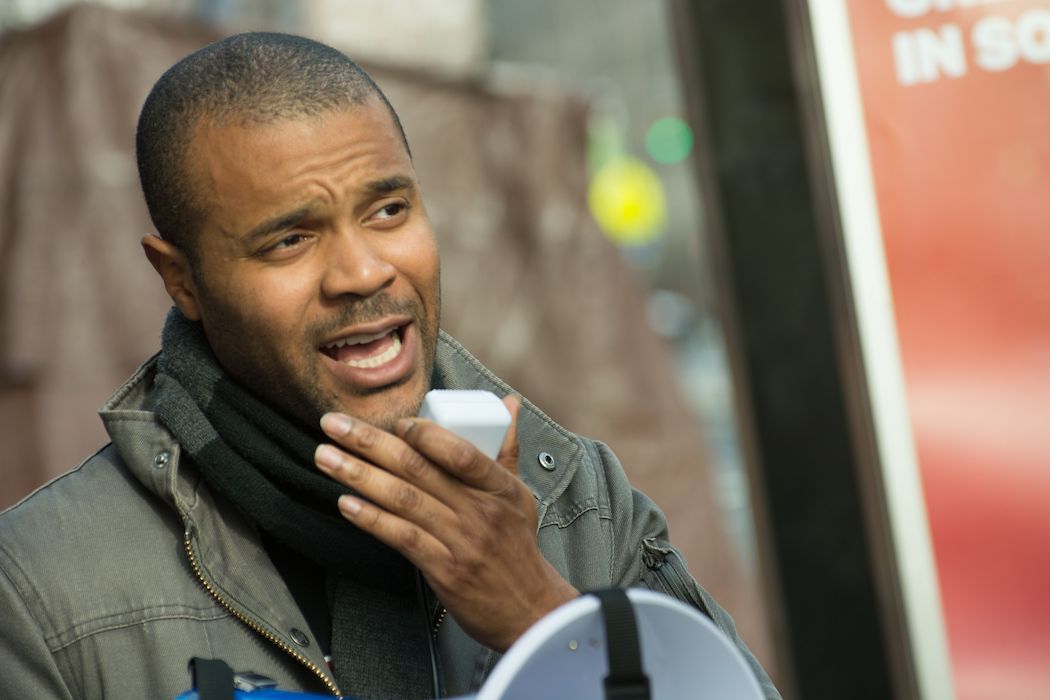 Democratic socialists such as Brisport generally support labor unions, seeing them as a way of empowering the working class against capitalist control. At meetings, DSA members sing the anthem "Solidarity Forever," the lyrics of which declare that "the union makes us strong." 
But unions in New York never seem to share the same love for the leftist candidates, at least when it comes to elections. In race after race, unions line up behind the incumbent – rather than a challenger coming from the left. When there is no incumbent, as in Brisport's race, the unions generally side with the candidate who has already held office. That's in part because unions, especially public-sector unions that are bargaining with the government, want to be on the good side of the future winner. 
But now, in many races, siding with the establishment means backing the losing candidate. In state legislative primaries in 2018 and 2020, incumbents have been frequently out-organized by progressive coalitions that go beyond the DSA to include the Working Families Party, the Sunrise Movement and New York Communities for Change. So in the next round of Democratic primaries, in 2021's New York City municipal elections, unions will have to either forge a new, more insurgent-friendly, progressive coalition, or find a way to beat back the challengers. 
"Young radicals need to understand this: The labor movement is more encumbered in terms of preserving relationships than independent activists who are not answerable to a particular constituency." – CWA District 1 Political Director Bob Master, to Jacobin
New York City's major labor unions have always been some of the best endorsements a candidate can get, with the ability to bring an influx of volunteers, money and organizing prowess – which can go far in low-turnout local primaries. As county party organizations faded in size and influence, labor unions picked up the slack , particularly as validators. The appearance of an 1199 logo on a candidate's flyer is a clear sign they've got a good chance at winning. In New York City, more than 21% of workers belong to a union, and statewide, it's nearly 22% – among the highest rates in the country.
In return, the unions get support for their legislative priorities. But while members of progressive advocacy groups are united by a shared political vision, union members are united by a profession. Unions' policy goals are often less about changing the way the political system operates than about their members' interests. So labor's support of incumbents is often less about the individual politician, and more about the very practical desire to join the winning team. That's why Rep. Alexandria Ocasio-Cortez didn't get any labor endorsements ahead of her upset over then-Rep. Joe Crowley in 2018, as Communications Workers of America District 1 Political Director Bob Master explained to the socialist magazine Jacobin in 2019. "Young radicals need to understand this," he said. "The labor movement is more encumbered in terms of preserving those relationships than independent activists who are not answerable to a particular constituency, and there are going to be tensions there."
By the same token, these establishment-friendly unions don't have a worldview that would prevent them from backing a leftist once she wins office. In 2020, the endorsement lists of Ocasio-Cortez and state Sen. Julia Salazar were stacked with labor unions that had backed their opponents two years earlier. "We have permanent interests – we don't have permanent friends or permanent enemies," 1199 Political Director Gabby Seay told City & State. "So, any person who reaches out and says, 'How can we better serve your members?' We'll open that door."
And just this summer, that was Brisport, who knocked on Seay's proverbial door with an email after his win. The way Brisport sees it, it's "a common understanding" that most of the unions have their backs against the wall when it comes to making endorsements because of their relationships with the political establishment. "Nobody sees these endorsements in DSA and says, 'Oh, now we have bad blood because of that.' People get it."
There's ample precedent for agreement between labor and progressives. Even while the WFP and CWA District 1 were running races against each other, both were calling for Gov. Andrew Cuomo and state legislators to pass a wealth tax on billionaires to help close the state's yawning budget gap. And 32BJ got a lot of credit for partnering with progressive groups in 2018 to oust then-state Sen. Jeff Klein, who had kept Democrats out of power during part of his tenure as head of the Independent Democratic Conference.
But there have also been moments of conflict between labor unions and progressive organizations, even outside of elections. While organizations like New York Community for Change and Make the Road New York supported a public campaign finance system, most of the state's unions stood against it, fearing it could reduce their influence. That debate didn't come long after the 2018 gubernatorial election, when many of the state's most powerful unions, including 32BJ and the Retail, Wholesale and Department Store Union, left the WFP after the party endorsed Cynthia Nixon over Cuomo.
While unions have partnered with more ideological progressive activists at times, some labor leaders have bristled at the thought of associating with the DSA, which is more extreme than their sometime allies in the WFP. When the NYC-DSA's Labor Branch publicly released details of a "rank-and-file strategy" encouraging DSA members to take jobs and become members of certain unions in order to push them to the left, many labor leaders seemed offended. That strategy "is only going to divide" the labor movement, DC37 Executive Director Henry Garrido told Politico New York in 2019. Gary LaBarbera, president of the Building and Construction Trades Council of Greater New York, is also holding the DSA at an arm's length. In an August interview with City & State, he gave the organization credit for managing their media coverage well, but said that "candidly, the DSA, their positions can be very controversial," citing the organization's opposition to building an Amazon headquarters in Queens. And labor unions have far more committed members than the DSA, LaBarbera noted, especially among blue-collar workers. "I call them keyboard warriors," he said. "It's very easy to go on Instagram and Twitter, which is a lot of what they do, through social media."
"We have permanent interests – we don't have permanent friends or permanent enemies." – 1199 SEIU Political Director Gabby Seay
NYC-DSA's rank-and-file strategy is still moving forward. And DSA members understand the hesitation from labor unions to partner with them, since the organization has only recently become a political force. If unions are going to "test the waters a little bit with a new ally, they should want a demonstration of credibility and strength," said Matthew Thomas, a member of NYC-DSA's Queens branch who is also communications director for Zohran Mamdani, a DSA member who defeated Assembly Member Aravella Simotas in the recent Democratic primary and is headed to win her Queens seat in November. "I'm hopeful that we've been able to demonstrate that over the last few cycles, and that we've been able to build enough power and credibility."
The 2021 New York City elections are an obvious opportunity for such a relationship. Due to term limits and retirements, at least 35 City Council seats will be open, as well as four borough presidencies. The mayor and comptroller will also be term-limited out. NYC-DSA is expected to focus primarily on City Council seats, and any candidate with their backing will instantly become a top contender, given the organization's success in the 2020 primaries. And it's not just DSA candidates. Other progressive challengers, such as Khaleel Anderson, Emily Gallagher and Jessica González-Rojas, won Assembly primaries against candidates with more labor union support, thanks in part to the backing of progressive organizations, even as NYC-DSA stayed out. Lately, voters in every corner of the city seem more inclined to vote for progressive newcomers than the kind of candidate who has toiled away in establishment politics for years, building relationships with labor union decision makers. So if labor unions want to maintain their power and pick winners, they may have to start backing more socialists. 
One race to watch will be in City Council District 22, covering the Queens neighborhoods of Astoria and East Elmhurst, where former Queens district attorney candidate Tiffany Cabán is expected to run to fill the seat being vacated by the term-limited City Council Member Costa Constantinides. Cabán was backed by a progressive coalition, including the DSA, in her 2019 district attorney campaign, but was endorsed by only one union, while three of her opponents each had more than a dozen union endorsements. Cabán is still a prototypical DSA candidate: a young person of color with leftist ideological purity and little experience working professionally in politics. But other candidates in the council race have the resume more typically favored by labor. Rod Townsend is the former president of the Stonewall Democratic Club of New York City, which often aligns with labor to back incumbents, and Nick Roloson is Constantinides' chief of staff, and has worked as a political aide for a decade. Those two might be battling it out for the major unions' endorsements in a typical cycle, but this time around, Cabán would be entering the race as a heavy favorite. If labor unions want to win, they may have to go with Cabán. 
That pattern could play out in districts across the city, and 2021 could be a referendum on unions' electoral influence in New York City. Lately, unions are "definitely getting outclassed by the Justice Democrats and DSA," former Assembly Member Michael Benjamin, who sits on the New York Post Editorial Board, told City & State. "They're putting boots on the ground and boots on the internet."
Unions insist their power isn't waning. "Electeds wouldn't be seeking our support or endorsements if it didn't matter. It's self-explanatory and self-evident," said LaBarbera, adding that four candidates called him in the previous day alone. But Big Labor may want to recalibrate its strategy, because not every future winner they reject will be as conciliatory as Brisport.
Powered By
NEXT STORY: Police brutality is prevalent statewide in NY