New York State
Candidates' ad hoc mask approach
Some politicians are back to canvassing, making safety procedures on their own.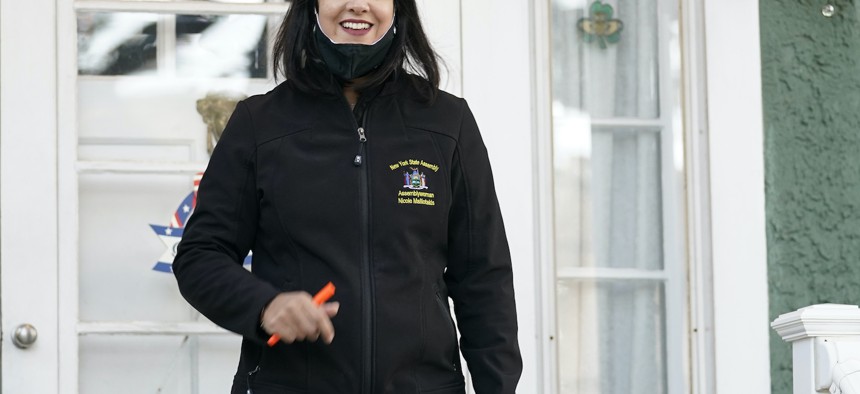 When state Sen. Andrew Gounardes resumed door-to-door campaigning in August, he had to come up with best practices for canvassing in the middle of a heated state Senate race in South Brooklyn and global pandemic. He decided he and his team of about two dozen volunteers would wear gloves and face coverings, stand six feet back after knocking on doors, never knock on doors of constituents 75 years-old or above and get their temperatures checked daily.
"I basically took the existing guidelines that are out there for just general person-to-person interaction and I tried to add a couple of steps that I thought were just precautionary, like the gloves, like limiting the age of the people that I speak to," Gounardes said. "There's not a (Centers for Disease Control and Prevention) guideline document for political campaigning, but I think that there are some pretty common-sense things that you can do to just protect yourself and other people."
With no federal mask mandate or best practice guidance available specifically for political candidates going door-to-door during a pandemic, candidates have had to come up with protocols on their own. Some public health experts say stringent protocols for candidates are needed.
In competitive New York races where candidates have been pressed to compete for every last vote and meet voters face-to-face by knocking on doors, their approach to campaigning has varied, while some candidates have ceased door-to-door canvassing altogether.
Assembly Member Nicole Malliotakis, a Republican candidate in South Brooklyn and Staten Island's competitive congressional race, said during a debate on NY1 earlier this month, she hasn't been tested for coronavirus since April when she was in Albany voting on the budget.
Since April, Malliotakis has posted a number of pictures of herself on social media canvassing without a face covering and has attended several large events.
Her campaign spokesman, Rob Ryan, said she follows the CDC's guidelines, wears a face covering, socially distances and frequently uses hand sanitizer.
In instances where she has been pictured without a face covering on the campaign trail, Ryan said she was "outside and distancing from others and those she is in conversation with feel comfortable interacting without masks."
During the same debate, Malliotakis' Democratic opponent, incumbent Rep. Max Rose said he was tested just a week earlier.
Rose's campaign said he follows all federal, state and local coronavirus regulations and he and his canvassers regularly get tested for coronavirus and wear masks.
But just as guidelines have been set for gyms, houses of worship, restaurants and, most recently, for trick-or-treaters going door-to-door, Dr. David Abramson, a professor of social and behavioral sciences at New York University, said officials should also come up with protocols for canvassing.
Abramson said canvassers should get a PCR test at least twice a week, keep a registry of the doors they knock on for contact tracing purposes, commit to strict social distancing rules, try to wear an N95 mask and make those practices known on their campaign websites.
Dr. Stephen Morse, a Columbia University professor of epidemiology, said though he thinks canvassing should have probably been halted altogether during the pandemic, it is probably too late to try to put more regulations in place. "Ideally, I think going door-to-door is not as safe as obviously doing this from at a distance from a much smaller scale," Morse said.
In New York, face coverings are required on anyone over the age of two who can medically tolerate it when they are out in public and unable to socially distance.
New York state Health Department spokesman Jonah Bruno pointed out that its coronavirus regulations apply to elected officials and candidates for public office. New York City's Health Department echoed the state's guidance, noting that social distancing, good hand hygiene and staying home when sick are guidelines that apply to everyone, including political candidates.
Both health departments avoided saying whether they explicitly shared best practice guidance with candidates or political parties or thought regular coronavirus testing for candidates was needed. The CDC also did not return multiple requests for comment when City & State sought answers to the same questions.
The CDC recommends keeping a 6-foot social distance, wearing a face covering when in public and to get tested if you have symptoms, have been in close contact with someone who has coronavirus or was recommended to do so by a doctor.
Gounardes' Republican opponent, Vito Bruno, who has also been pictured on several occasions without a face covering while campaigning, said through his campaign spokeswoman Leticia Remauro that he always wears a face covering and maintains a 6-foot social distance when speaking to and walking alongside voters.
Remauro also said Bruno gets tested regularly and that their team has avoided getting sick because of their protocols.
Gounardes' campaign said the state senator would get tested if he was exposed to the virus but has not had to do so because of his precautions.
In the Rochester area, Samra Brouk, a Democrat running for the 55th Senate District seat, stopped door-to-door campaigning in March and has been interacting with voters over the phone, text or on Zoom, her deputy campaign manager Kristina Benjamin, said.
The pandemic has not stopped Brouk's Repuiblican opponent Christopher Missick from going door-to-door. Missick said he launched "a very cautious door-to-door campaign" in late July, starting out canvassing on his own before bringing on volunteers.
Missick said he and his volunteers always wear face coverings, carry hand sanitizer, won't touch or shake hands with people they come in contact with and try to avoid campaign events at schools or knocking on the doors of senior citizens. "I think it is our duty to follow all CDC guidelines, I also think it's our duty to ensure that we aren't going into places that can lead to greater spread and have potentially devastating impacts for communities," Missick said.
On Long Island, Democratic state Sen. Monica Martinez also didn't go door-to-door this year because of the pandemic and, like Brouk, has been speaking to her constituents over the phone and on email.
City & State reached out to major political parties in the state and across the five boroughs to see if they shared guidance with candidates. But only three responded. 
Staten Island's Republican Party Chairman Brendan Lantry said the party encourages volunteers and candidates to socially distance and wear personal protective equipment and has followed the public health guidance of government agencies.
Asked if the party reaches out to candidates if they are seen not wearing face coverings, Lantry said it's the responsibility of a candidate to do the right thing. "I think there's an element of personal responsibility and it's all situational," Lantry said. "There's instances where it's appropriate not to wear a face covering: when you're socially distanced from individuals, when somebody's speaking at an event on a stage, or in front of a microphone. You see Governor (Andrew) Cuomo ... when he appears at his almost daily press conferences he will … every time takes off his mask when he speaks."
Bronx Conservative Party Chairman Patrick McManus, who is also running for the 16th Congressional District seat against Democrat Jamaal Bowman, said he would not reach out to a candidate with concerns if they were spotted without a face covering. Though he encourages candidates to wear face coverings, McManus said ultimately, it's the candidates' "individual choice."
Brooklyn Democratic Party Chairwoman Assemblywoman Rodneyse Bichotte said in a statement: "We want everybody to vote, and vote safely. We have urged all campaigns to follow state and city protocols for safety, and in this environment, most campaigns are doing virtual events."
The office of Gov. Andrew Cuomo did not return requests for comment for this story on whether he would come up with guidance for political candidates campaigning during the pandemic. New York City Hall said Mayor Bill de Blasio wants anyone running for public office and coming in contact with many people to follow current safety protocols and encourages everyone to get tested regularly, but also didn't say whether he would issue best practice guidelines for candidates.